Tea Clipper

from TeaAntiques.com

Edition

Seventy One
Featured Antique - An elegant George III oval swing handle Cake Basket, Bright Cut Decoration, London, 1800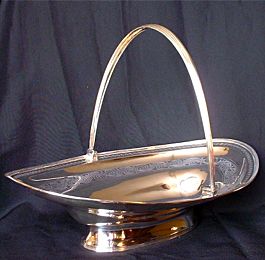 This very elegant George III oval cake (or Bread) basket, is beautifully engraved with bright cut decoration and was made in London in 1800.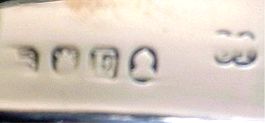 The basket has an oval boat shaped body, with deep oval centre portion. It stands upon an oval raised foot, which like the body has a reeded edge to it. The basket is hallmarked on the underside of the rim at one side and a short version on the swing handle.
The bright cut decoration comprises a band of double leaf pattern engraving which runs around the top lip of the basket. Then, as the basket sides drop away into the centre of the basket, there is a very broad band of bright cut decoration in the form of a flower and foliate design. This design comprises large leaves of a plant such as acanthus, about which are sprays of foliage with very fine branches and leaves. This pattern is punctuated by flower heads. This decorative floral border is bounded on both sides with bright cut engraved lines. This is certainly a very attractive feature of this stunning Georgian cake basket.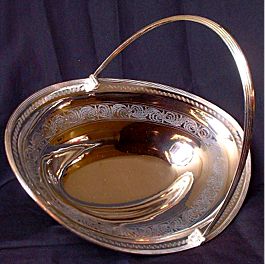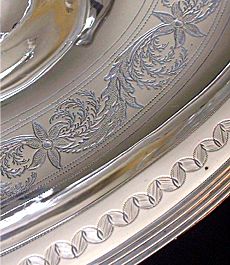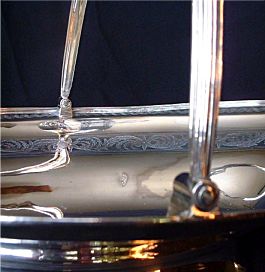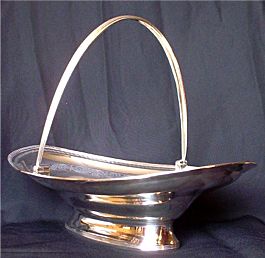 There is a substantial oval swing handle echoing the shape of the basket itself, this handle has strong well made hinge joints, which are in excellent condition. The tapering handle has attractive reed moulding decoration over its length.
This is certainly a very good quality George III cake basket of great proportion and elegance. A cake basket that would look stunning stood on a table or sideboard and is a very good quality piece of Georgian silver for the collector of fine English silver.
More details of this item and other tea related antiques can be found by visiting my web site at www.TeaAntiques.com.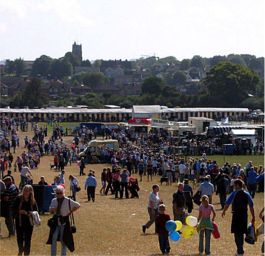 The Dorset County Show is a spectacular event that is now into its third year as the 'Dorset County show', previously the 'Dorchester show'. It has grown year upon year and is now most certainly an extremely popular annual two day event, providing entertainment for the whole family.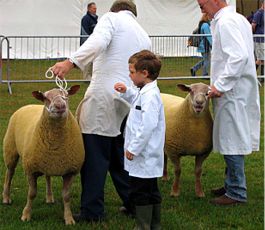 The event centres around the show arenas, where a variety of live events take place throughout the day. These include the farm live stock 'best of breed' shows; horse show jumping; dog showing as well as the slightly more unusual, Ferret races. There was even a display of precision riding by the 'House Hold Cavalry' and the 'Blues and Royals' - more usually seen in their smart uniforms with brass breast plates and plumed helmets at Royal and State events in London. Their displays drew large crowds impressed by their attention to detail and skills in horse control.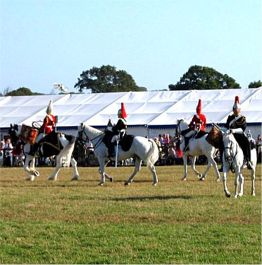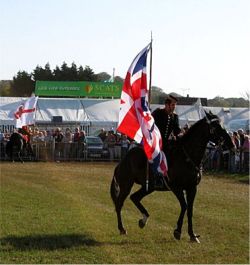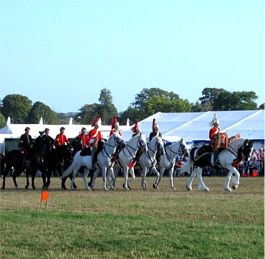 Being very much a country type of show and Dorchester being in the heart of rural farmland, there is a big presence of farming machinery, from the latest in the high-tech combine harvesters, which are mammoth, to old tractors that have retired from their life on the farm becoming vintage attractions.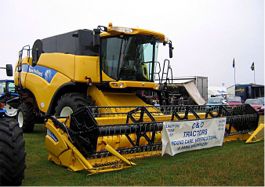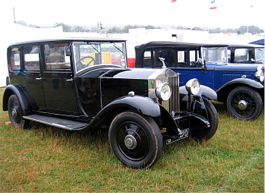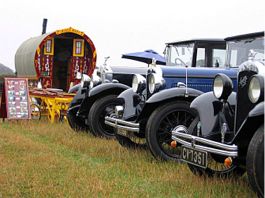 As you might expect at a county show, there are the huge swathes of canvas marquees. There are show tents, for the flower and vegetable shows, here people vie for the best single fruit or vegetables and mixed displays. Having looked round these displays, I was amazed at the high quality and pure gigantic size and perfect form of the exhibits. Leeks appeared to be a good 5 to 6 feet in length and carrots, 3-4 feet in length. The same applied to the flowers, with the brightly coloured and large heads of Dahlias, Chrysanthemums and all kinds of other flower. These exhibits are judged on the morning of the first show day and are soon labelled with best of show, orders of merit, etc. A lot of work and pride has gone into growing these exhibits and there is some hot completion involved each year.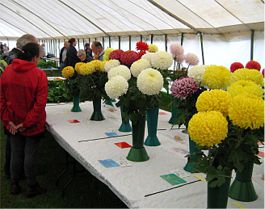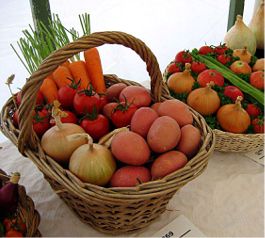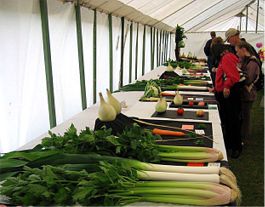 There is no shortage of other displays; vintage car show, horse and carriages displays, country crafts, sheep sheering demonstrations and all the various show animals to name but a few.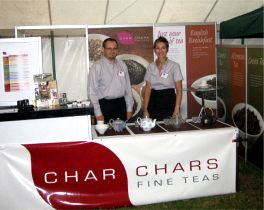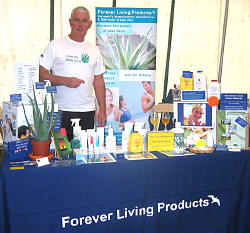 For those who enjoy a bit of retail therapy, there is a massive shopping marquee. In which there are is a wide variety things for sale, from crafts, pictures, photographic services, health and beauty products, home-made confectionary and much much more. Outside of the shopping marquee is an entire village of smaller tents and stalls selling all manor of products, from garden furniture, plants, cars, cloths, books, china, garden hot tubs, swimming pools, etc.
Two large food halls, provide a choice of local foods, from home-made pies, sausages, cheeses, breads, biscuits, fudge and toffee. One of the food halls, amongst the local food producers, was a most interesting stall promoting fine loose leaf teas. Needless to say this caught my attention and I was delighted to see the crowd around the stall being invited to taste some varieties of their loose tea. I feature 'Char-Chars' in greater detail below.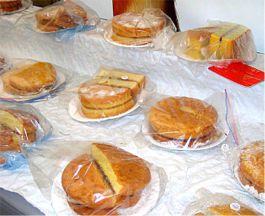 The quintessential tea and cakes are also to be found at the show. Firstly, there is the home-made cake, jams and wine completion tent.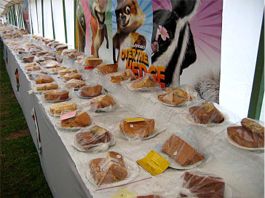 This housed a fantastic display of hopeful entrants all eager to win the coveted top prizes for their culinary skills. The cake competition is divided into a number of different types of cakes, from Victoria sponge and fruit cakes, to the smaller scones, fancy cakes and biscuits. Here, there were some outstanding looking cakes, as well those not quite so good looking! The best fruit cake certainly looked like it deserved its accolade, well risen and yet rich in colour and well packed with juicy fruits. So what made for the best scones? There were some good entries for this category and without being able to taste them, it is difficult to say, but the winning entry certainly looked delicious, quite light textured, good golden top and not dry inside.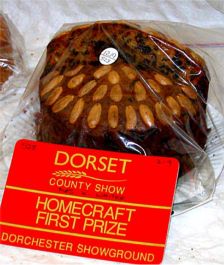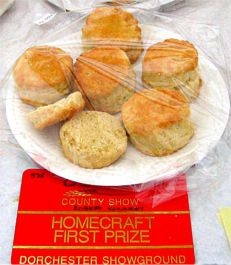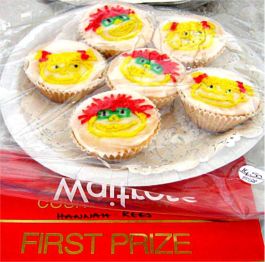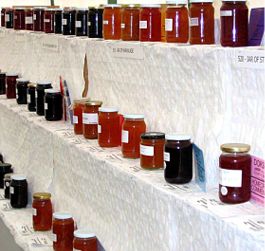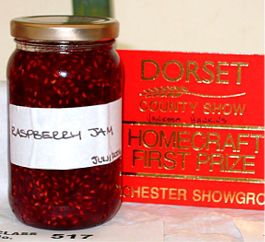 The thing needed to go with the scones is of course jam - and there was no shortage of jams entering for the best jam contests! Row upon row of fruit jams making a colourful display. Even without being able to taste them, the colour, amount of ripe fruit and texture pointed towards the winning jams. The winning Raspberry jam looked divine, absolutely packed in tasty ripe raspberries and I am sure would have been the perfect accompaniment to the best of show scones.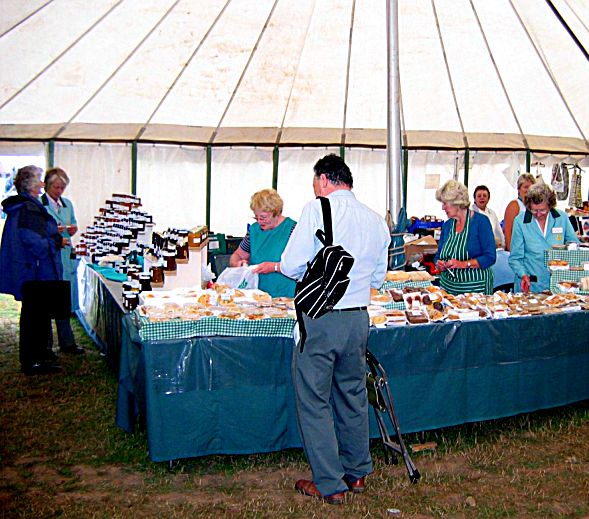 Having looked at, and being tempted by all those cakes and jams the best place to head was to the 'Country Markets' tent (this was previously called the Women's Institute, but re-named to be all inclusive). They are for me the star of the show, making and selling all kinds of delicious cakes, savouries and pots of home-made preserves. This is the perfect place to buy home-made jams, if you do not have the time to make them yourself, and I can assure you that they will taste so much better than the mass produced shop jams. There was also a counter in the tent selling teas, which, by the mid afternoon, was most welcome.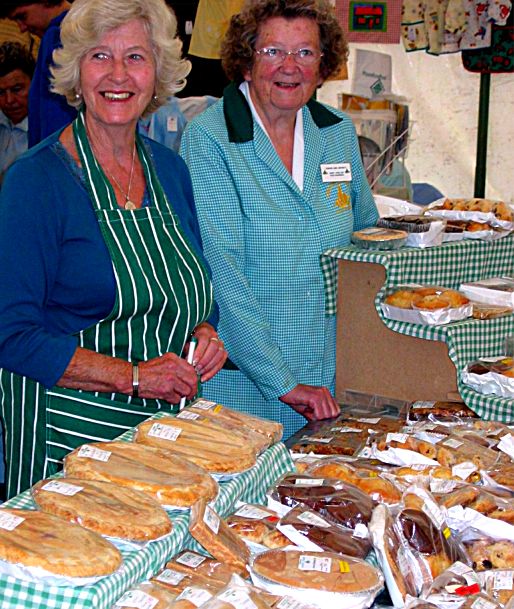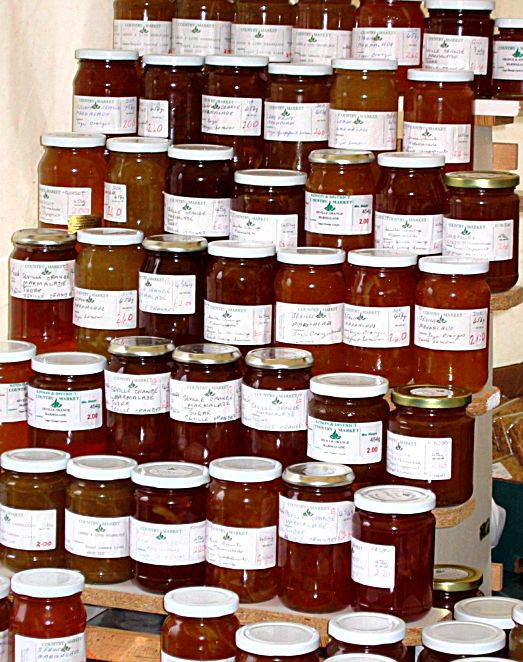 The Dorchester County Show is held over the first weekend in September and is sited in the shadow of the picturesque town itself. If you get a chance to visit the show, I think you will find something to interest every body and provide a full day of entertainment, as well as a bit of shopping.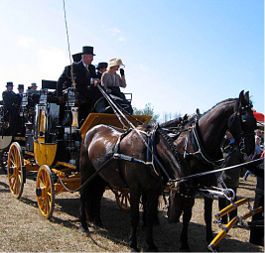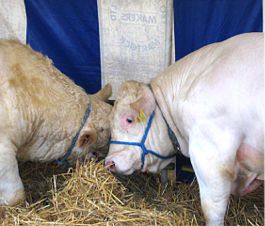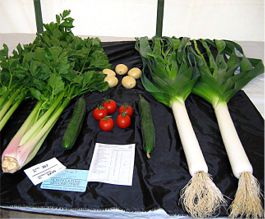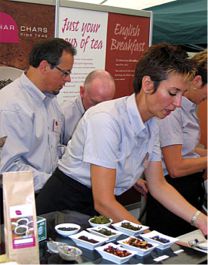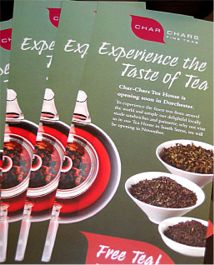 In the food marquee of the Dorset County Show, I was extremely delighted to meet the proprietors of 'Char-Chars', tea specialists. They had a stand promoting their varieties of fine loose leaf teas of which they are proud. Their enthusiasm and passion for quality 'real' loose leaf teas, as opposed to teabags and other 'convenience' teas shone through. They constantly had a crowd of people round their stand with whom they were discussing teas and the merits of tea drinking. They brewed pot after pot of their teas for the customers to try. It was a joy to listen to them and the customers, many of whom had not tried real teas before and were surprised at the difference in flavour and quality of these fine loose teas compared to the cheap teabags they were used too.
Both Sonja and Phil, the proprietors, are passionate about the tea. They were extremely knowledgeable about how teas are produced, their characteristics and flavours, all of which they were more than happy to impart to their curious customers. I, for one, was happy to indulge in some tea tasting with them. Amongst the teas I tried was a very pleasant Lemon, Earl Grey 'Blue Lady' and a White tea-'Silver Needle'. I came away with a few purchases of tea to enjoy at home.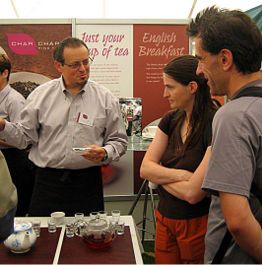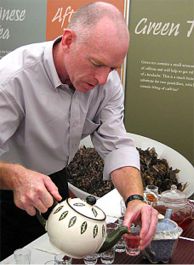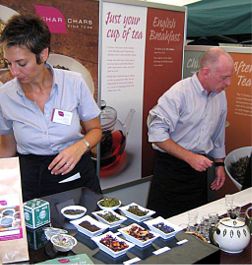 One thing they were getting across to their customers, was the benefits of using loose teas in a teapot or at least loose teas in an infuser for the perfect cup of tea, rather than the use of teabags. This is something with which I wholeheartedly agree.
More exciting is that they are about to open a fine tearoom in the centre of Dorchester in November 2006. A project that, with their drive and enthusiasm, will undoubtedly be a great success and benefit to Dorchester. Sonja informed me that they will only serve loose tea, made in fine teapots and will offer a full high tea. This high tea can be booked in advance and will be served in style using white table linen and tiered cake stands for the cakes and pastries'. I for one, will be making a pilgrimage to their tea shop soon after it opens and will be reviewing it in a future Tea Clipper - watch this space.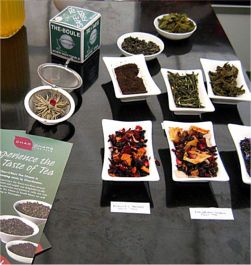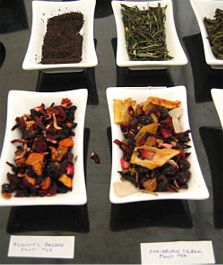 I wish Sonja and her team all the best in their venture and if you ever find yourself in Dorchester, I am sure they will welcome seeing you.
'Char-Chars' tea house is opening soon in November 2006 in South Street, Dorchester.
Sonja Mc Namara
Tel: +44 (0) 7795 482318
---
To review past newsletters, just follow this link: Past newsletters.
To subscribe to this free newsletter - Click here
---
All information contained within any article on this website was considered to be accurate (as far as can be ascertained) at the time of writing. TeaAntiques.com Limited makes no warranty and accepts no liability regarding the accuracy of the content.
Copyright © 2000 - 2023 All rights reserved
TeaAntiques.com Limited. Company Incorporated in England No.: 5086843