Tea Clipper

from TeaAntiques.com

Edition

Seventy Three

Featured Antique - A charming Worcester Teapot, blue and white 'Temple' pattern with a disguised numeral mark, c1775-85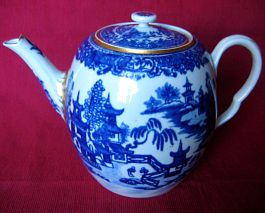 An attractive Worcester teapot decorated in blue and white with the 'Temple' pattern and marked on the underside with the Worcester disguised '4' numeral mark. This stunning early Worcester teapot dates from c1775-85 and is in remarkably good condition.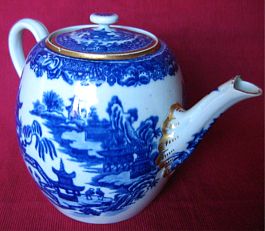 The teapot is a smooth barrel shape with beautifully moulded spout and ear shaped handle. Very rich and extremely fine gilding is applied around the joint of the spout and the teapot. The tip of the spout also has applied gilt decoration.

The 'Temple' print, applied to both sides of the teapot, comprises a willow pattern type of design but without the usual bridge within the scene. It shows two very tall Chinese style temple like buildings on an island on the left hand side of the scene. There are two pairs of figures standing toward the centre of the scene with a small pavilion building between them. To the right of the scene is a second island with more oriental style buildings within a rocky and tree covered landscape. There is an applied painted light blue painted foreground to the pattern.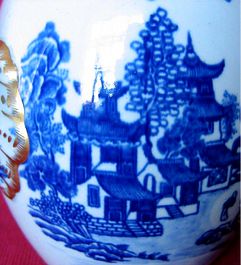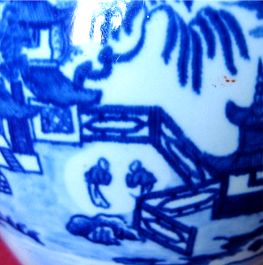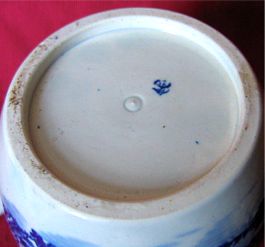 This is certainly a very fine early Worcester teapot of pleasing shape and striking blue and white 'temple' pattern decoration, c 1775-85

More details of this item and other tea related antiques can be found by visiting my web site at www.TeaAntiques.com.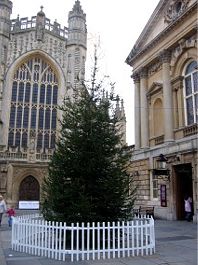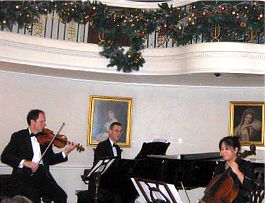 A recommendation for a spot of seasonal shopping, some refined settings and the perfect Christmas afternoon tea, I would take you off to Bath and nearby Bradford-on-Avon. In the early part of December, there is a traditional Christmas shopping fair, which sets up its stalls gathered around the impressive Bath Abbey, Roman Baths and the Pump Room. A large Christmas tree stands outside the Pump Room and in front of the Abbey. If you arrive there around 9.30, you will just be in time for the Pump room to open and can take advantage of a wonderful brunch in the beautiful setting of the elegant Georgian Pump Room, built in 1795. Brunch is a civilised way to start the day in Bath. This comprises a glass of freshly squeezed orange juice, eggs Benedict, toast and preserves and lashings of tea. It is beautifully served by polite and well dressed waiting staff, while you sit and enjoy the relaxed surroundings and listen to the Pump Room Trio.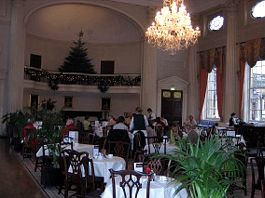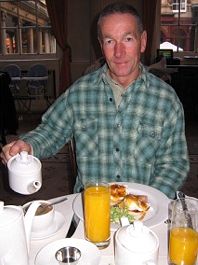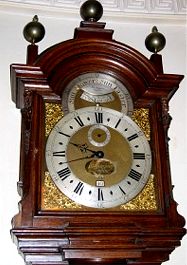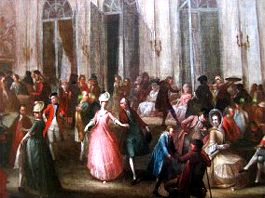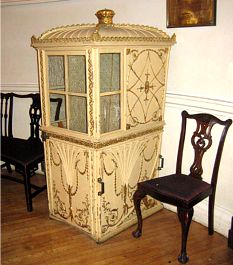 It is quite easy to let your mind wander back to the eighteenth century when this very room would have been alive to wealthy , elegantly dressed ladies and gentleman dancing round the room at a fashionable ball. The Pump Room has changed little since then and still holds that air of elegance. A very large long case clock, designed for the room still remains in good working order at one end of the Pump Room. Either side of this impressive clock stand two sedan chairs, used in the eighteenth century to covey the rich ladies and gentleman about the town
Feeling quite relaxed from brunch, you then feel fit to take on the crowds of Christmas shoppers around the Christmas market. The market is made up of decorated wooden sheds, each housing a stall selling interesting Christmas type gifts and crafts. The Abbey rises above the market to provide a perfect setting. If fortunate, you may even catch a glimpse of Father Christmas collecting money for those less fortunate than ourselves.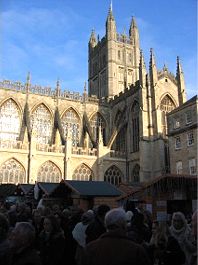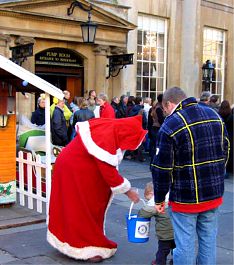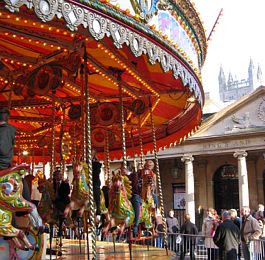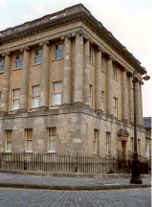 In conjunction with the Christmas market, No 1 Royal Crescent opens its doors for Christmas visitors to Bath. the Royal crescent is John Wood the younger's very grand creation, built at the end of the eighteenth century when Bath was a most fashionable spa town for the rich.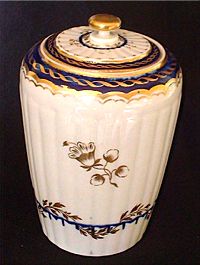 No 1 Royal Crescent is a museum that is decorated and furnished much as it would have been at the time it was built and contains some very fine rooms. The Dining Room is set for the dessert course of dinner and in the elegant Drawing Room on the first floor, there is a Pembroke table set for tea. A Worcester teaset graces the table along with an oval wooden tea caddy, blue glass lined sugar basket and a magnificent silver spirit kettle which stands in a Chippendale style kettle stand.
I was rather bemused on my visit that the guide in the Drawing Room insisted that the tea canister of the Worcester teaset (similar to the one shown here) was in fact for emptying slops into! After trying to correct her, I had to resort to getting a book from their own gift shop which correctly referred to it as a tea canister before she believed me! It just shows that you cannot always believe what you hear.
To walk round this house takes you back to the Georgian period and shows how elegant a time this was for those who had money.
There are a few small antique shops and markets around the city of bath, so a chance to do a little antique shopping too.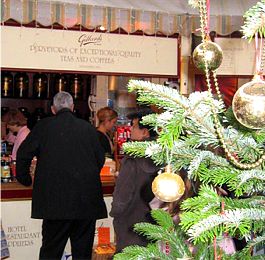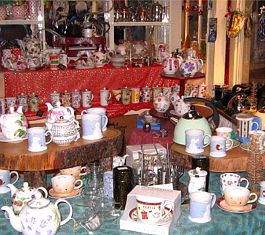 In the old covered market, close to the Town Hall and Art Gallery, you will find a wonderful tea merchant. The stall sells a host of fine loose teas, including some of its own special blends. There is a seasonal Christmas tea blend on sale too, this having hints of cinnamon and spice. I usually stock up with a supply of teas from here, to take home and enjoy through the coming winter months.
As well as selling some very fine loose teas, this shop also sells coffee's and a host of tea and coffee wares - maybe a perfect Christmas gift for a friend?
Bath Pump Room
Abbey Church Yard
Bath
BA1 1LZ
Tel: 01225 477785
Website: http://www.romanbaths.co.uk
Click here for Local Map
Map courtesy of www.streetmap.co.uk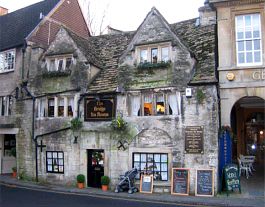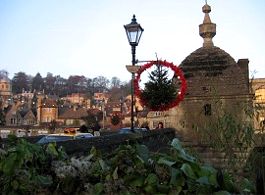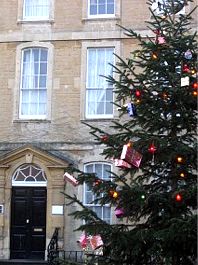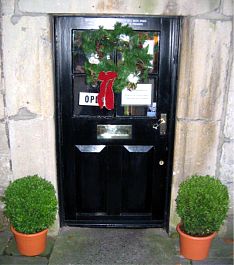 After several hours of shopping, I recommend the short drive (or bus or train journey) to Bradford-on-Avon for a visit to the Bridge Tea rooms. Bradford, like Bath boasts some very fine Georgian houses, set around the hills rising from the river Avon. The town's bridge, with its interesting stone jail house at one end, connects both sides of the town. Overlooking the bridge is the tiny Bridge Tea rooms. I can think of no better place for the perfect afternoon tea. This tea shop has won countless awards from various tea councils and I can certainly say that the quality of the tea served here is unsurpassed.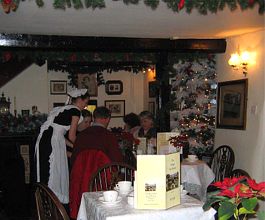 At this festive time, the Bridge Tea rooms is beautifully decorated with traditional Victorian-style Christmas decorations, including what looks like a snow covered Christmas tree in the window.
Served by black frocked and white pinafore and capped waitresses, the tea and cakes on offer make one spoilt for choice! They have a very rich and dark fruit filled Christmas cake, covered in marzipan and white royal icing - a very traditional Christmas treat. Also on offer, a huge cream filled chocolate log bedecked with a holly sprig. A slice of this is very large and I dread to think how many calories - but hey - it's nearly Christmas! Alternatively, try their flaky pastry mince pies. what ever you choose, you will come out of this tea room feeling replete and in a good Christmas mood.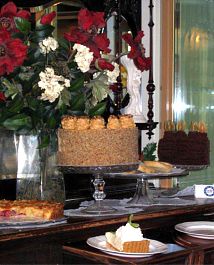 Bradford-on-Avon does have a few very good antique shops, so worth the short walk around the town to take in a little more antique shopping and work off some of the tea!
If you are fortunate enough to be able to visit Bath and Bradford-on-Avon over the Christmas period, I hope that you will be able to follow my Christmas trail and enjoy the day as much as me.
Details:
The Bridge Tea Rooms, c1675
24a Bridge Street
Bradford-on-Avon
Wiltshire
England
BA15 1BY
01225 865537
General location map
Bradford street map
Maps courtesy of www.streetmap.co.uk.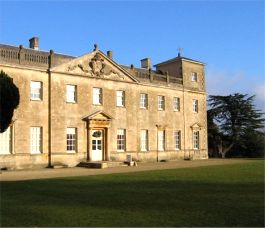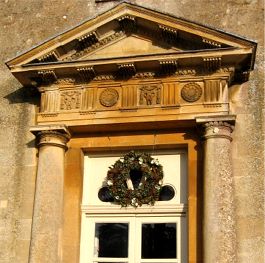 To soak up the atmosphere of Christmas past, then a trip to Lydiard house near Swindon is a place that I can recommend. Lydiard house, is a beautiful Palladian fronted house, which is now owned and run by Swindon Council. Inside for the month of December, the rooms of this beautiful house are decorated in Victorian Christmas style.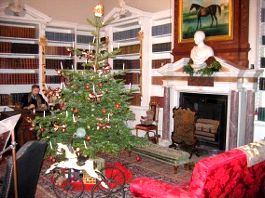 Within the entrance hall stands a large Christmas tree to greet you. Then in the Library, the master of the house sits at his desk, maybe writing his Christmas greetings. In the centre of the room a beautifully decorated Christmas tree with Victorian toys underneath, including a charming horse bike.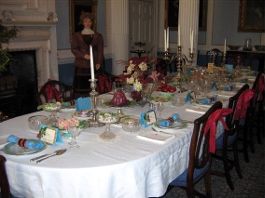 The Dining Room of the house is set for the Christmas dinner with all the guests names placed at their respective seat together with the seasonal Christmas crackers. The table is beautifully set out with all types of fruit, flowers and confection. The Lady of the house is there to give her final approval of the table before her guests arrive.
A very nice festive touch is a big red crape bow tied to the backs of each of the shield back dining chairs.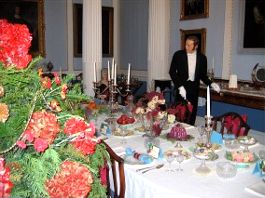 At the large mahogany sideboard stands the stiffly dressed butler. He will be there to see that the dinner party runs like clockwork for the hosts and guests.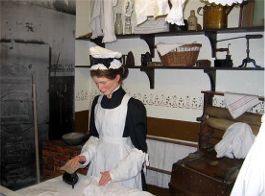 While there is merriment amongst the upstairs guests, there is still plenty of household chores to be done by the servants before they can get to enjoy their own Christmas celebrations.
A Victorian Christmas at Lydiard is a good way of getting into the festive spirit and to enjoy some fine rooms of a beautiful country house.
Details:

Lydiard Park
Lydiard Tregoze
Swindon
SN5 3PA
Tel: (01793) 770401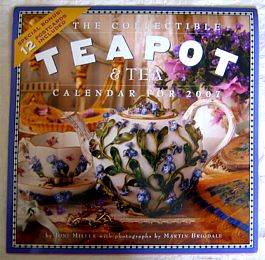 Here is what may be the perfect gift for your friends or yourself as a tea antiques lover. This beautiful calendar is illustrated with some magnificent tea type pictures with collectible and antique teapots. Each picture is a composition of antiques, cakes, well balanced colours which are inspirational to any tea lover.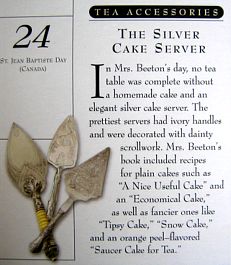 Not only are there fantastic illustrations, but with each month there is a feature about tea time facts and history. Such things as tea accessories are explained, like these silver cake servers - the essential accessory to the Victorian society tea.
You can order these calendars from 'Workman Publishing' from the web site www.workman.com and I am sure that who ever receives it, there will be a full year of pleasure to behold in 2007.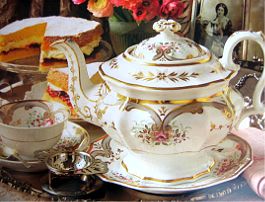 Merry Christmas Tea Clipper Readers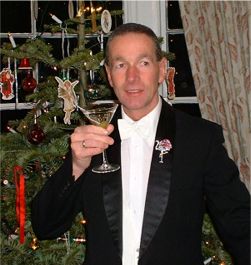 From Adrian
---
To review past newsletters, just follow this link: Past newsletters.
To subscribe to this free newsletter - Click here
---
All information contained within any article on this website was considered to be accurate (as far as can be ascertained) at the time of writing. TeaAntiques.com Limited makes no warranty and accepts no liability regarding the accuracy of the content.
Copyright © 2000 - 2021 All rights reserved
TeaAntiques.com Limited. Company Incorporated in England No.: 5086843