Tea Clipper

from TeaAntiques.com

Edition

Seventy Seven
Featured Antique - Barr Worcester Oval Teapot, Spiral Shanked Body with underglaze blue decoration, embellished with gilding, including moths and flowers, incised 'B' marks, c1795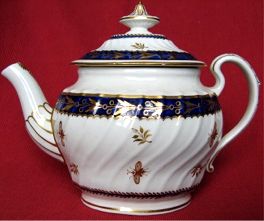 A most elegant and decorative teapot from the famous 'Barr' Worcester factory c1795. This beautiful teapot has an oval shaped body, moulded with charming spiral shanked decoration. It has bands of underglaze cobalt blue onto which is applied gilt decoration of foliage and berries. On the teapot are delightful gilt moths and flower sprigs evenly spaced around its body. On the cover the same kind of flower sprigs can be seen. The cover has a well potted oval finial with moulded and gilded foliate decoration. The teapot has a nicely shaped spout, which has gilt embellishments and a finely shaped handle with moulded and gilded foliate leaf cap.
Both the teapot and the cover are marked on the underside with the impressed or scratched 'B' mark of Martin Barr of the Barr Worcester factory. This magnificent teapot and cover dates from c1795.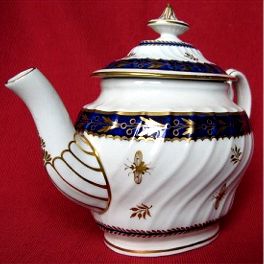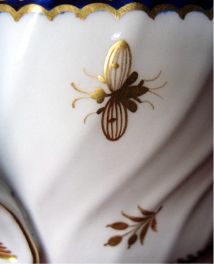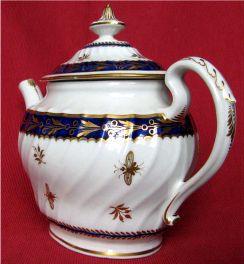 This is certainly a very beautiful teapot that is in good condition and would be a fine piece for the collector of Barr Worcester teapots or English early tea wares.
More details of this item and other tea related antiques can be found by visiting my web site at www.TeaAntiques.com.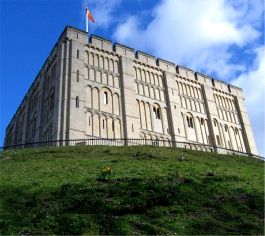 The delightful and historic town of Norwich has a particular appeal to those who enjoy antique teapots, for here in the Castle Museum & Art Gallery is one of the finest collections of English antique porcelain teapots.
Situated on high ground, as a good vantage point for historic defences, the old Castle keep is now the Museum and Art Gallery. From the Castle the city of Norwich can be seen around it. The Castle overshadows the market square, where today you will find a thriving and bustling market for shopper. This is at the heart of the historic town, a town with charming narrow streets and passages set about with a multitude of churches and fine building. As well as the fine architecture of these churches, Norwich boasts a varied selection of beautiful town houses from the seventeenth and eighteenth centuries.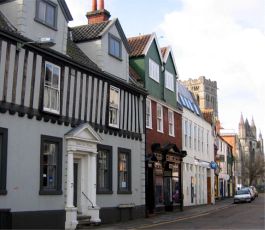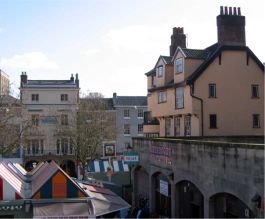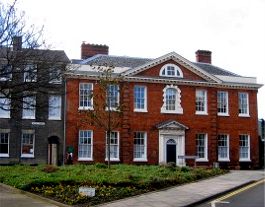 My visit to Norwich was particularly to visit the Castle Museum's Teapot exhibition. It was to be a very exciting visit with a vast collection of early English teapots from the earliest of Staffordshire unglazed red stoneware c1735-40; White saltglazed stoneware c 1745, through all variety of teapots in the eighteenth, nineteenth and twentieth century. A teapot lover heaven!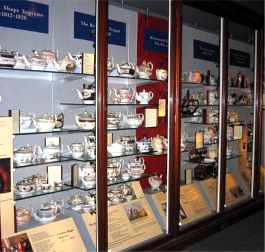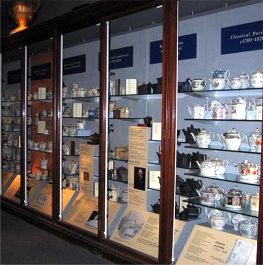 The museum's collection is housed in glass cabinets that trace the history of the English manufactured teapots from the early part of the eighteenth century and are grouped in manufacturing periods, including types of body, style and decoration. On this visit, I will only scratch the surface of the collection, but I hope that it will give you a taste of the beautiful teapots to behold in this remarkable collection.
Starting with some of the earliest teapots there are some fascinating ones from Staffordshire in white saltglaze made in various shapes, from Georgian houses to a kneeling camel! Both these teapots can be seen here. The moulded bodies of the teapots are extremely crisp for the period demonstrating the skill of the manufacturers. Another form of early moulded teapots are those of the agateware variety. These again were manufactured in the Staffordshire area and are characterised by their dark marbled appearance. These also date from around the 1740's. Some of these teapots have bodies that are moulded in the form of shells, globular or geometric shapes. They often have lid finials moulded in the form of a dog and some of these teapots stand upon feet.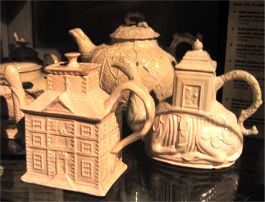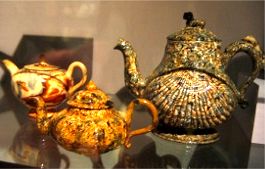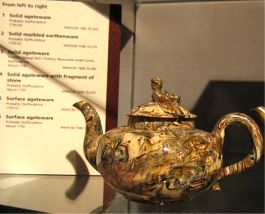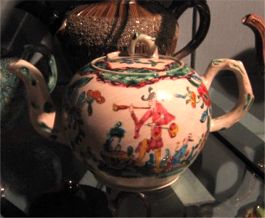 From a slightly later period we get the Staffordshire saltglazed stonewares. Such wares were given a white glaze by throwing salt in to the kiln during the high temperature firing process. These white bodied teapots could then be decorated in various styles, this one here is decorated with a charming piper with a long music pipe to his mouth in one hand and another in his other hand. This is beautifully decorated in bright colours and would date from around 1755-60. Note the naturalistic shape of the teapot handle, this type known as the 'crab stock handle'. Teapots that were potted into shapes of fruit and vegetables were very fashionable in the 1760's. In 1759, Josiah Wedgwood developed a green glaze used on these wares. However by 1766 he complained that he was sick of coloured wares and was clearing them from his warehouse. The teapots below show the types of fruit and vegetable shaped wares that were being produced at this period. The cauliflower shaped one is particularly well detailed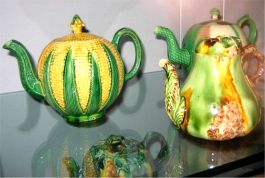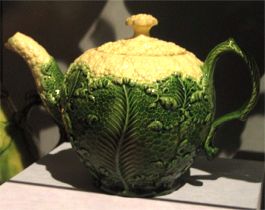 Creamware, or 'Queensware' as it became known, was a popular choice of ware between 1760-80. The height of the popularity of creamware was certainly between c1760-70. This type of ware was a thinly potted earthenware covered in a cream coloured lead glaze. In the same respect as expensive porcelain it had a pale and delicate appearance, just what the market was after. Creamware was cheaper to produce than porcelain and so appealed to the middle classes. However, it also had the patronage of the rich and Royalty too. Wedgwood was one of the key producer of Creamwares.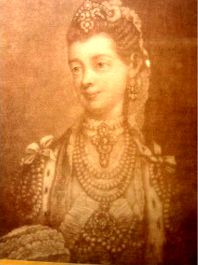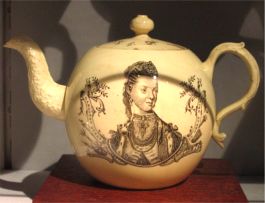 In 1761, Princess Charlotte Sophia of Mecklenberg-Strelitz married King George III of England and became the English Queen. Queen Charlotte was very interested in ceramics and ordered a dinner service from the Chelsea factory in 1763. She is very much associated with Creamware. Her order for 'A complete set of tea things' went to Wedgwood in 1765. A newspaper of the day recorded on 9th June 1765, that 'Josiah Wedgwood, was appointed as potter to Her Majesty'. In a good marketing ploy, Wedgwood quickly renamed his Creamware as 'Queensware' and with his Royal patronage, sales of 'Queensware' in this country and abroad hit extremely high sales figures. Several printed portraits of King George III and Queen Charlotte appeared on items of 'Queensware'. several engraver made portraits of the King and Queen, this portrait shown here is an engraving based on one by Thomas Frye and can be seen reproduced as a black transfer print on the Creamware teapot.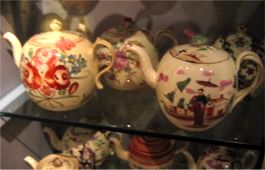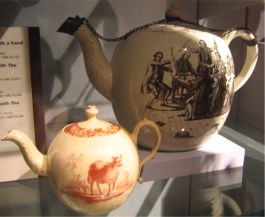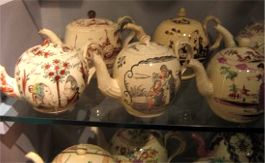 Creamware teapots were decorated with many very finely engraved black or coloured prints or with much more free expressed hand painted decoration of flowers, figures or commemorative type wares.
In Leeds, William Greatbach was producing some very fine quality creamware teapots of distinctive form, c1772-5. These can be seen in the teapots below, the first one having a globular body with pieced gallery top and ear shaped handle. The lid of this teapot has a flower finial. The teapot is decorated in coloured enamels. The second teapot below is a simple globular form, still with the distinctive ear shaped handle, but this time with a ball shaped finial to the lid. This particular teapot is charmingly decorated with the figure of a harlequin scene. The third of the Greatbach teapots shown here is of a cylindrical shape, ear shaped handle and this time a shallow domed lid having a moulded flower as its finial. This teapot is decorated with one of a set of 'prodigal son' scenes and shows gambling at a gaming table. This scene is printed in black and then coloured in enamels.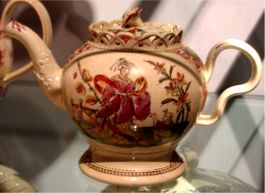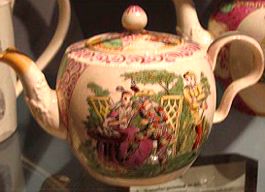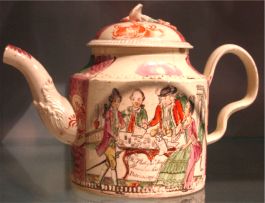 Teapots from the famous Worcester factory are well represented in the museum. There are some beautiful examples of Worcester teapots from c1760-1770's. Shown below is a delightful Worcester teapot decorated in black line decoration showing a man on a buffalo. The second picture shows two Worcester teapots decorated with colourful enamels, the teapot to the left is a particularly interesting multi-faceted shape and oriental style of decoration. The final two teapots are fine examples of the floral and fancy bird decoration. The teapot on the right with the fancy birds is from the workshop of James Giles, renowned for these fancy birds and other exquisite forms of decoration from his London studio.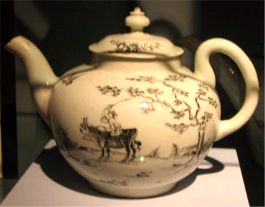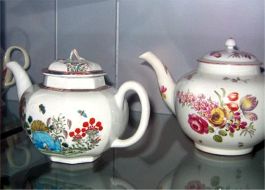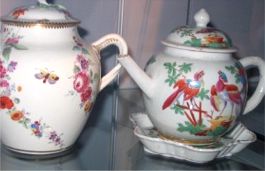 Below are three further Worcester teapots, the first picture shows typical blue and white decorated forms. The three illustrated show the various type of blue and white decoration from those copying Chinese landscapes, figural landscapes and European type floral decoration. The teapot in the second picture is of globular form and decorated with panels depicting Chinese subjects. The final picture shows another globular shaped Worcester teapot c1770 decorated with coloured enamel flower sprigs and gilt decoration. This collection of teapots clearly shows the varied styles and decoration from the famous Worcester factory in the eighteenth century.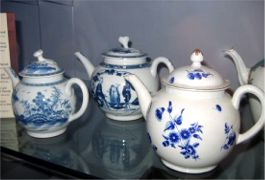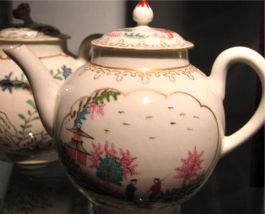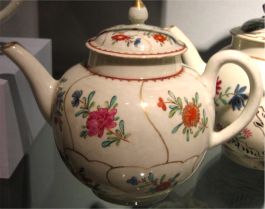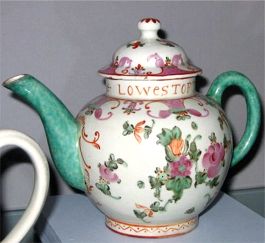 One factory from the eighteenth century that you would certainly expect to find in the Norwich teapot collection would be the work form the nearly Lowestoft factory and you would not be disappointed. The museum has many fine pieces form the Lowestoft factory and an exhibition in the main gallery devoted to this factory. Therefore, I did not believe that I could do the Lowestoft exhibits justice in this newsletter with the other teapots, so I intend to visit the museum again and to solely cover the Lowestoft wares. Just to whet your appetite I have pictured a most charming Lowestoft teapot with 'Lowestoft' painted round the collar of the top of the teapot.
I hope that this article has given you an in sight into what is on offer to be seen at the Norwich Castle museum and that you may be able to pay it a visit your self sometime.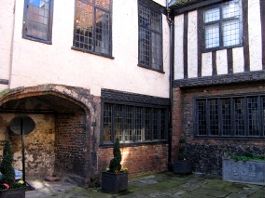 While walking round the streets of Norwich I also discovered 'Strangers' Hall', home to Merchants and Mayors since 1320. This is now a museum but unfortunately it was closed the day of my visiting Norwich. However, in the room abutting the street they had cleverly laid out a room set demonstrating the breakfast menu of the famous household name 'Mrs Beeton' whose household management books were to become famous. Mrs Beeton's breakfast layout was rather extravagant, with game pie, topped with a real pheasant; Cutlets, boiled Ox Tongue, as well as the more usual eggs and bacon. The table is laid up upon a white table cloth set with Spode blue and white porcelain. I will endeavour to feature this museum when I return to the Castle museum to look at the Lowestoft porcelain.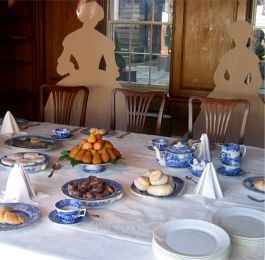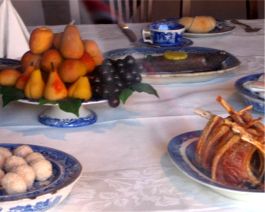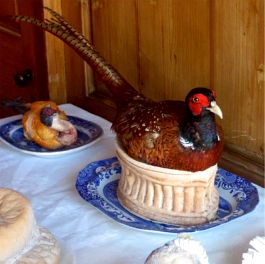 Norwich Castle, Museum and Art Gallery Norwich
Norfolk
NR1 3JU
Tel: 01603 493625
Website: Click here


Map: Click here
Map courtesy of www.streetmap.co.uk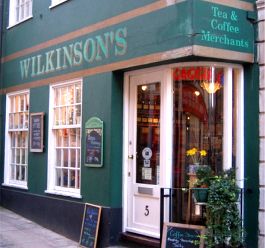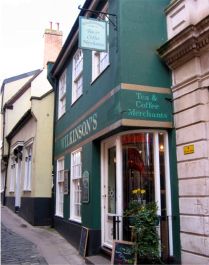 Having wandered the narrow streets around the Market Square in Norwich, I was absolutely delighted to find by chance a most excellent tea and coffee merchants. 'Wilkinson's of Norwich' a company established in 1972, they are the purveyors of an amazing range of teas and coffees. Certainly the range of teas is one of the most extensive that I have come across and the staff are very helpful and knowledgeable about the various teas and blends on offer.
Some of the blends available have rather interesting names such as Mrs Kent; Kashmire Black; Norwich Blend; Padam Darjeeling and Lady-in-waiting, all of which I purchased to take home to try. I was informed that the 'Mrs Kent' blend was a blend that was favoured by Mrs Kent, a local florist, which has become one of the popular blends that they now sell. This, with the Norwich Blend are particularly suited to the very hard water in this area. This would then be fine for me in Portsmouth where we also have very hard water which affects the way in which the teas react when brewing.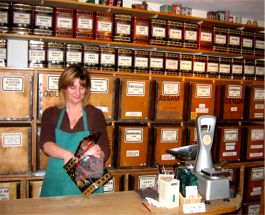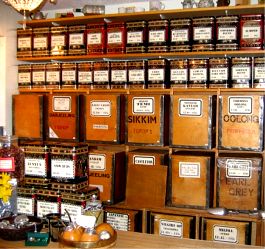 It was very gratifying to find such a wonderful tea and coffee merchant thriving and it is good to know that their teas are available on line, so we can all enjoy them by mail order if we so desire. Happy tea hunting!

Wilkinson's of Norwich Tea & Coffee Merchants
5, Lobster Lane
Norwich
NR2 1DQ
Tel: 01603 625121
www.wilkinsonsofnorwich.com
Map: Click here
Map courtesy of www.streetmap.co.uk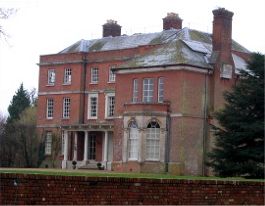 Whist in Norfolk, I was lucky enough to visit Earsham Hall near Bubngay. This Grade II listed country mansion of red brick with handsome stone dressing was built c1707. Its history stretches back further, with the site on which it is built mentioned in the Doomsday book. Some of the rooms within the house were later changed by the famous architect Sir John Soane, including the music room. It is a private home belonging to Annabel Stretton-Derham and family, but it is available for hire for functions etc. However, the old service wing of the house now houses a few entrepreneurial businesses, such as the sale of pine furniture, kitchens and antique pine items. Also, there is a tearoom open to the public and as I was to discover, certainly worth a visit.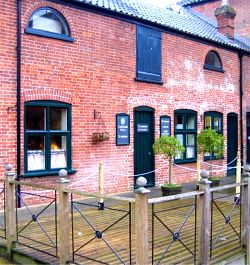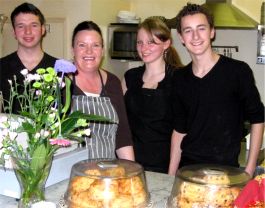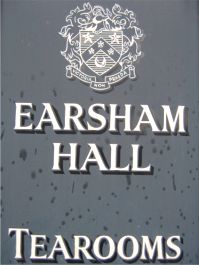 The tearoom itself is part of the service wing of the house and is run by the Jill, who with her young and enthusiastic team make guests very welcome. Jill (second from the left in the above picture) has made the tearoom a success with her style of very good home made cooking. The food that I had there was absolutely delicious. As for the afternoon tea scones, they were just perfect. Afternoon tea is available with large fruit scones freshly baked that day. These scones are some of the best that I have tasted, beautifully crisp on the outside and soft and light inside and dusted with a little icing sugar.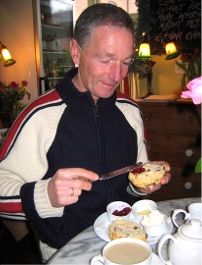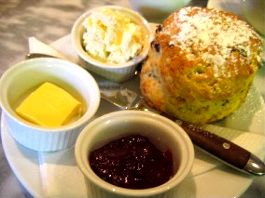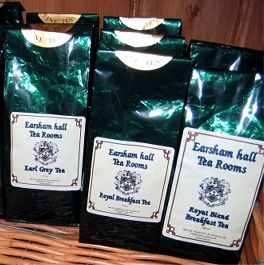 Loose leaf teas are served, these from 'Wilkinson's' the fine tea merchants in Norwich (see above article). They have several blends of tea available, including Royal Breakfast Tea (apparently a firm favourite with Her Majesty Queen Elizabeth II), Earl Grey and Padam Darjeeling. the Royal Breakfast Tea is a blend that gives a strong cup of tea, the Padam Darjeeling a more delicate blend which I found to accompany the scones just perfectly.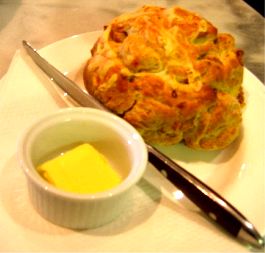 It is worth noting that the loose leaf teas that are on offer on the menu are also on offer for sale in the tearoom packaged under the Earsham Hall tearooms banner.

I strongly recommend this tearoom for afternoon tea with their freshly baked scones. If you like something savoury, then try their cheese scones, these made with cheddar and blue cheese, they are equally as good as the fruit scones.

Earsham Hall
Earsham
Bungay
Suffolk
NR35 2AN
Tel: 01986 893868
website: www.earshamhall.co.uk
Map: Click here
Map courtesy of www.streetmap.co.uk
---
To review past newsletters, just follow this link: Past newsletters.
To subscribe to this free newsletter - Click here
---
All information contained within any article on this website was considered to be accurate (as far as can be ascertained) at the time of writing. TeaAntiques.com Limited makes no warranty and accepts no liability regarding the accuracy of the content.
Copyright © 2000 - 2023 All rights reserved
TeaAntiques.com Limited. Company Incorporated in England No.: 5086843