Tea Clipper

from TeaAntiques.com

Edition

Seventy Eight
Featured Antique - Worcester Tea Bowl and Saucer, Reeded Shape, Painted with Formal Flower Sprays and Ladybirds, c1775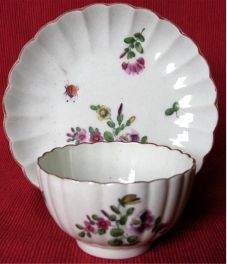 My Featured Antique is an extremely charming and now quite rare Worcester tea bowl and saucer of reeded shape, c1775. This beautiful tea bowl and saucer are decorated with colourful painted flower sprays and include the wonderful feature of bright red spotted Ladybirds.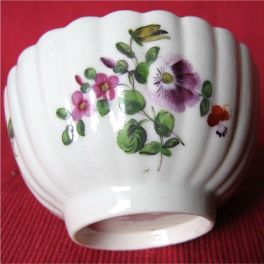 The elegant tea bowl and its saucer have a moulded vertically fluted body with a scalloped rim edged in brown enamel. They are exquisitely decorated with hand painted polychrome flower sprays and a Ladybirds.
It is lovely to find and eighteenth century Worcester tea bowl in such fine condition and is an excellent Worcester tea bowl and saucer for the connoisseur collector of Worcester or early English porcelain.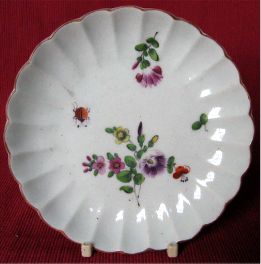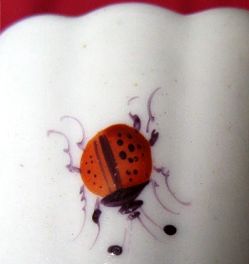 More details of this item and other tea related antiques can be found by visiting my web site at www.TeaAntiques.com.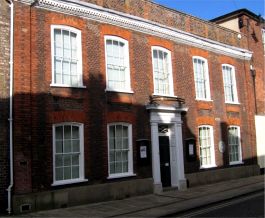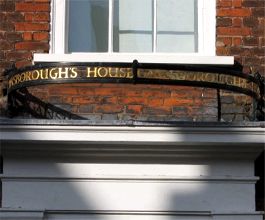 Thomas Gainsborough, the famous eighteenth century artist, was born in this house in Sudbury, Suffolk in 1727. Now a museum and art gallery devoted to Thomas Gainsborough, this handsome, but unassuming house is an interesting place to visit.
Thomas Gainsborough (1727-1788) was born here in the heart of a busy market town. The house is actually far older, with its roots going back to c1500s. This is evident from looking round the house with its beamed ceilings, etc. The front of the house is now very much in the symmetrical style of an early Georgian building, having been altered then to bring it up to a more modern day style by Thomas Gainsborough's father. The five bay wide front, has at the centre a simple Georgian door case with fan light above. Built of red brick, it has white sash windows over two stories, with a white dentil cornice above on which is a parapet wall hiding the roof line.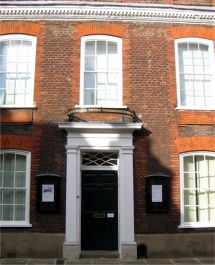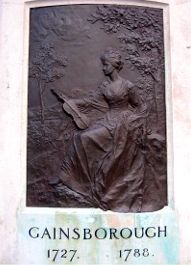 This museum has undergone a major update in 2005-2006, It now boasts a visitor centre and ticket office behind the house, which includes a book and gift shop. There is also a refreshment area where you can partake in coffee, tea and light snacks, either inside or out in the courtyard to one side of the house's garden.
The view of the house from the rear garden is far from the same Georgian symmetry of the front of the house. Here, the walls are painted a bright yellow and there is a two storey bay window to one side of the building. The garden is of a cottage garden style and has a very old Mulberry tree within it. A commemorative plaque is embedded into one wall near to the house commemorating the fact that this was the house in which Thomas Gainsborough was born.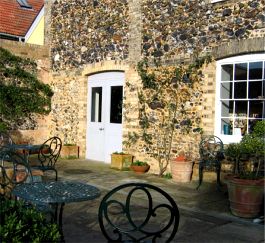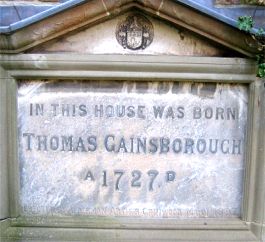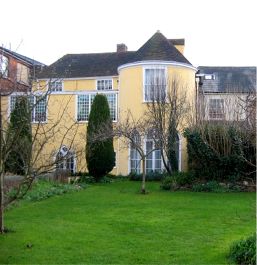 Inside the House the modern galleries are tied in with the old fabric of the house. The first gallery had an exhibition of some of the earliest recorded sketches of Thomas Gainsborough, many of which were purely simple pencil lined sketches - this a temporary exhibition that changes. A lot of these early sketches were of simple landscapes, people or animals. However, it is clearly evident that his own style of art was developing to him becoming a famous portrait and landscape painter.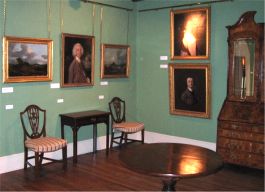 There are more of his paintings, drawings and prints on display in this museum than anywhere else in the world. The display takes the visitor through his early works from early portraits and landscapes painted in Suffolk, to his later works in London. As well as so many of his works of art, there are also rare books and Gainsborough ephemera to be enjoyed, including the artist's studio cabinet, sword stick and pocket watch.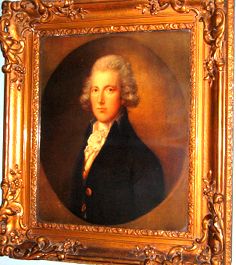 In addition to the actual works of Gainsborough himself, there are also some works by artists associated with Gainsborough, including many by his nephew, who was his studio assistant Gainsborough Dupont. It is clear looking at the paintings done by Gainsborough Dupont, that he had exactly the same style of painting as Thomas Gainsborough and is often quite difficult to tell them apart. The portrait illustrated here is an oleograph by Gainsborough Dupont and is of William Pitt, The Younger (from my own collection).
In 1740, Thomas Gainsborough moved to London and in 1746 married Margaret Burr. He and his wife returned to Sudbury in 1749 and lodged in Friars Street where he and his wife had two daughters, Mary and Margaret. They later moved to Ipswich in about 1752 continuing to paint landscapes and portraits. Then in 1758, he and his family moved to Bath permanently. Bath provided him with a wealth of Society who would become his patrons. In 1768, he became one of the founding members of the Royal Academy and did some paintings for the Royal family.
Thomas Gainsborough died in 1788 and was buried at Kew in London.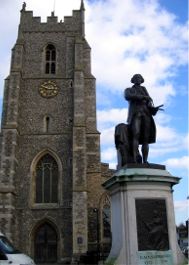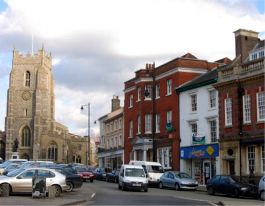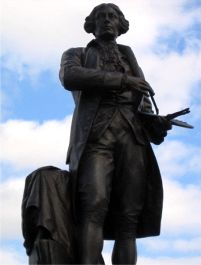 In the pretty town Square in Sudbury, is a statue of Gainsborough which surveys the Square towards his birthplace.

Gainsborough's House 46 Gainsborough Street Sudbury Suffolk CO10 2EU Tel: 01787 376991 www.gainsborough.org

Long Melford
In travelling round Suffolk, rather an interesting village is the village of Long Melford. this pretty village boasts the fact that it has the longest village street in the country, running from the Great Green southwards beside the River Chad. There are many attractive historic buildings to be seen lining this long street, from local timber framed vernacular buildings to the more grand Georgian fronted houses. As well as the houses, there are a number of interesting shops, including a few antique shops.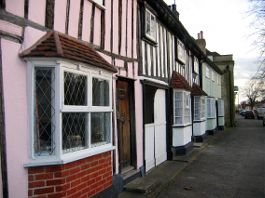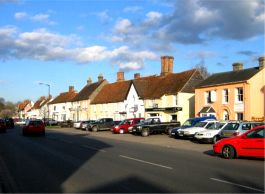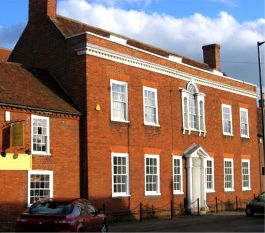 Long Melford has been a thriving place since medieval times. The wool trade brought the village much of its prosperity. To the North end of the village is Kentwell hall, a fine moated Tudor house dating from 1500. Also, there is another fine country house, Melford Hall, a red-brick Tudor house which is owned by the National Trust and open to the public. I hope to cover these houses in future editions of the tea Clipper.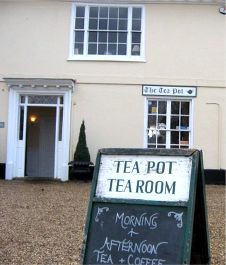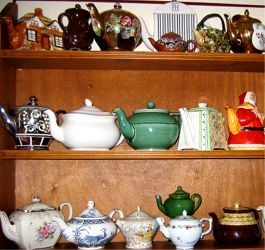 In the little village of Wickham Market in Suffolk is a tearoom called 'Teapots' and it is indeed 'Teapots' by name and 'teapots' by nature. For inside this tearoom, there are shelves around it containing a collection of old and novelty teapots. The amusing lady proprietor is great company but is outspoken; she is happy to give awkward customers as good as they give her! I know this from my own tea party who were delighted by the comical banter between one of the group and the proprietor. It certainly made for a fun and enjoyable tea.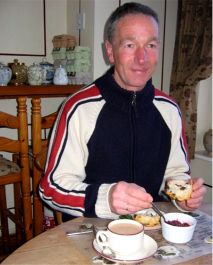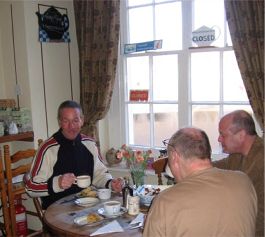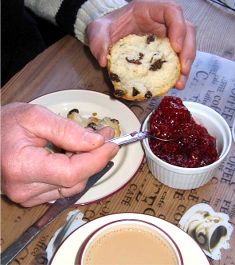 Apart from the lively atmosphere, there were some very nice home-made cakes and slices to be enjoyed. I did have my eye on what looked some very good date slices, but plumped for a home made fruit scone with jam and butter. Not only was the scone very good, I was delighted to see a pot of home-made Raspberry jam being generously emptied into a little dish for me. I was informed that indeed, the jam was made by an old lady who makes the jams for the tearoom. This was exceedingly excellent jam, the flavour just like sweet freshly picked Raspberries bursting with fruity flavour.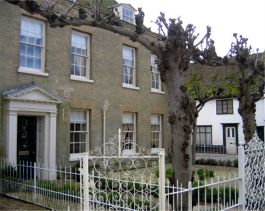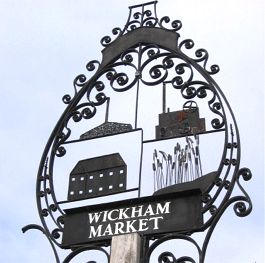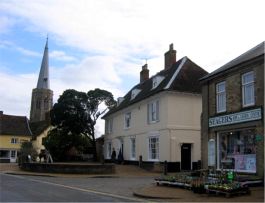 If you are ever passing through Wickham Market in Suffolk, then it may be worth your while stopping to admire some of the interesting houses and buildings around the Square, including the church and some handsome Georgian Suffolk 'white brick' houses. Then try tea in 'Teapots'.

The Teapot Tearoom 46, The Hill Wickham Market Suffolk Tel: 01728 748079
---
To review past newsletters, just follow this link: Past newsletters.
To subscribe to this free newsletter - Click here
---
All information contained within any article on this website was considered to be accurate (as far as can be ascertained) at the time of writing. TeaAntiques.com Limited makes no warranty and accepts no liability regarding the accuracy of the content.
Copyright © 2000 - 2023 All rights reserved
TeaAntiques.com Limited. Company Incorporated in England No.: 5086843