Tea Clipper

from TeaAntiques.com

Edition

Eighty One
Featured Antique - A rare Caughley Fluted 'Armorial' Sucrier and Cover, Stunningly decorated in underglaze blue and rich gilding, painted with the arms of the 'Hardy' family, underglaze Salopian 'S' mark, c1785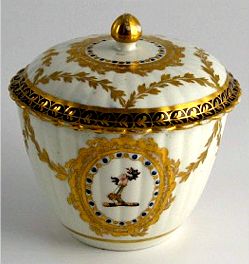 A spectacular and very rare Caughley sugar bowl and cover (Sucrier). This stunning Caughley Sucrier is exquisitely decorated in underglaze blue with extremely rich and fine gilding. It has on the front an elaborate gilt cartouche framed with jewel like blue and gold dots. In the centre of the cartouche the armorial of the 'Hardy' family. This is a one off piece of Caughley from a especially family commissioned tea set dating from c1785, thus making it not only most beautiful, but very rare.
Inside the cartouche is an heraldic device in the form of ' a dexter arm embowed in armour, holding in the hand proper a dragon's head, erased sable'. This crest is recorded for the 'Hardy' family of Toller Wilmer in Dorset. Other recorded branches of the Hardy family had various other beasts within the grasp of the dexter arm and hand. Here the dragon, in grey and black can be seen with its open mouth with razor shape teeth and red pointed tongue extended out.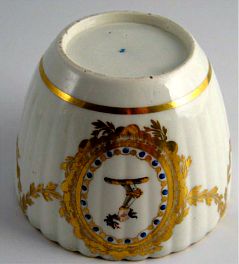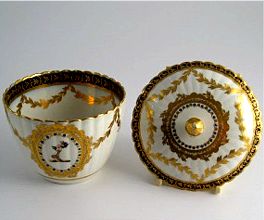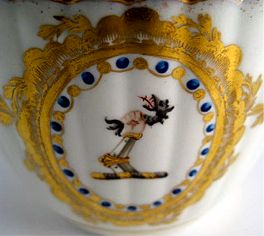 The underside of the Sucrier is marked with the underglaze Salopian 'S' mark of the famous English Caughley factory. This handsome Sucrier dates from c1785. This is one of the finest Caughley sucriers to be had; this is a one off piece for the connoisseur collector of Caughley or Early English porcelain.
More details of this item and other tea related antiques can be found by visiting my web site at www.TeaAntiques.com.
On 8th July, I was invited to the making of a pilot programme called 'Treasures' that, if accepted by the BBC, may become the latest antiques programme aimed at collectors of various antiques. The pilot programme concentrated on Worcester porcelain and Moorcroft pottery. TeaAntiques, having many items of Worcester was asked to take part in the filming in Bristol.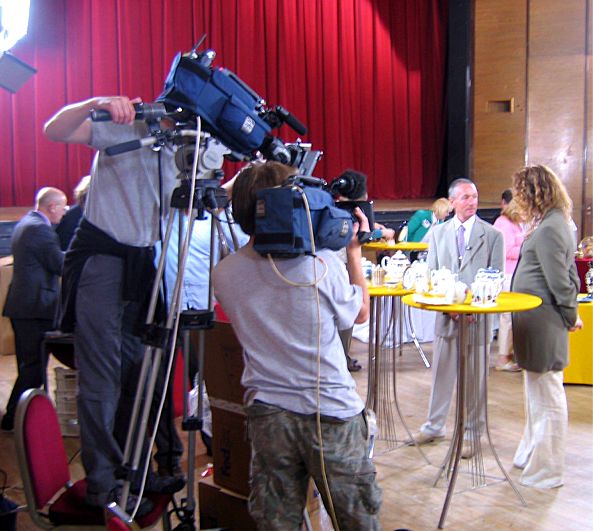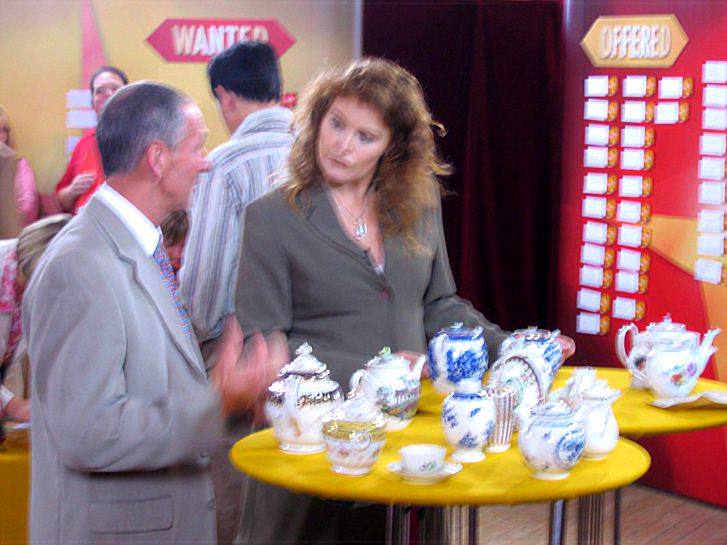 The idea behind the programme is that it brings together dealers and collectors of various antiques and also members of the general public on the day who may have items they wish to be sold or exchanged.
The producers of the programme were interested in the tea aspect of my business, so wanted to talk on camera about some of the pieces that I have for sale on the website and also some favourite items from my own collection of eighteenth century tea wares. Therefore, on the day of filming, I packed a lot of the Worcester items from the business and from my personal collection and set off to Bristol for the day.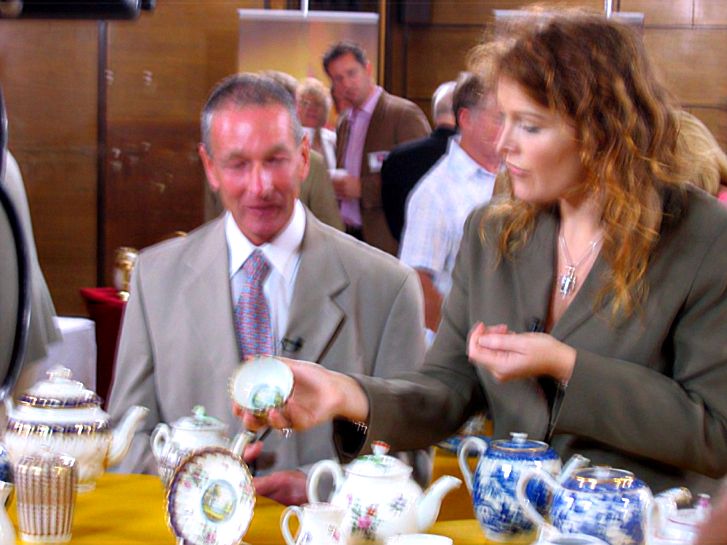 The producer of the programme wanted specifically to feature me with the tea theme; as soon as I arrived there was barely time to unpack a few items before I was called to do some filming with the show's host, Shauna Lowry. This first filming session concentrated on Worcester items and showed from where their decorating influences originated, such as the copying of Chinese export wares or the European factories such as Meissen and Berlin. A straight take of 15 minutes of filming and chatting on this subject was only interrupted once by a man accidentally walking between us and the cameras! (hopefully they will edit that out!) During the day, collectors and dealers were encouraged to swap or sell items to each other; these deals were filmed as part of the programme.
Two established antique programme presenter / personalities were there to assist in the filming and to offer expert advice. David Barby concentrated mainly on the Moorcroft and Philip Serrell on Worcester. I did some filming talking about a few items of Worcester and their values with Philip Serrell.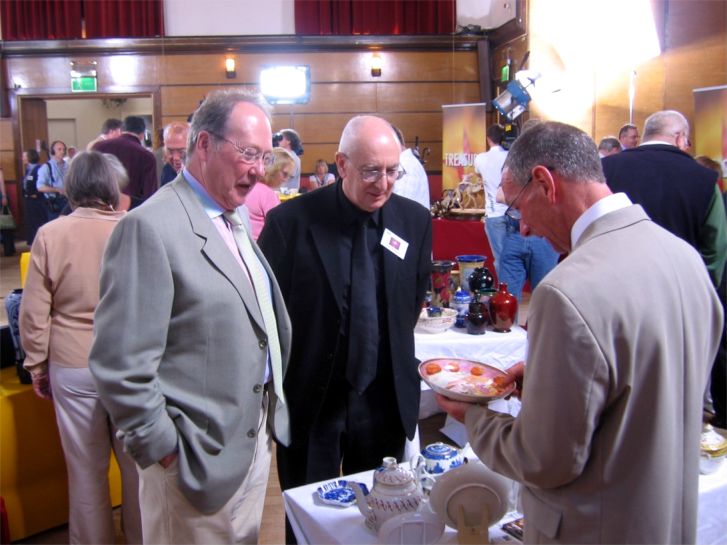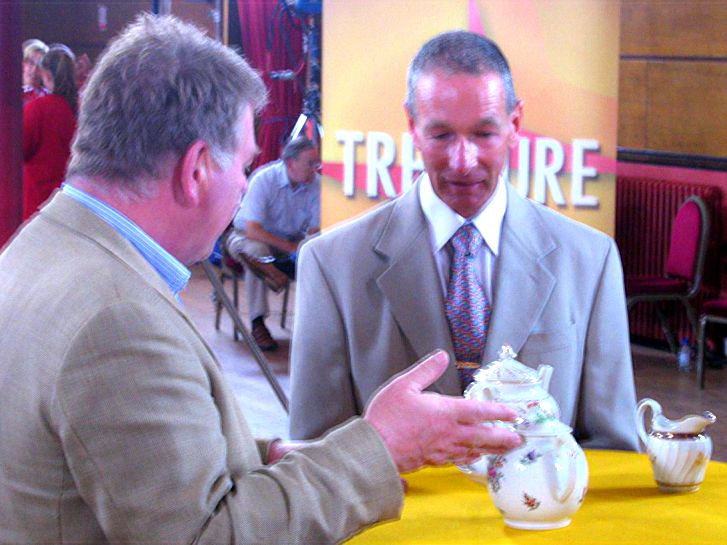 In the afternoon the doors were open to members of the public to come in and sell or swap items they have. A board of 'wanted' and 'offered' items was displayed with all the items people were trying to buy or sell, in the hope that some matches could be found. I was able to do a deal on a Barr Worcester jug that a lady wanted taking in part exchange a Chamberlain's Worcester coffee can and saucer. This deal between us was filmed and so may be seen in the programme.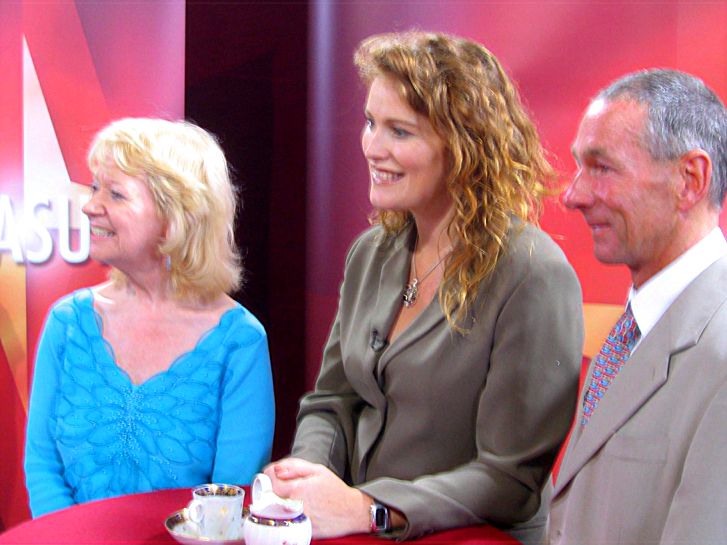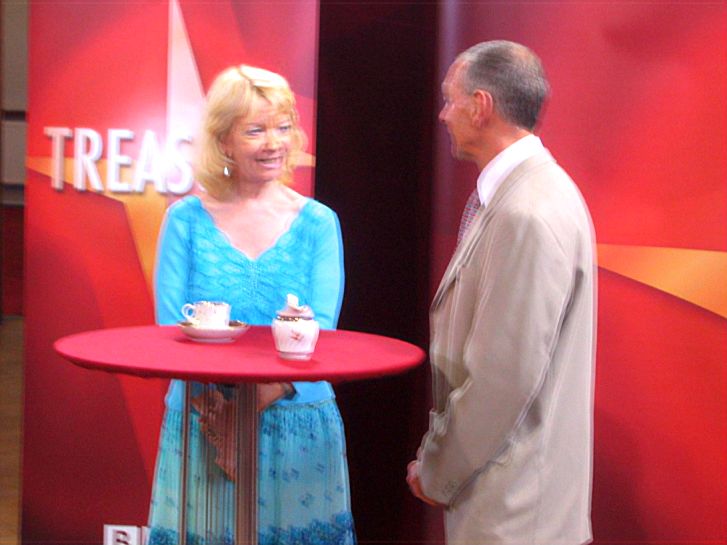 As a pilot programme, when it has been put together by BBC Bristol, it will be sent to the BBC in London and be reviewed by them. The outcome will be to make it into a series, scrap it or modify it in some way - watch this space!
During this summer, Mompesson House in Salisbury is featuring a special exhibition of its Turnbull collection of eighteenth century wine glasses, which having visited and I can strongly recommend.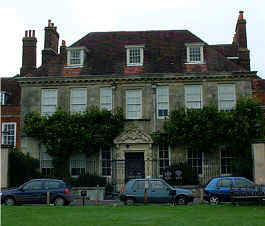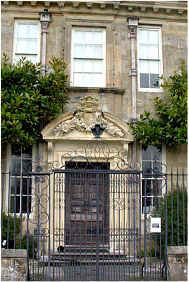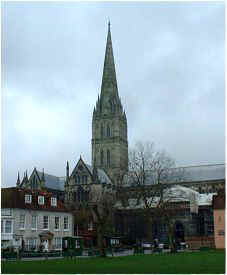 Mompesson House is a most delightful eighteenth town house in the beautiful setting of Salisbury Cathedral Close. It houses one of the finest collections of eighteenth wine glasses to be seen in Europe. This collection is always on view at the house, but there are many more that are part of this large collection that are not generally displayed, these are forming part of this summer's exhibition.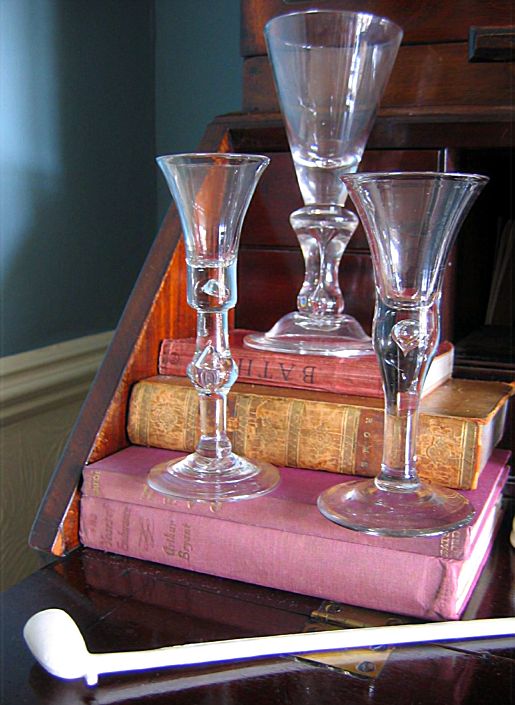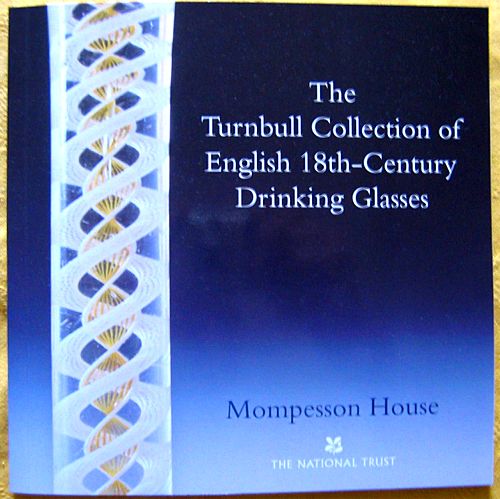 This magnificent collection of wine glasses covers the whole of the eighteenth century from the heavy baluster stems, to the light baluster, drawn trumpet, air twist, coloured twist and faceted stemmed glasses; some with extremely rare and fine engraved bowls. To coincide with this exhibition, a new catalogue for the glass collection has been produced and is on sale at the house. It is an interesting read and has some wonderful pictures of the wine glasses.
Oswald Turnbull (1890-1970) put this wine glass collection together in a remarkably short space of time, just 4 years. The special exhibition not only shows some of the collection not shown before, but also demonstrates how these early glasses were hand made. Some glasses were blown with the bowl and stem and a foot then added, others may be made in three parts, the bowl stem and foot - all being made separately and joined together. Such three-part glasses are those with opaque and colour twisted stems where the stem would be made by making a long rod of the twisted glass, which is then cut into glass stem lengths and added to a bowl and foot. The wine glasses illustrated here are not from the Turnbull collection, but from my own personal collection, but show the sort of Georgian glasses on display.
The exhibition also tells interesting accounts from the time of how these wine glasses were used during dinners or at cards and the types of wines and sweet cordials that were imbibed. Wine glasses then were expensive and so guests at a dinner would only have one glass that would be kept on the sideboard and filled by a servant when required by the guest. Between glasses of wine, the glass would be rinsed in water and used again. There are many other interesting facts to be read about in the exhibition.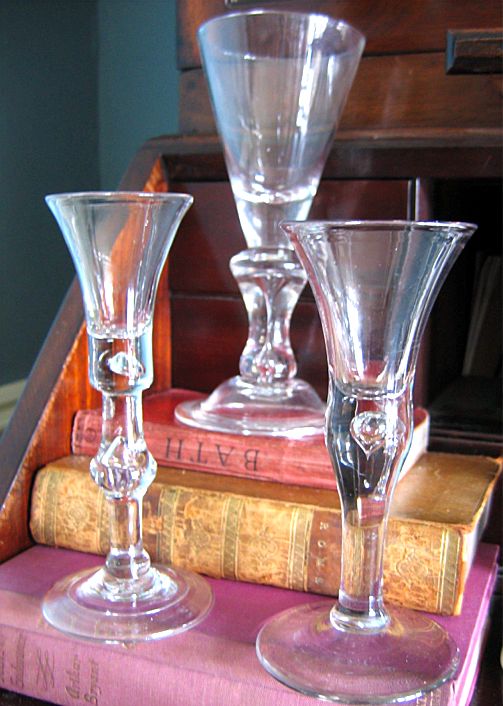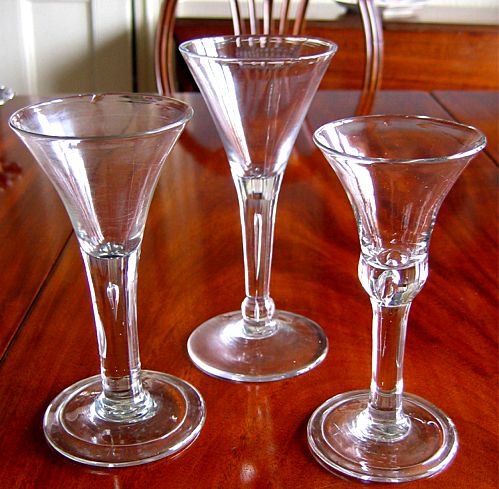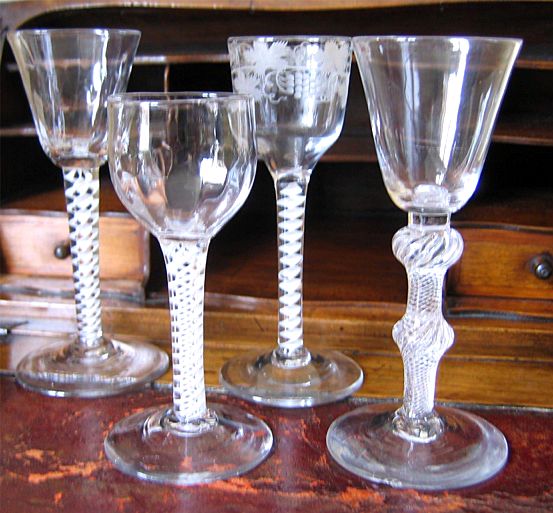 Mompesson House has always been a favourite of mine and it has never failed to make an impression on any guests I have taken there. It is the sort of town house that everybody says, 'I could just live here'. In the charming red drawing room, there is a tea tray set on a fine sofa table in front of the fireplace. On this tray a silver teaset and an inviting looking fruit cake. There is a little teashop in the corner of the small town garden at the rear of the house, perfect for tea cakes and sandwiches and to reflect on what to me is a perfect house and interesting glass exhibition. I hope that you may find time to take a visit there.

Mompesson House The Close Salisbury Wiltshire SP1 2EL Tel: 01722 335659 Local map: Click here Maps courtesy of www.streetmap.co.uk

In last month's Tea Clipper I featured the Palace of Hampton Court. In July, they host the Hampton Court Flower Show. This year, I went along for the first time to take a look. It is a massive event, with show gardens and all sorts of gardening goodies for the public to buy. It is a show that attracts huge crowds and with some very wet weather this year during the show, the show ground was extremely muddy.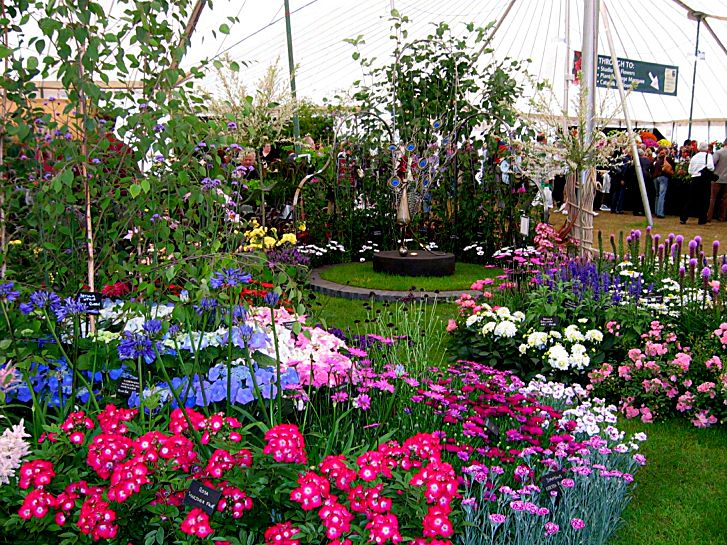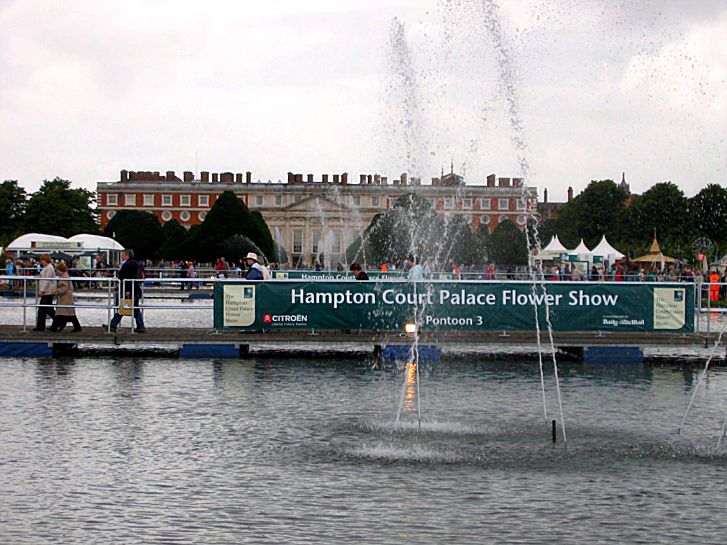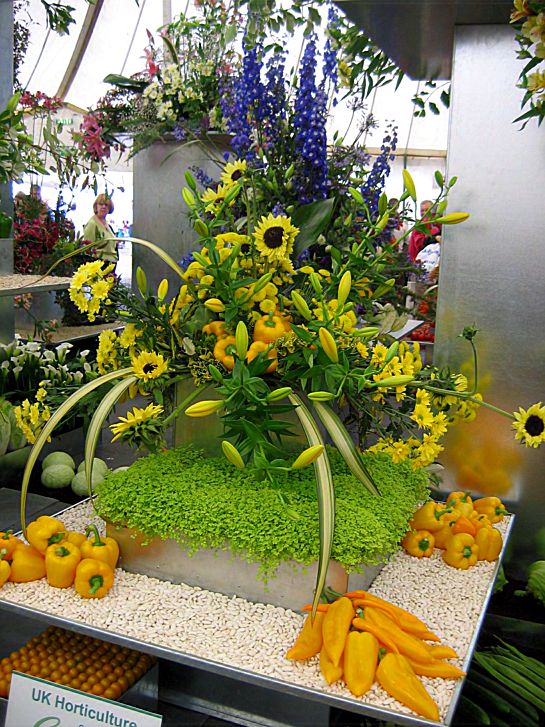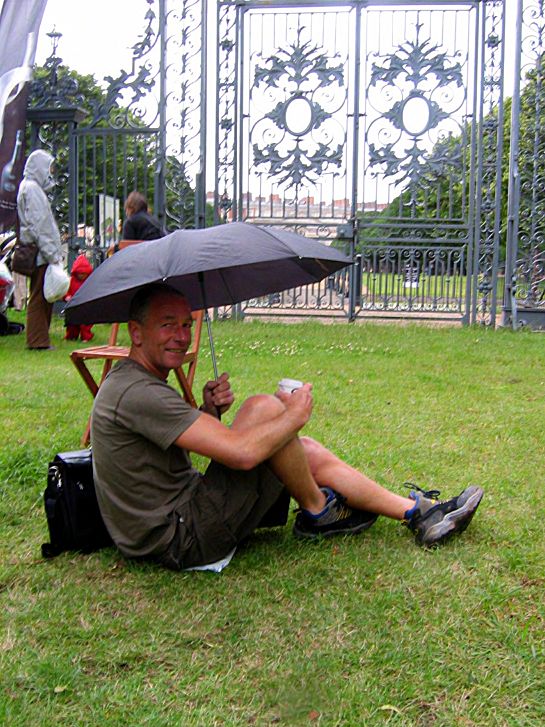 Typically British, the rain did not put people off attending and enjoying this fine horticultural show. Armed with an umbrella, I made the most of the show. However, as usual with this type of event, the places in which to take tea were disappointing; I had to endure a sad teabag floating in a cardboard cup sheltering from the rain under my umbrella. Why cannot these events provide a good quality afternoon tea?
The reason that I am reporting on this show is that one show garden 'The Willow Pattern Plot' was a charming interpretation of the famous willow pattern that we see on lots of china including many items of tea ware.
I thought this garden very clever, especially as it was the work of Sheddington Community Primary School.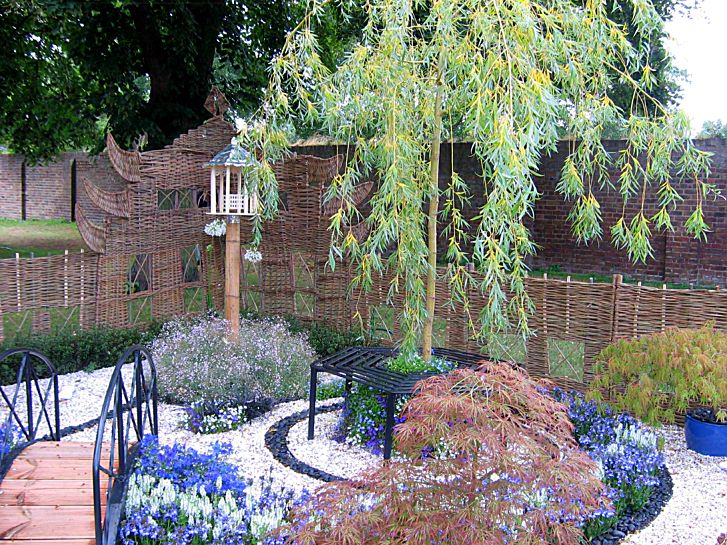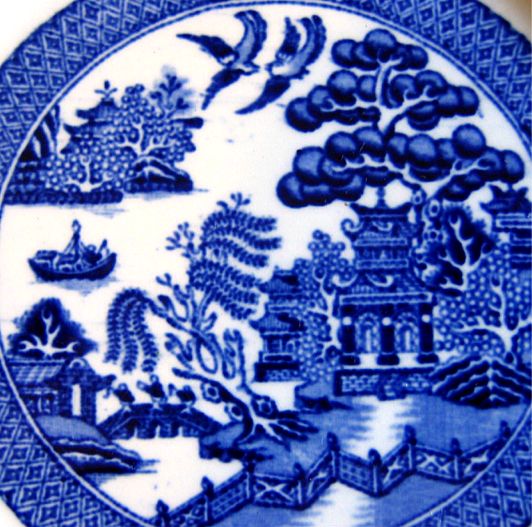 The 'willow pattern' has been around for some years and easily recognised by many, but how many know of the story that the scene represents? The oriental scene in blue and white tells the doomed love story between the beautiful Koong-se and Chang. Chang was secretary to her father who did not approve the liaison considering him a bad match for his daughter. The willow fence was built to surround the pagoda in an attempt to separate the lovers from each other. However, there is a bridge over which the lovers escape to a distant island. Sadly, they were discovered and Chang was killed. Heartbroken, Koong-se then set fire to the house thus dying to be with her lover. So moved were the gods, that they immortalised the loving couple as two doves free to fly together until the end of time.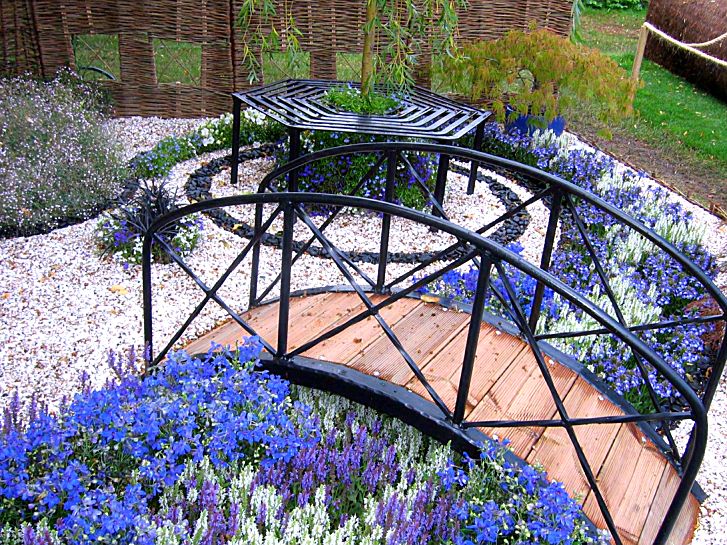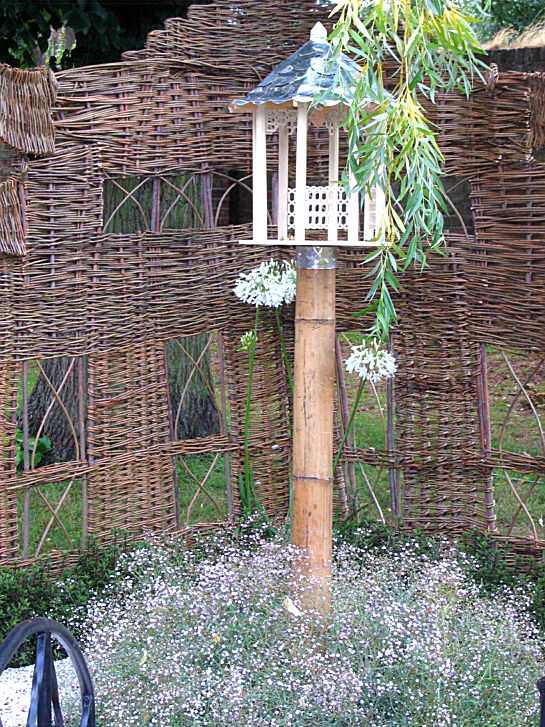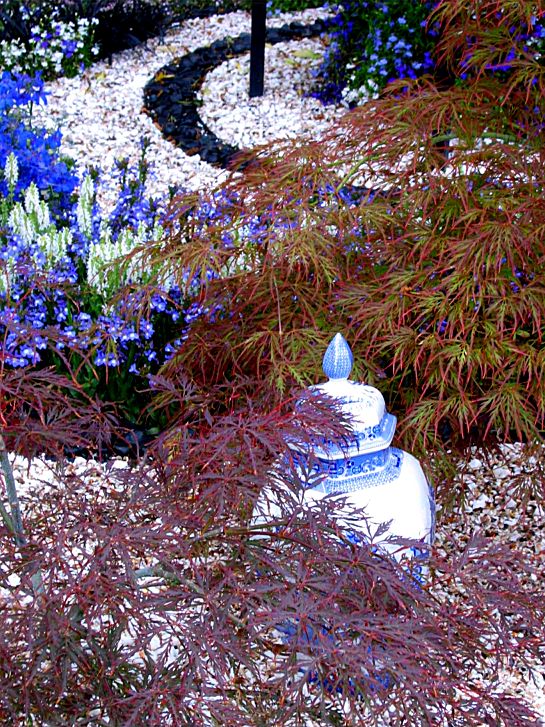 I thought that the design of the garden by this Primary School was very clever. They have a willow fence over which there is a little metal bridge. The island to which the loving couple fled is represented by a tree seat and a bird table is symbolic of the doves. Blue and white planting is skilfully executed and a graceful willow tree completes the story of this popular blue and white scene.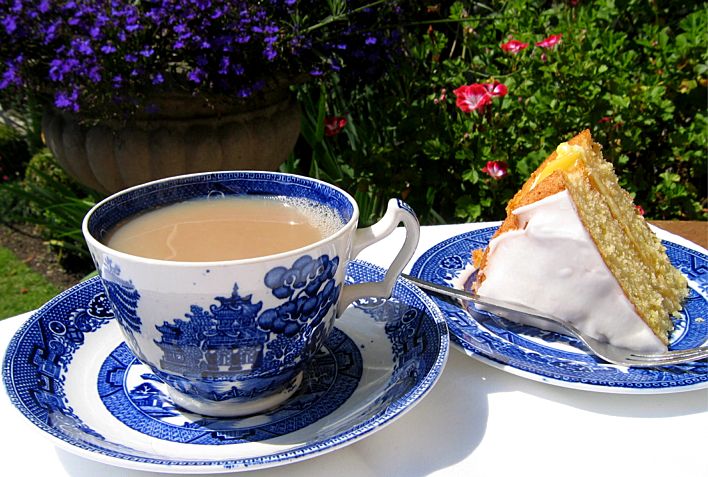 What better way to appreciate this lovely story but to sit in the garden for afternoon tea using some old willow pattern tea wares?
---
To review past newsletters, just follow this link: Past newsletters.
To subscribe to this free newsletter - Click here
---
All information contained within any article on this website was considered to be accurate (as far as can be ascertained) at the time of writing. TeaAntiques.com Limited makes no warranty and accepts no liability regarding the accuracy of the content.
Copyright © 2000 - 2021 All rights reserved
TeaAntiques.com Limited. Company Incorporated in England No.: 5086843