Tea Clipper

from TeaAntiques.com

Edition

Eighty Five
Featured Antique - A First Period Worcester Teapot, plain globular body, flower finial, 'fruit and wreath' blue and white decoration, c1770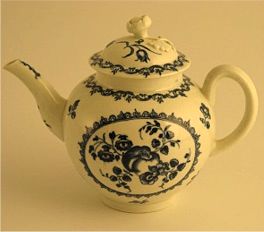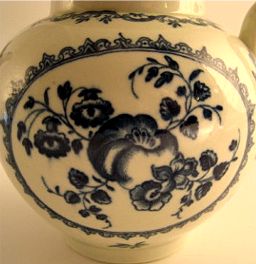 A charming First Period Worcester teapot dating from c1770. This delightful teapot has a smooth globular body that is decorated in underglaze blue with the 'wreath and fruit' pattern. The teapot cover has a beautiful open flower finial making it an attractive teapot for the collector. I would like to point out that this teapot is not in the perfect condition that I like my stock items to be, as it has a small chip missing from the raised collar of the teapot on its rim. This is shown clearly in the condition report of the more detail page on the web site. However, this teapot and cover are still perfect for displaying, and at a fraction of the price of a perfect item.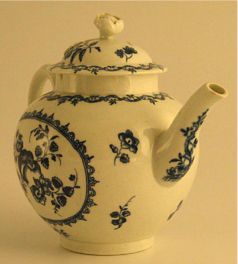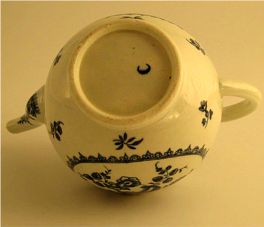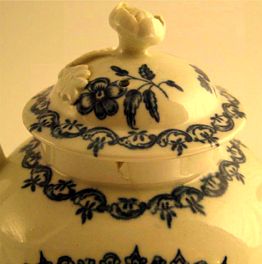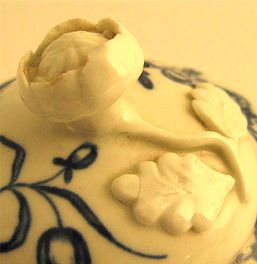 The oval wreath design appears on both sides of the teapots body and contains within it the fruit and flowers.
The cover of the teapot fits nicely into the raised collar of the teapot. The cover is decorated in blue and white flower sprigs and has as its finial, a charming open moulded flower.
The underside of the teapot is marked with the blue crescent mark from the famous Worcester factory.
This is s very good example piece for the collector of early Worcester or English porcelain. An elegant teapot and cover that is beautifully decorated - maybe an ideal little Christmas present?
More details of this item and other tea related antiques can be found by visiting my web site at www.TeaAntiques.com.
With Christmas on the doorstep, one way to get into the festive spirit is a day spent in the capital city - London. Here in this vibrant city there is a wealth of Christmas activities and exhibitions to occupy a day ( or more).
On my day in London last December, my first stop was to go to the Geffrye museum, as they had just had some improvements made to their layout and displays. This wonderful museum, which displays and illustrates the changes in styles and domestic interior design through the ages, from the 17th century to modern day living. this is beautifully achieved by a sequence of room sets, progressing through the periods. At Christmas, each of the period room sets is decorated with the type of Christmas decorations of the time. This gives a delightful insight to the way our ancestors celebrated their Christmas.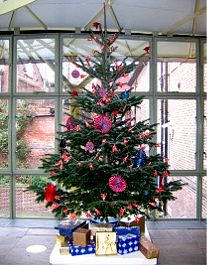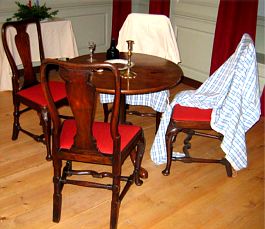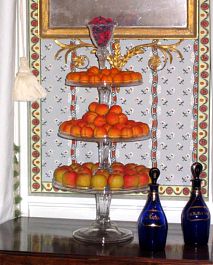 I have reviewed this museum a few years ago in several 'Tea Clippers'. It is a free museum that I highly recommend as a museum of great interest if you have a love of antiques and domestic styles. Since my reviews, the museum ahs undergone some updating and have incorporated new display areas with additional hands on learning. Effectively, what the museum has done is to introduce a learning display between the period rooms. These new areas have display cabinets which display things of the period and have information boards and recorded handset information.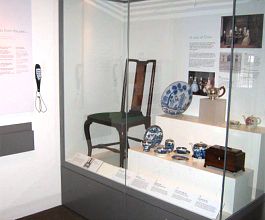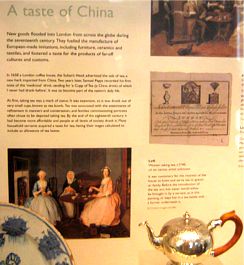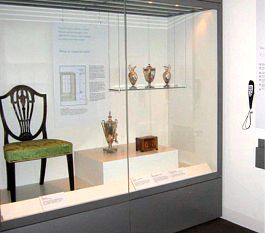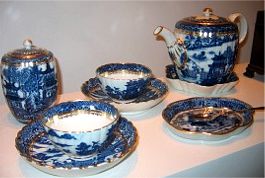 For the mid-eighteenth century display, the new display area had a cabinet displaying the links with Chinese and English style. I was delighted to see a Caughley blue and white teaset c1785 as part of the display, this illustrating the way in which English porcelain manufacturers were trying to copy the style of the popular imported porcelain from China. It is further illustrated by having the spoon tray of this group of tea wares as a Chinese hard-paste porcelain one of the period and shows the similarity in styles. from c1770, a full tea equipage would comprise 43 pieces, which as well as the tea bowls and saucers, would include the teapot, sugar bowl, milk jug, bread and butter plates, slops bowl, tea canister and spoon tray.
There was an interesting eighteenth century chair, known as the 'Chinese chair back chair', c1725 and is compared to an actual Chinese chair c1550-1650, and it is clear that the English cabinet makers were copying the Chinese style as the latest fashion for English furniture.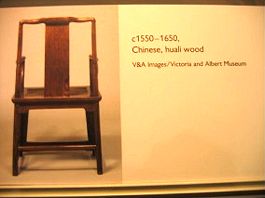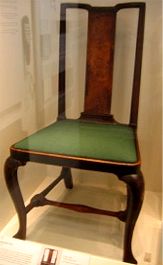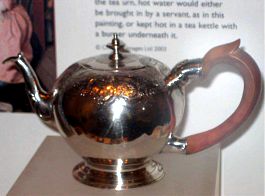 Also, displayed in the cabinet was a beautiful Georgian silver 'bullet' shaped teapot, dated 1744-5, by Benjamin West. It has an attractive cast rounded body with scroll and floral engraving round the shoulder and a fruit wood handle. Similarities in shape can be seen compared to the early English salt-glaze stoneware teapot (below) c1750. A handsome mahogany tea caddy is also displayed here. Tea was often drunk as a medicinal drink. As such medicinal drinks were usually sweetened with sugar, so was tea. This evolved as the way in which to take tea, with sugar which improved its flavour. As refined white sugar was extremely expensive in the eighteenth century, those who could not afford this luxury may have sweetened their tea using brown sugar, molasses or even treacle which were much less expensive.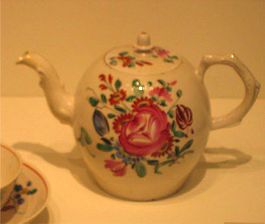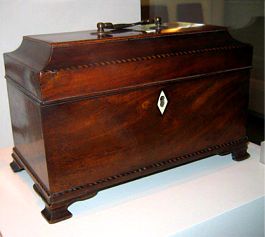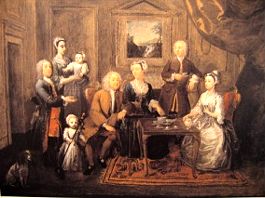 Such an important social activity, families were often painted depicting themselves taking this expensive fashionable beverage. this is superbly illustrated in this portrait of Henry Norris, a successful merchant, c1736.
The listening posts within the display areas have some fascinating information to impart. One of the subjects talked about, from actual writing of the time, was the correct way for a servant to serve tea. This included how the tea tray should be laid and presented. Whether or not the tea should be pre-poured into the cups and served round to guests or whether it is the mistress who would serve the tea. Is there a tea urn to be used for the hot water, or is there a servant to bring in hot water from a kettle?
A similar display area for the late eighteenth century has a Hepplewhite style chair, a beautiful and classically designed silver tea urn c1790 and a sycamore veneered tea caddy, inlayed with holly and other woods c1780.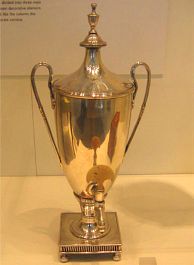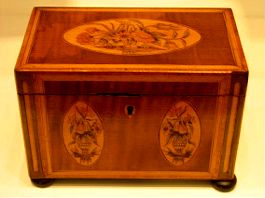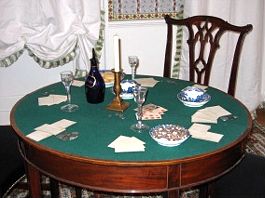 In the museums restaurant, there are seasonal refreshments and dinners to be enjoyed if you so desire.
I decided to travel across to the National Portrait gallery for afternoon tea in their restaurant on the top floor. This has a roof top view out across Trafalgar Square and affords views of Nelson's column, Houses of Parliament and the London Eye. This restaurant does get very busy, so it might be worth booking or getting there early for tea, which usually starts around 3PM.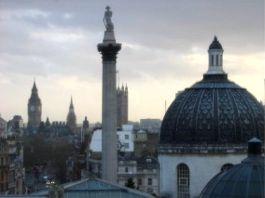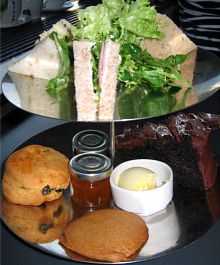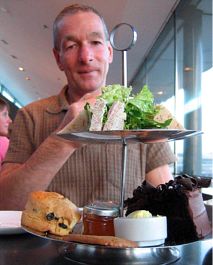 They serve a set tea, as well as individual items of cake. The set tea was adequate and to sit and admire the view was lovely, However, I found the restaurant a bit chaotic and slow. The sandwiches were presented on a two tier steel cake stand. It stated that the set tea had a choice of cakes, but I was not offered a choice and was given a slice of rich chocolate cake. Although quite pleasant, I did feel that for a restaurant in such a gallery and location, could do a little better!
It is always interesting viewing some of the many portraits in the gallery. here you can put a face to such famous eighteenth century people of note, such as Thomas Chippendale the furniture designer and cabinet maker; Robert Adam the architect (below left); Thomas Gainsbrough the portrait artist and George Frideric Handel (below right) to name but a few.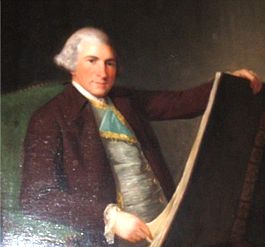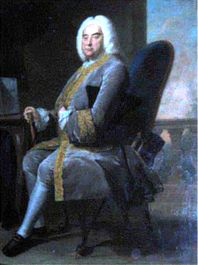 As the day grows dark, it is worth a walk up Regent Street to Oxford Street to admire the illuminated Christmas decorations. Once the lights are bright in the darkened sky, there is definitely more of a festive spirit to the air. It is also worth looking at some of the famous stores Christmas windows. Last year, I was very impressed with those of Fortnum and Mason, who had as their theme 'Alison in Wonderland'. It seemed quite relevant to 'Tea Antiques' to see the mad hatter's tea party! Fortnum and mason is an excellent place from which to purchase tea, be it fine loose tea or in bags.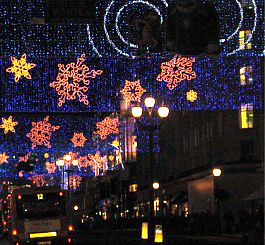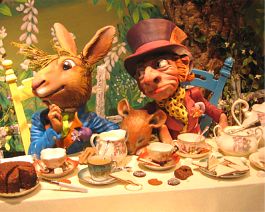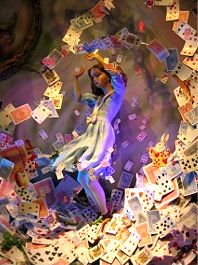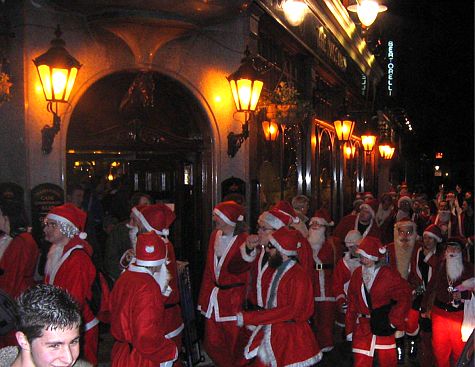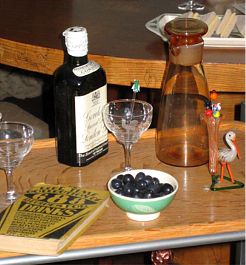 Covent Garden is a vibrant place to wander too, with its huge illuminated Christmas tree at one end and usually a Santa Grotto for the children. Santa's snow covered grotto has his present packed sleigh outside and his Reindeer in their shelter. On my visit to Covent garden, there seemed to be rather too many Santa's around! Maybe I had enjoyed rather too much Christmas spirit!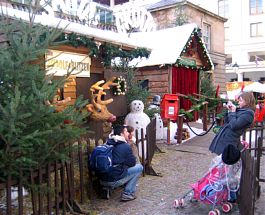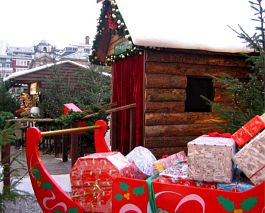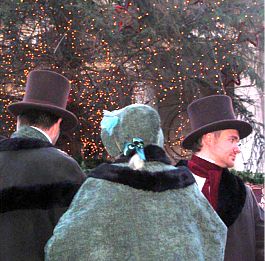 Geffrye Museum
Kingsland road
Shoreditch, London
E2 8EA
Tel: 020 7739 9893
Website: http://www.geffrye-museum.org.uk
Click here for Local Map
Map courtesy of www.streetmap.co.uk
The National Portrait Gallery
Trafalgar Square
London
Click here for Local Map
Maps courtesy of www.streetmap.co.uk.
'Bath's Tea Time Treats' a newly published book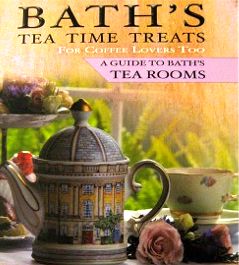 With Christmas all but upon us, maybe this is the ideal Christmas gift for the lover of tea and the beautiful city of Bath. The book is written by Mair L.D. Harris and is a delightful book full of interesting tea facts, places in which to enjoy tea in and around the Georgian city of Bath, as well as some wonderful recipes. Mair asked 'Tea Antiques' for an input into the book's picture illustrations, which I was more than happy to do. The book was launched in Bath in November at the Bath Spa hotel, I was kindly invited to this book launch, but sadly was unavailable to attend. However, my thanks to Mair for my signed copy of the book.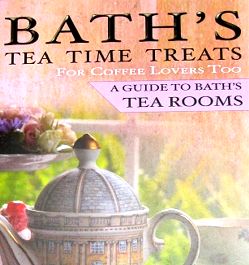 The book is an easy and compelling read, that balances all types of tea subjects, mainly relating to the city of Bath. Included are such topics as the history of tea in Bath, museums, historical places, tea equipage and tea trivia. Along with these are some very interesting recipes which I for one will be trying, including crumbly banana fingers, lemon mincemeat cake and prunes in port cake to name a few.
If you wish to order a copy of this interesting book you may do so from Mrs Joy Harrison, 38 Middle Stoke, Limpley Stoke, England, BA2 7GF. Tel: 01225 720021 or 07887 817308; e-mail: joy2.harris@btinternet.com
Price 10.95GBP, plus shipping.
Joy Harrisson is kindly doing the marketing and processing orders for Mair. I am sure you will enjoy her book - happy reading.
Merry Christmas Tea Clipper Readers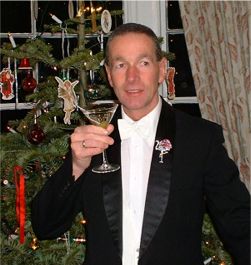 From Adrian
---
To review past newsletters, just follow this link: Past newsletters.
To subscribe to this free newsletter - Click here
---
All information contained within any article on this website was considered to be accurate (as far as can be ascertained) at the time of writing. TeaAntiques.com Limited makes no warranty and accepts no liability regarding the accuracy of the content.
Copyright © 2000 - 2021 All rights reserved
TeaAntiques.com Limited. Company Incorporated in England No.: 5086843