Tea Clipper

from TeaAntiques.com

Edition

Ninety
Featured Antique - A Caughley Spoon Tray, 'daffodil painter group', fluted form, gilt rim, c1785-90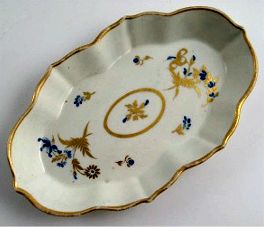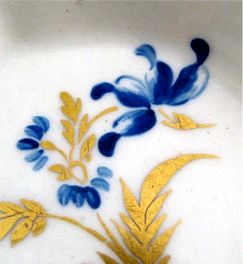 A very attractive Caughley spoon tray, c1785-90. This elegant spoon tray is of lozenge shape and has a scalloped raised rim. The decoration is of elegant flower sprigs in underglaze blue with applied gilding. This decoration is known as the 'daffodil painter group'.
The quality of the decoration is very fine, especially the delicate gilding of the flowers. It would be a fine addition for anyone collecting Caughley or early English porcelain.
More details of this item and other tea related antiques can be found by visiting my web site at www.TeaAntiques.com.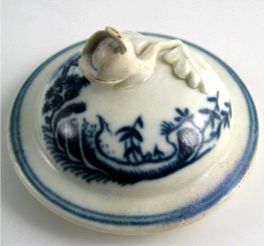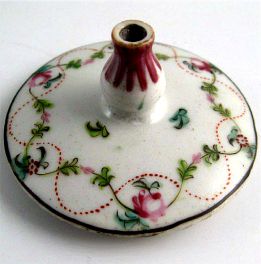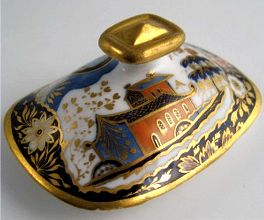 In 2007 I visited the Norwich Castle museum and reviewed, what is reported to be, the largest collection of China teapots in the world. I promised then to return to review the display of Lowestoft porcelain and to include some other delightful items of tea equipage on display.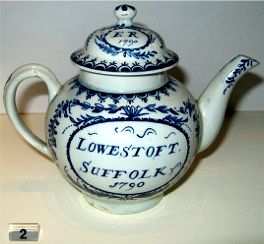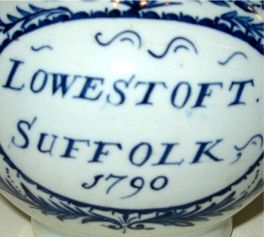 The Lowestoft factory is one of the lesser known factories in England and dates from the mid-eighteenth century. It is factories such as Worcester, Chelsea, Caughley and Derby with which we are perhaps more familiar. The Lowestoft porcelain factory was in Suffolk, on the east coast of England. It was established shortly after 1757 and was certainly known to be in production by 1760. It continued to produce innovative and attractive wares for over 40 years before the demise of the factory c1801. Its production of porcelain was mainly of cheaper wares than its competitors were supplying. It even cashed in on souvenir hunters visiting the area by producing 'trifles' from Lowestoft, a seaside resort that was growing in importance at this time. Lowestoft was considered a very healthy place to visit, with its clean seaside air and healthy situation on the coast. Lowestoft did not restrict itself to producing 'Trifles' from Lowestoft itself, but also produced them for nearby towns in East Anglia such as Bungay, Great Yarmouth and Kings Lynn.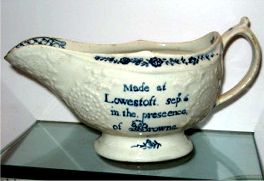 Porcelain in the mid-eighteenth century was mainly being imported from China in blue and white decorative form. The early English factories were soon to follow this fashionable trend in an attempt to grab the market. The early Lowestoft wares were charmingly hand painted in underglaze blue. The decoration often took the form of this Chinese style. It was also influenced by European decoration of porcelain and often used rococo motifs.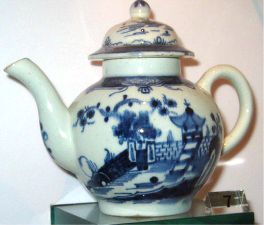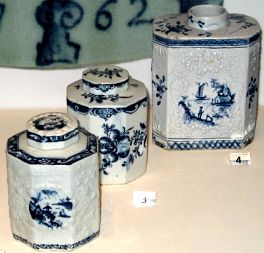 Hand painted porcelain was labour-intensive to produce and expensive to buy. Thus the development of blue transfer printed decoration in the late 1760's allowed standard designs to be repeated over and over again. However, it is for its hand painted pieces, which are so charming decorated, that Lowestoft is most known and collected.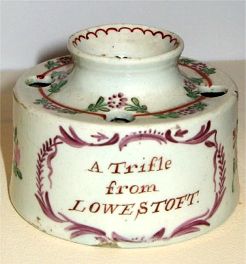 Maybe because of Lowestoft producing 'Trifle' type and specially commissioned wares, that it has one of the highest outputs of inscribed and dated wares, very useful for collectors and historians. Such pieces help to identify the market that the Lowestoft factory was trying to capture - identifying who were its customers and clients? It also assists in identifying the shapes and patterns used at the Lowestoft factory.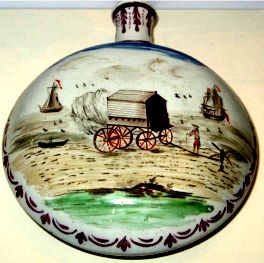 By the 1790's porcelain manufacture in England was reaching an important turning point when factories were starting to produce more durable hard-paste porcelain and bone china wares. What was the Lowestoft factory to do? Either it would have to invest heavily into the new manufacturing technology to survive, or the factory closes. The partners in the Lowestoft business decided upon the later and to close the factory when their original agreement ended in 1801. Thus production then ceased.
What happened to the employees of the Lowestoft factory when it closed? Well, some were known to move to Worcester to Robert Chamberlain's porcelain factory, other possibly went to work in the Lowestoft herring fishing industry.
The early days of Lowestoft were interesting and contemporary accounts tell of industrial espionage and commercial rivalry. Accounts written by Edmond Gillingwater, a local barber stated that 'Hewling Luson found a 'fine clay' suitable for making soft-paste porcelain on his estate in Gunton north of Lowestoft in 1756 and soon set up a kiln and furnace there. However, this attempt to manufacture porcelain there failed, possibly sabotaged by workers brought up from London. When the factory was set up in Lowestoft shortly after 1757, it too was allegedly the victim of sabotage by staff employed at rival factories.
According to family tradition, Robert Browne, a factory manager, had discovered a satisfactory recipe for making porcelain by getting a job at the London Bow factory. It is said that he pretended to be very stupid and hid in a barrel over night and spied on employees making the secret mixture. It is unlikely that this story is true, but it is known that the combination of clay, bone ash and crushed flint was very similar to the recipe used by the Bow factory.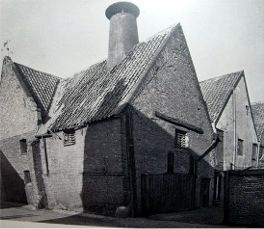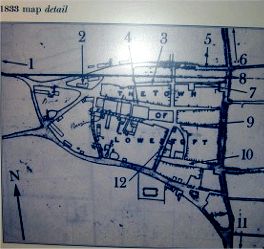 Robert Browne, the first Lowestoft factory manager lived in a house opposite to the factory in Bell Lane. It is not known the precise location of the factory, it is however known to have quickly expanded to take over a number of properties in that area.
There is a lot known about the people who actually worked at the Lowestoft factory, including their names and dates of birth - many were women and children. The Lowestoft factory produced 'birth tablets', these were little porcelain round plaques commemorating children's birth and on which were written the name and date of birth. No other factory were known to have produced such birth plaques. It is thought that were produced to hang over a fireplace, in a crib or maybe in a cottage window to inform others of the happy event. Several such plaques were produced for the Redgrave family, who worked as decorators at the factory - including Mary and her father John. There are some Lowestoft patterns known by the Redgrave name, such as 'the Redgrave doll's house pattern'.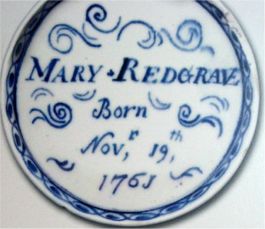 Wages at the factory for skilled workers were 14 shillings a week and apprentices earned about 7 or 8 shillings. Some of the more important painters could receive up to a guinea (21 shillings) or a guinea and a half.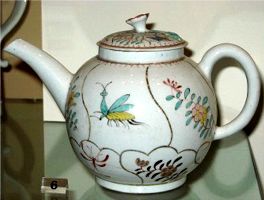 As the Lowestoft factory progressed, it introduced colour into its decoration. Polychrome or multi-coloured porcelain was decorated with a series of coloured enamels were painted on top of the glazed items. Each applied colour had to be fired at a specific temperature in the kiln. A special kiln was used for this process known as a 'muffle' kiln. The colour that required the highest kiln temperature was fired first and subsequent colours were then fired in order of lowering temperatures, thus not affecting the previously fired colour. The first dated pieces using enamel decoration were inscribed 1766 and were decorated in overglaze black. Some other early pieces were decorated in only pink. Some of the latter polychrome painting was extremely skilled and ambitious.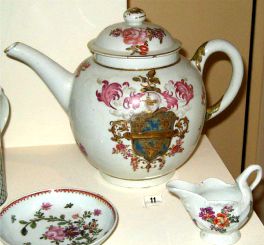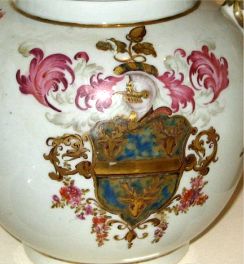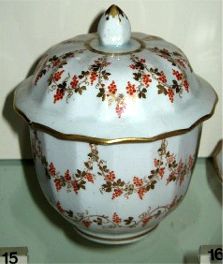 The Lowestoft factory mainly produced domestic and useful wares, rather than decorative wares. They produced huge quantities of tea and coffee services, along with bowls, sauceboats and other useful items. There is a fine display of teapots in the museum's collection, which illustrates the wide variety of designs and decoration available within a single product range. The smallest teapots were miniatures, made as children's toys or as souvenirs. The largest of the teapot range weighs in at 15lbs (7 kg)! This extremely large teapot may have been used as a shop window display rather than intended to be used for serving tea.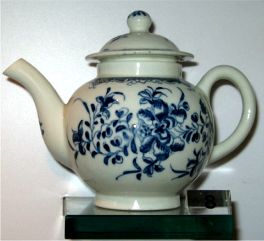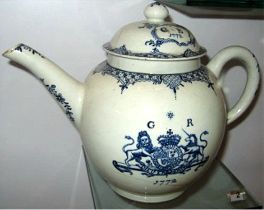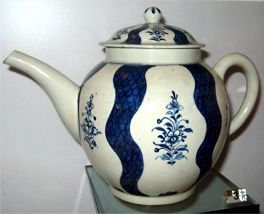 The display of Lowestoft porcelain and information about this interesting factory within the Norwich Castle museum is surely a must for all collectors of this beautiful porcelain.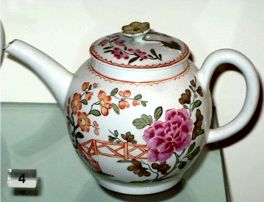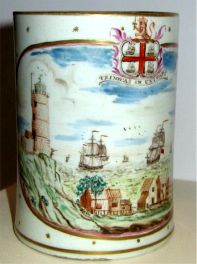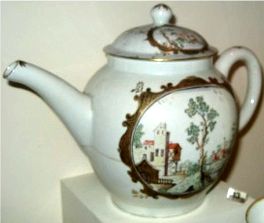 Norwich Castle Museum and Art Gallery Norwich Norfolk NR1 3JU tel: +44 (0) 1263 584175 e-mail: museums@norfolk.gov.uk Local map: click here
Maps courtesy of www.streetmap.co.uk
---
To review past newsletters, just follow this link: Past newsletters.
To subscribe to this free newsletter - Click here
---
All information contained within any article on this website was considered to be accurate (as far as can be ascertained) at the time of writing. TeaAntiques.com Limited makes no warranty and accepts no liability regarding the accuracy of the content.
Copyright © 2000 - 2021 All rights reserved
TeaAntiques.com Limited. Company Incorporated in England No.: 5086843