Tea Clipper

from TeaAntiques.com

Edition

Ninety One
Featured Antique - Sèvres Butter Dish and cover, decorated with floral bouquets, c1765
A really beautiful French Sèvres butter dish and cover, exquisitely decorated with hand painted bouquets of colourful flowers. This charming butter dish is clearly marked on the underside of the base plate with interlaced 'L' of the famous Sèvres factory. Inside of the interlaced 'L's is the date letter 'M', equating to 1765.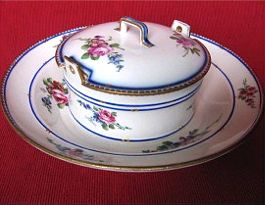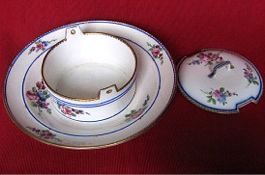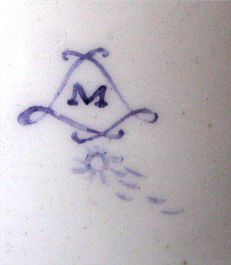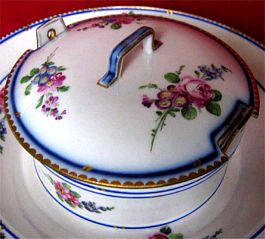 The circular butter tub, which is in the form of a butter 'piggin' with two raised side handles, is actually part of the base plate as one piece. Then there is a cover to the butter tub which has two cut outs for it to fit between the two handles, thus preventing it from slipping off. The whole dish and cover are charmingly decorated with hand painted and colourful bouquets of flowers, including pink roses together with blue and purple flowers. The detail of the painted flowers is really beautiful. On the underside of the base plate, on the inside of the foot rim, is the tiny blind hole which is where the plate was hung from in the kiln during firing, a detail to be found on Sèvres manufacture.
More details of this item and other tea related antiques can be found by visiting my web site at www.TeaAntiques.com.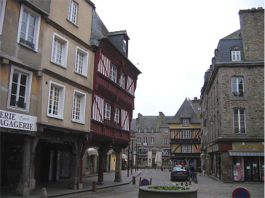 In the spring of 2008, I took a weekend trip to France on an over night ferry crossing from my home town in Portsmouth to St Malo on the North West Coast of France. Then, a 30 minute drive South took me to the picturesque town of Dinan. The town of Dinan is steeped in history, a medieval walled and fortified town perched high on a hill above the Rance Valley. There is a great deal to see and do in this town, I spent a full day exploring it and came across some wonderful sights and was particularly excited to discover a museum of tea combined with a delightful teashop - more about this later!
The town itself still retains many of its attractive timber-framed early house at its core. These are built around extremely narrow granite lined streets. The houses, many of them jetted, almost touch each other at the higher levels. This type of narrow street with closely packed jetted houses also touching is what allowed the great fire of London to spread and destroy much of the city in the 17th century, so it is good to know that thus far these here in Dinan survive.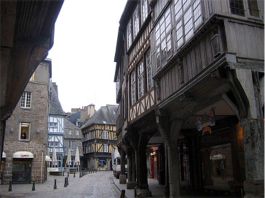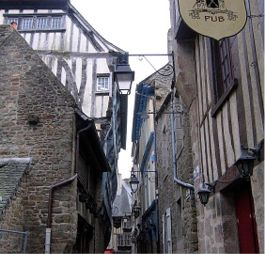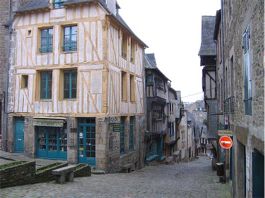 Many of these early half timbered houses and shops have their timbered frames painted in charming colours, reds, blues and creams, picking out the fine detail of their construction. Small leaded light windows still remain in many, these with their original glass that one can hardly see through because of the striations in the early glass. As the streets are often very narrow, they are not open to traffic, making it very pleasant to wander round them. Whilst wandering round these streets and admiring the things in the little shops, do spare some time to cast your eyes up, as there is often fine little details, such as carved figures and end posts to be seen within the buildings construction.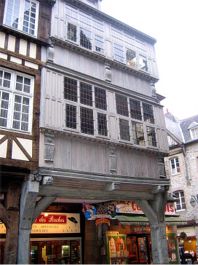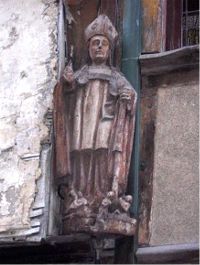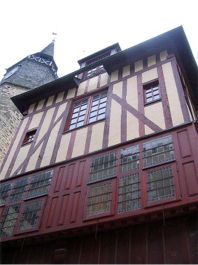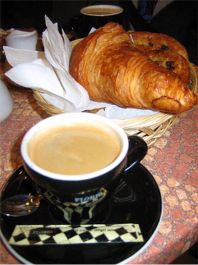 It is a nice way to start the day, as the French enjoy doing, with a strong coffee and a croissant - a rich, light and buttery pastry. You will find pleasant of bars and cafés that will serve such a morning treat.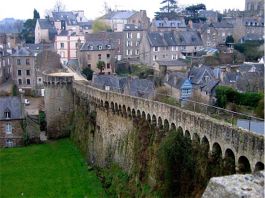 Having enjoyed just such a morning boost, it was time to take a stroll around the towns fortified walls. The views from these walls, much of which survive and free to walk round, are spectacular. At one point it afforded fantastic views to the Rance valley with the river Rance flowing round the base of the hill. This river flows through little granite built hamlets where there is an ancient bridge linking the banks. The river is lined with pleasure boats, although from this point the river narrows and appears un navigable as it sweeps around the foot hill of the town. An elegant, but more modern high arched bridge now brings the road across the valley into the town of Dinan.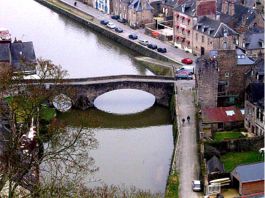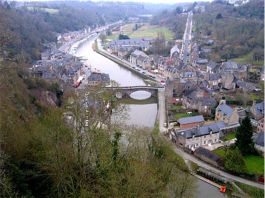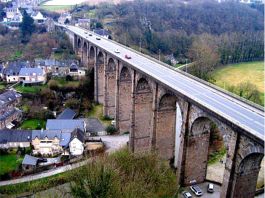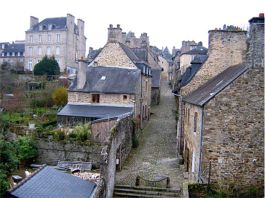 From the walls of the town, you can also look inward at the town with its many fine and historic buildings. As well as the early timber framed buildings, there are many equally fine buildings dating from the eighteenth and nineteenth centuries. Looking down on the houses from the walls you can also enjoy the little gardens of the houses.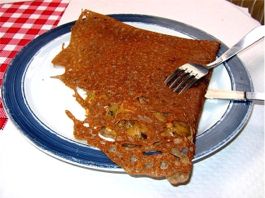 Having walked around the town walls and explored the town and its interesting and diverse range of shops, including several antique shops, it was time to partake in a spot of lunch. Saving myself for afternoon tea, I had one of the local specialities a galette. Galettes are unique to Brittany and are basically a buckwheat pancake that is filled with various savoury fillings. The one I chose was a mushroom and lardon (bacon) filling which included a rich sauce made with port. It was indeed very rich and extremely tasty and enough to curb my appetite until afternoon tea.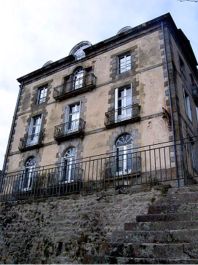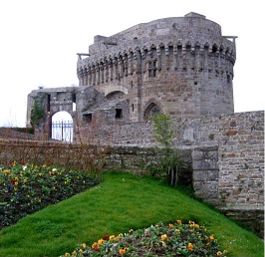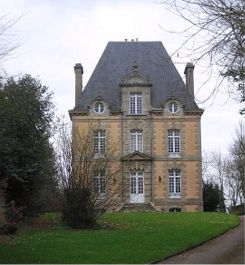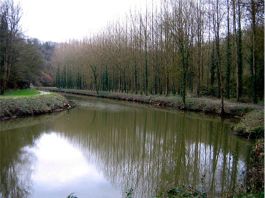 Having now explored much of the town, I took a walk outside of the town walls. On one side of the town there is a wooded steep slop from the town walls down to the river below. I discovered a rural 'zig-zag' pathway leading down in what I believe was a nature conservation area. Making my way down this path the birds were singing their Spring chorus songs and the spring flowers, such as Primroses, were enjoying some of the Spring sunshine and warmth. Reaching the river and turning right along a river bank path around the foot of the hill the air was so peaceful. It is but a short walk passing an old lock that I reached the sleepy village of Léhon, still within the shadow of the town of Dinan.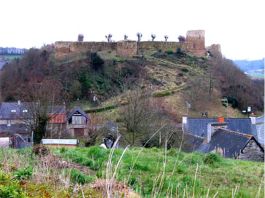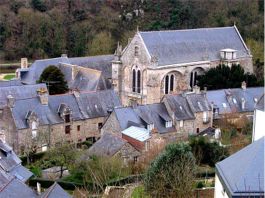 Léhon is another picturesque area of the Rance valley with conserved historic and religious heritage. What remains of this town today demonstrates its importance in feudal days. Since the 19th century, people have come to this site to see the Benedictine abbey which was founded in the 9th century by Nominoë, King of Brittany. There is also the 12th century castle ruins on the feudal mound overlooking the quaint bridge over the river in the town and the Gothic cross in the village of saint-Esprit.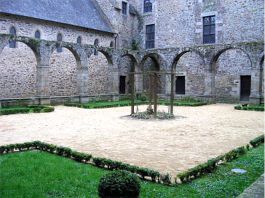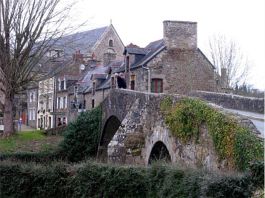 In 1835, the Friars of the Order of saint-Jean-de-Dieu opened a psychiatric hospital, and Léhon's population then doubled in less than a century - today, the town has 3,000 inhabitants. Léhon appears a sleepy town that has managed to retain its ancient buildings whilst integrating them with modern ones for modern day lifestyle requirements. having said that, there is a 'modern' lido close by, which I did not feel integrated at all!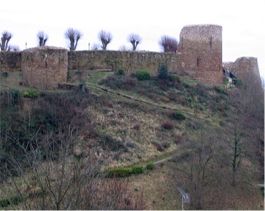 It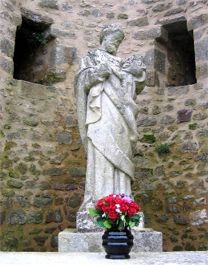 is worth a walk up to see the ruins of the 12th century castle. The castle was first mentioned in 1034, during the war between the sons of Geoffrey I, Duke of Brittany. Then in 1168, the castle was besieged by Henry II Plantagenet, King of England. It was re built in 1169 and again in the course of the late 12 and 13th centuries by Roland, Lord of Dinan and his successors. The ruins that we see here today date mainly from this later period.
From the castle it is but a short walk back up into the walled town of Dinan and time for afternoon tea. In my earlier walk around the town I had discovered the Musée de la Veilleuse Théièe, a museum devoted to tea and integral teashop. Outside, a blackboard listed but a few of the 60 varieties of fine teas available to be enjoyed within the surroundings of what is an amazing museum. Many of the specialist teas are English and Russian blends, and include teas from China, Japan and Thailand.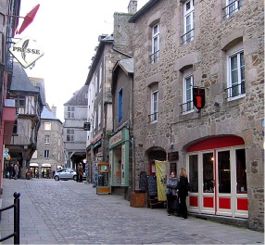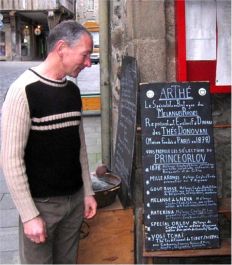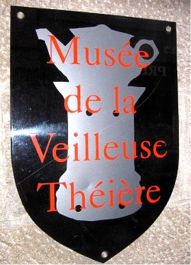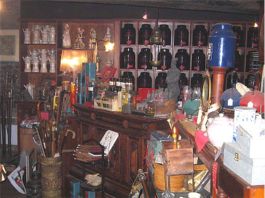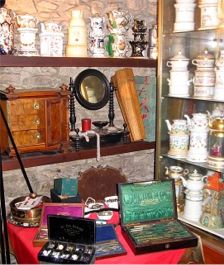 The atmosphere and ambiance within this museum / tearoom is incredible. It is rather like stepping back in time and leaving the hurly-burly of modern day living behind. The museum / tearoom is not large and is absolutely cram-packed with displays in between which are a number of tables laid ready for tea. The atmosphere is enhanced by the use of candlelight as well as the electric light for the display cabinets of antiques.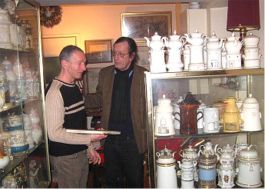 The proprietor, Gilles Roullier is a rather eccentric character, who delights in the collection of tea related antiques that he has been collecting since he was a child and his father before him. He has amassed a staggering collection of Veilleuses, china pots and burners that were used for heating drinks and food. These include those used for tea. These involved having a small teapot sat upon a stand in which would be a burner to keep the tea hot. These are quite a common form of tea equipage in France in during 18th and 19th century and many within this collection are of the date and origin. However, we in England also produced this type of teapot and stand with a burner. Factories such as Wedgwood, Lowestoft and Chelsea produced them in the 18th century, Wedgwood producing many in Creamware.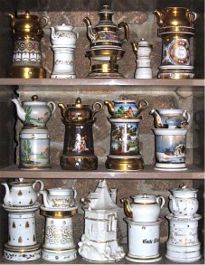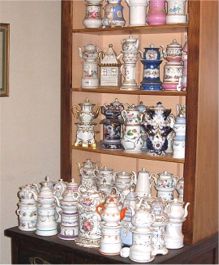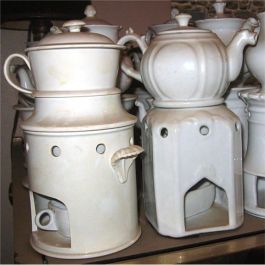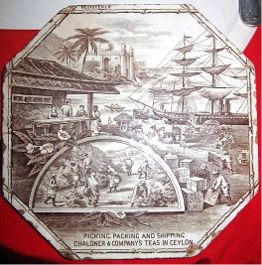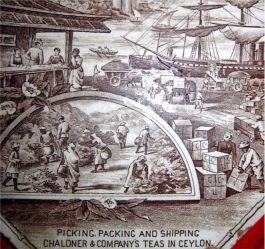 Apart from the astonishing collection of Veilleuses, which I was shown round by Gilles, he has a lot of other very interesting tea related antiques. One that I found exciting was a 19th century Wedgwood hexagonal teapot stand. This wonderful item had a monochrome print that illustrates the picking, packing and shipping of Chaloner & Company's teas in Ceylon. Such a synonymous print to have on a teapot stand! It shows the tea pickers picking the teas from the tea plants in Ceylon watched over by the tea grower within a fan shaped frame. Around this frame the tea can be seen being packed into tea chests, carried by elephants and trucks to the tea clipper to be sent to England - what a treasure.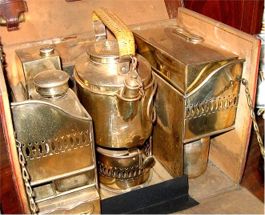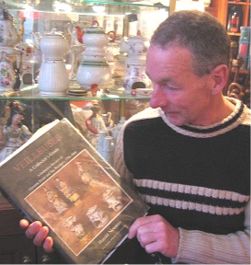 I was told by Gilles that his museum is one of only two such museums of Veilleues in the world, the other, which is slightly larger is in Tennessee in the USA. Gilles was happy to chat about his collection and showed me books and auction catalogues related to the collection. He also pointed out a travelling tea equipage of silver in a leather case. He assured me that this delightful set was complete and all in working order as he had himself used it.
What better place to enjoy tea, than surrounded by such fascinating tea antiques. I ordered a pot of Darjeeling FTGFOP Puttabong' and a 'Tarte Aux Poires À La Frangipane (a pear and frangipane tart). The tea served in white tea pot and tea china was delightful - a very fine Darjeeling tea and the warm tart delicious.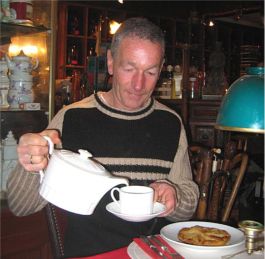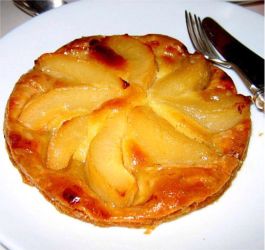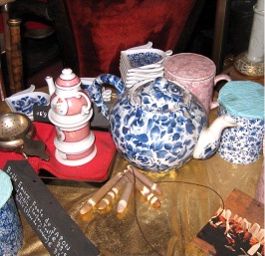 The Musée de la Veilleuse Théièe is the perfect way to end a visit to the picturesque town of Dinan and to be highly recommended.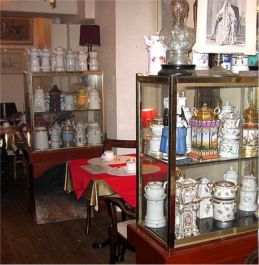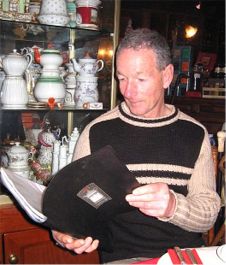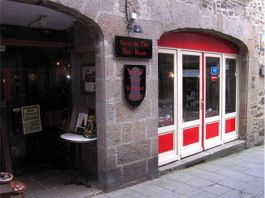 Musée de la Veilleuse Théièe
19, Rue De L'Apport
22100
Dinan
France
Tel: 02 96 87 48 45

Google map: click here
---
To review past newsletters, just follow this link: Past newsletters.
To subscribe to this free newsletter - Click here
---
All information contained within any article on this website was considered to be accurate (as far as can be ascertained) at the time of writing. TeaAntiques.com Limited makes no warranty and accepts no liability regarding the accuracy of the content.
Copyright © 2000 - 2023 All rights reserved
TeaAntiques.com Limited. Company Incorporated in England No.: 5086843