Tea Clipper

from TeaAntiques.com

Edition

Ninety Five
Featured Antique - A Worcester teapot stand, hexagonal shape, decorated in blue and white with the 'Bandstand' pattern, Disguised numeral '2' mark, c1780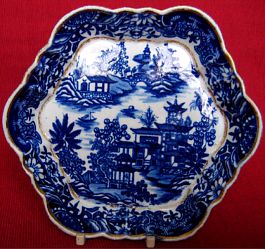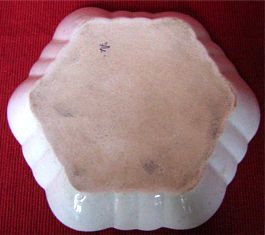 A very attractive and now rare to find, teapot stand printed with a delightful blue oriental scene. This scene includes pagodas in a charming landscape with houses trees, boat and a bridge with two figures crossing it. It also features a 'bandstand'-like structure at the bottom of the design from which the pattern has been given the name the 'bandstand' pattern. This beautiful teapot stand, embellished with gilt decoration, was made at the famous Worcester factory, c1780 and is marked on the reverse side with a disguised numeral mark of a '2'.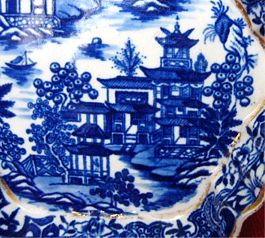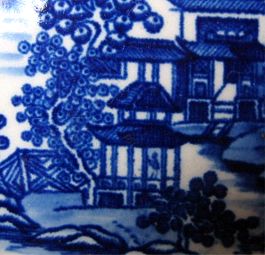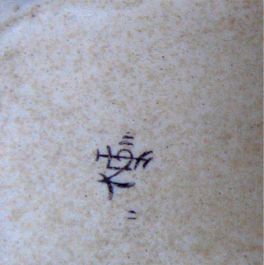 More details of this item and other tea related antiques can be found by visiting my web site at www.TeaAntiques.com.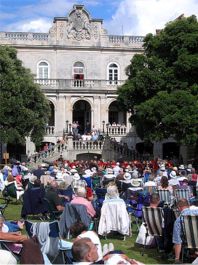 What could be more English than to watch an afternoon military brass band concert accompanied by a wonderful picnic tea? On a fine summers afternoon I was fortunate to do just that in my home town of Portsmouth. A concert was given at the old Royal Marine Barracks at Eastney by the impeccably dressed Royal Marines Band.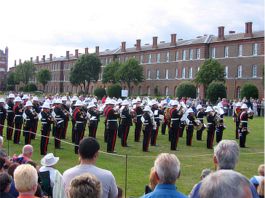 Eastney Barracks was built in the nineteenth century to house the Royal Marines in Portsmouth. It encompasses one of the longest barrack buildings in the country, approaching nearly a quarter of a mile in length; a gate house clock tower and a handsome officers' mess building. The barrack block has in recent years been redeveloped, the tower and barrack building are now luxury flats and the officers' mess building now the home of the Royal Marines museum with a concert hall. Interestingly, one of the roads in the barracks is called 'Teapot Row!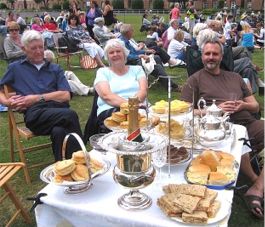 The afternoon concert, which I attended with friends, was a perfect occasion to take a delicious and stylish full afternoon picnic tea with all the trimmings. Carefully coordinated, I provided the champagne, scones and cakes, Jill and Alan, the savoury sandwiches, Nigel, sandwiches and biscuits and Cliff, more champagne. This combined effort worked perfectly and we had the most perfect of teas.
The concert was well attended and was given on a beautiful sunny afternoon. It was not long after we had arrived that we had a tea table and chairs set up. The table was covered in a white table cloth and groaning under the weight of the silver tea wares, dainty china, champagne and food.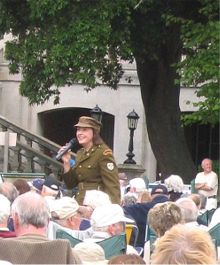 The afternoon began with a solo singer dressed in an old army uniform, who made her way round the assembled audience singing a medley of well known songs from the Second World War. The audience did not take much encouragement to join in some of the songs which got the party atmosphere going. For us, it was an ideal time to crack open a bottle of champagne and tuck into the smoked salmon and cream cheese sandwiches. The atmosphere and nostalgia of the audience grew with each song.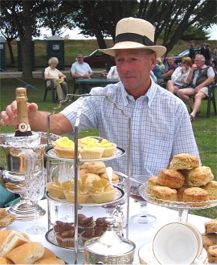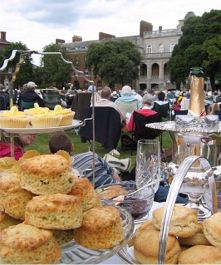 After the singer had finished, it was the turn of the Royal Marines Band. They were seated in front of the officers mess and began by the traditional playing of the National Anthem. For this the entire audience stood to attention in respect of Her Majesty The Queen. This was then followed by a concert of many familiar tunes and songs. By now we were taking in the music whilst enjoying more sandwiches, scones with cream and jam and a selection of small 'fairy' cakes. I had made all the cakes myself which included savoury cheese and watercress scones, plain scones, date and walnut scones, chocolate and vanilla 'butterfly' cakes and little lemon cakes. All of this was eaten at a leisurely pace and washed down with lashings of hot tea served from silver teapots as the music wafted over us.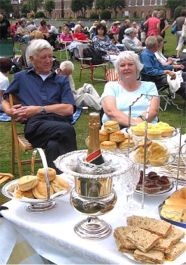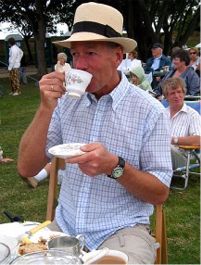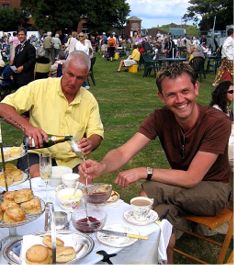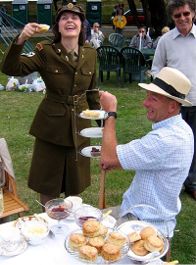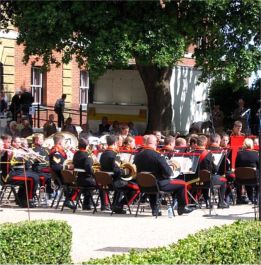 Our stylish picnic was the envy of many of the other concert attendees and many came up and chatted or wanted to take our photograph. The 'army' dressed lady soloist singer also came and chatted to us about our tea and was pleased to be able to enjoy one of the 'butterfly' cakes herself. 'I remember these from when I was a child, my mum use to make them' she said.
With the concert and picnic tea over, the Royal Marines marched into the arena area where they ended on the traditional 'Beating the Retreat'. They marched proudly up and down in perfect timing whist playing the music. The timing and showmanship were second to none and deservedly got a round of applause, cheers and flag waving as they marched off at the end. What a perfectly English way to spend a relaxed afternoon with a delicious afternoon tea and good friends. It is to be highly recommended.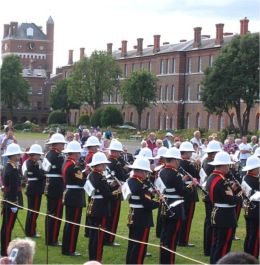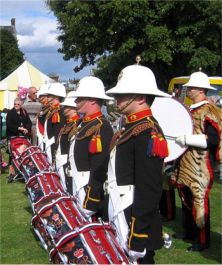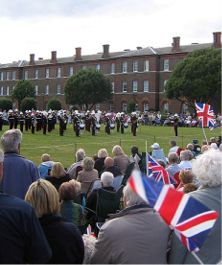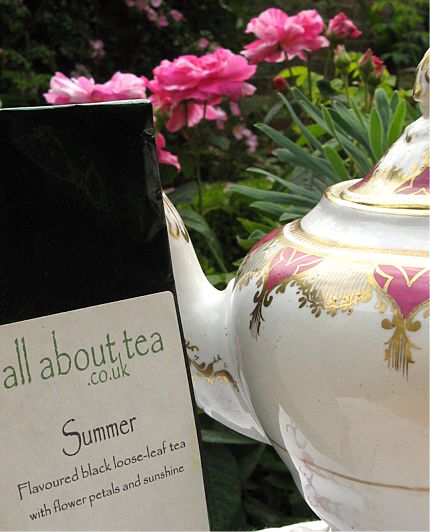 I was pleasantly surprised to be contacted by an Internet tea merchant from my home city of Portsmouth. 'All About Tea' are suppliers of very good quality teas as well as a few other items, including teapots. Their web site www.allabouttea.co.uk is an interesting site where you can select teas from over 160 different varieties on their list. As a wholesale supplier they provide quality teas for câfés, hotels or you and me as tea lovers. In addition to the sales part of their website, there is a lot of on-line information from people who are obviously passionate about their teas.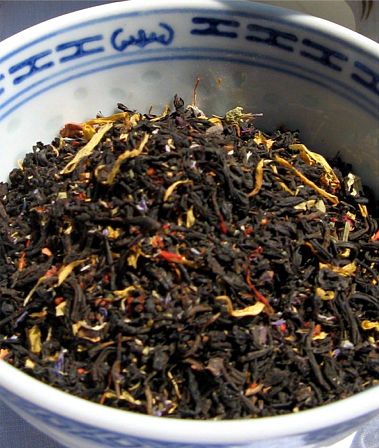 The site allows you to search for your tea by type, such as blended, black, oolong, white, herbal etc or by county of origin. The teas are each fully described, including their origin, blend, flavour, strength and any health benefits. It is a wonderful website for any lover of tea to enjoy.
I was contacted by this company as someone who may be interested in what they have to offer and indeed I was. Andrew Gadsden, the Managing Director very kindly sent to me some tea samples, each accompanied by a sheet of information 'A beginners guide' to the tea. The samples included English breakfast teabags, Coolbawn estate Ceylon and Summer tea.
The 'beginners guide' is sent out with any teas that are ordered and are a very nice touch to bring as much information about the tea to the customer.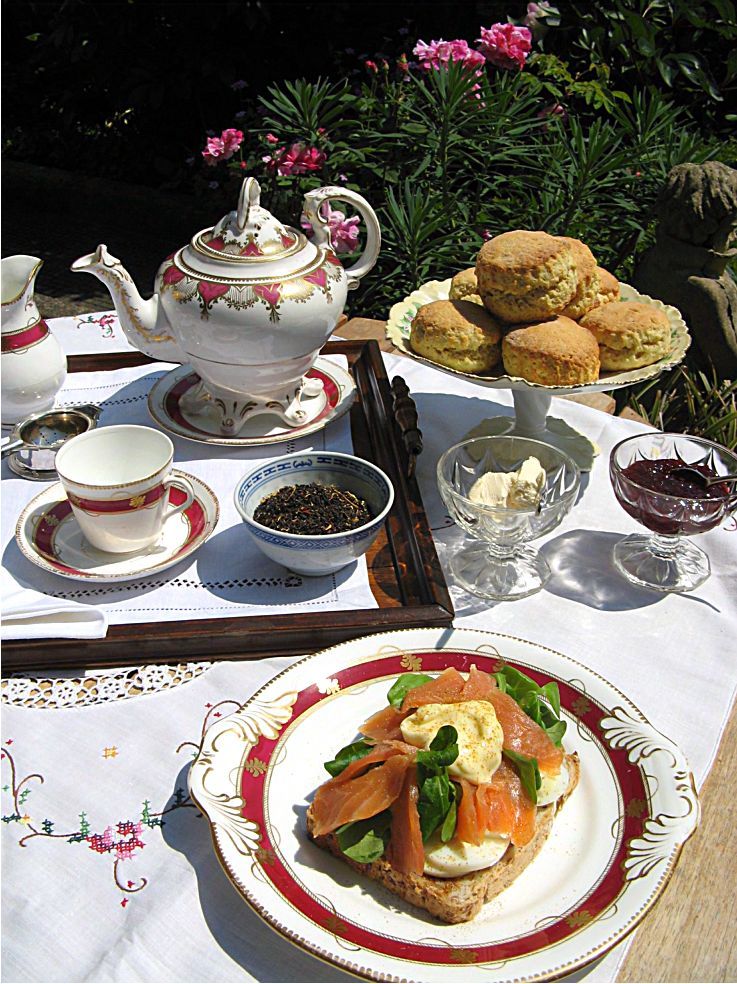 The 'Summer tea' is described as a pot pourri you can drink - a burst of sunshine in a mug!' I tried this tea one sunny afternoon sat in the garden. When I tried it, it was not from a mug - as that is not the way in which I enjoy my tea, but served with the usual elegancy of tea on the lawn using fine porcelain! today, I chose a Victorian teaset with a rich red and gold decoration c1870.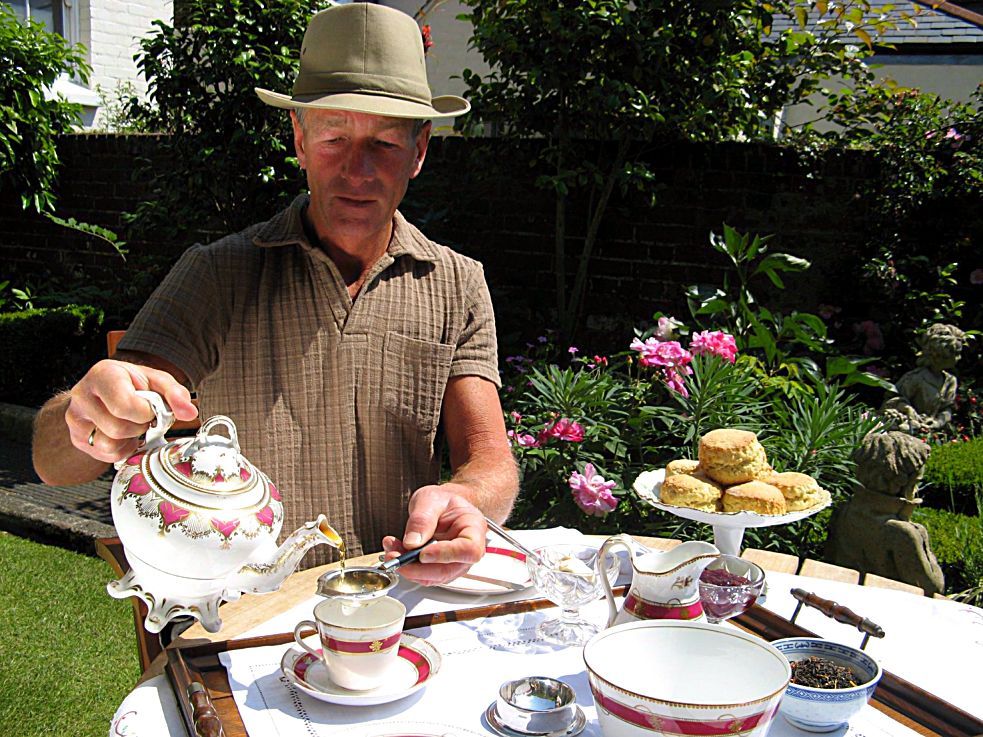 The summer tea is indeed 'pot pourri' in a cup and delicious it is too. Based on a quality black Congou tea from China, it has a good strength strength around which the other ingredients of summer flower blossoms works for a refreshing cup of tea that is a perfect summer tea. Also, bended into this tea are oils of summer flowers to give a joyous aroma. It is described on the guide sheet as evoking 'sunshine, lazy afternoons, gentle showers, croquet and sandwiches. This is unashamedly fun, happy tea, as deliciously refreshing as it is to see and smell'' sentiments with which I entirely agree.
For my afternoon tea, I had an open smoked salmon sandwich, some home-made scones fresh from the oven (as they need to be), beautifully rich and thick cream and my own homemade raspberry jam. This has to be the perfect afternoon tea for in the garden on a fine sunny afternoon and to be highly commended. The 'summer' tea is recommended to be drunk without or with just a dash of milk, for me, a dash of milk made it just perfect.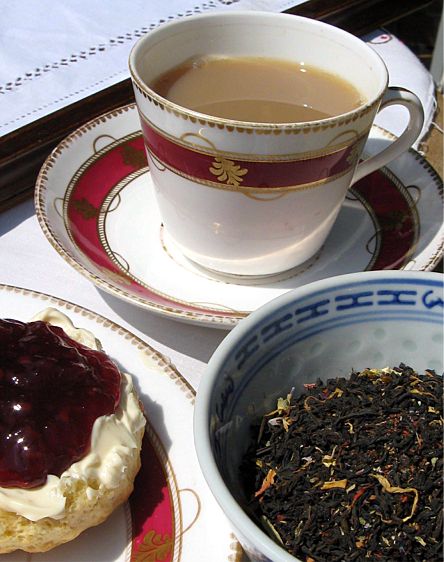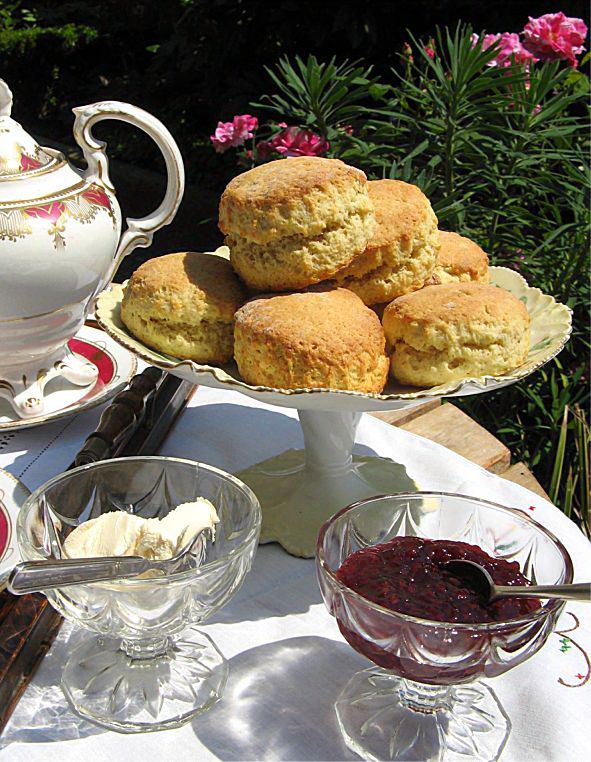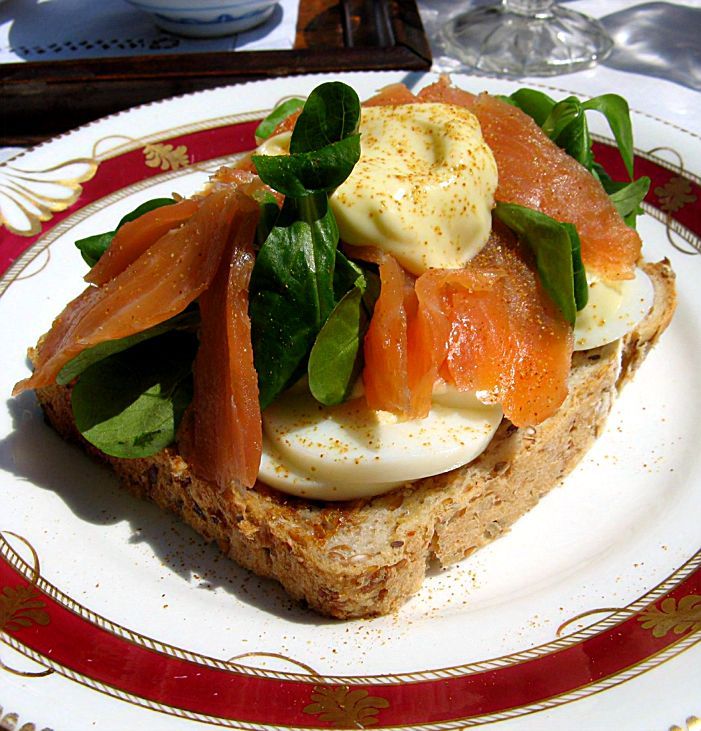 I am looking forward to sourcing more of my teas from 'All About Tea', as I know they are going to be of the finest quality and provide me with the perfect cup of tea for any occasion or mood. I hope that you enjoy them too.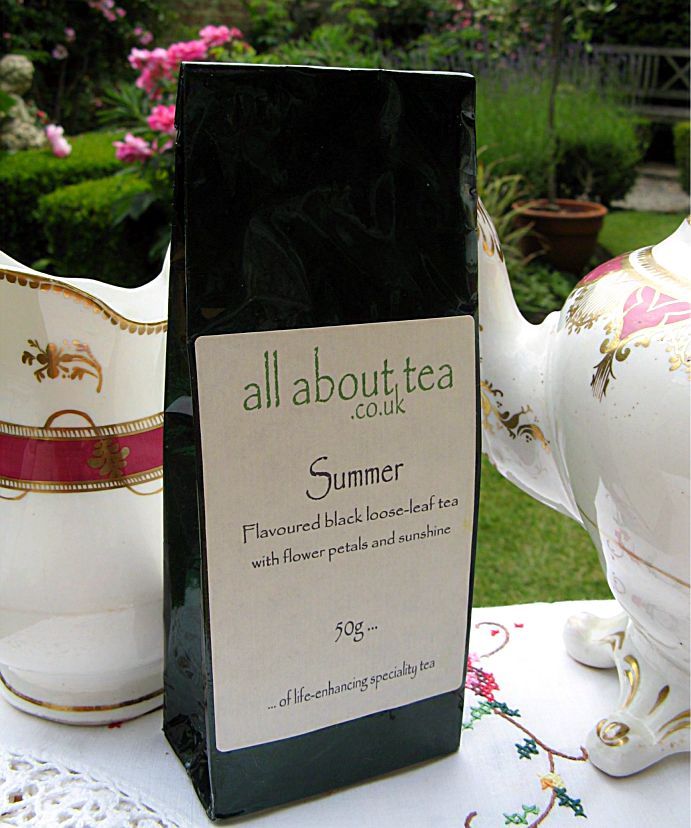 All About Tea www.allabouttea.co.uk Tel: +44 (0)23 9273 9887
---
To review past newsletters, just follow this link: Past newsletters.
To subscribe to this free newsletter - Click here
---
All information contained within any article on this website was considered to be accurate (as far as can be ascertained) at the time of writing. TeaAntiques.com Limited makes no warranty and accepts no liability regarding the accuracy of the content.
Copyright © 2000 - 2021 All rights reserved
TeaAntiques.com Limited. Company Incorporated in England No.: 5086843