Tea Clipper

from TeaAntiques.com

Edition

Ninety Seven
Featured Antique - A Chamberlain's Worcester oval shanked sucrier and cover, brown and gilt floral decoration, pattern 16, c1795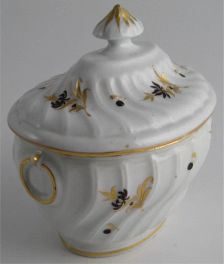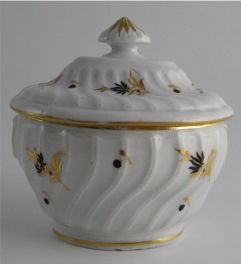 A very attractive Chamberlain Worcester shanked oval sucrier and cover, dating from c1795. The body is decorated in pattern number 16, which includes gilt and brown floral sprigs. The sucrier is marked with 'Chamberlains Warranted No16' in black on the underside of the cover and the pattern number '16' in gilt on the underside of the sucrier. In Chamberlain's pattern book, this pattern is listed as 'plain, rose colour & gold sprigs. Mr H C's pattern'.
The body is moulded with spiral lines that are known as a shanked moulded body. Each of the spiral lines has a double line to it, referred to as 'tram line' and is a feature of the Chamberlain's Worcester manufacture. At each end of the sucrier are moulded and gilded circular drop loop handles. The cover has a typical flat oval mushroom shaped finial, this having spiral mouldings to the top portion and embellished with gilded lines. A fine Chamberlain's Worcester sucrier for the collector of early English porcelain.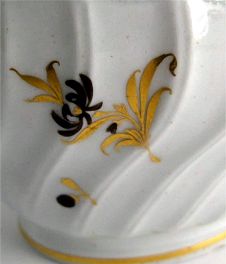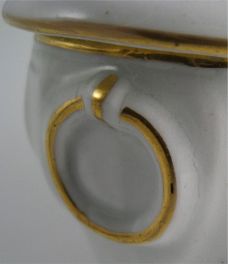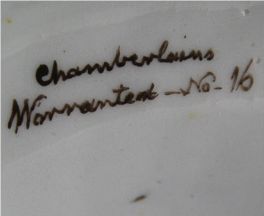 More details of this item and other tea related antiques can be found by visiting my web site at www.TeaAntiques.com.
There seems to be an increasing number of special Christmas fairs springing up in towns across the country, many of which I have visited. I thought that it would be worth doing a feature on the Grassington 'Dickensian' fair in North Yorkshire, combined with a nostalgic rail journey there from London aboard a 'Hertfordshire Rail Tours' Christmas excursion.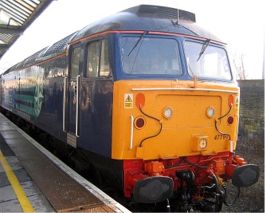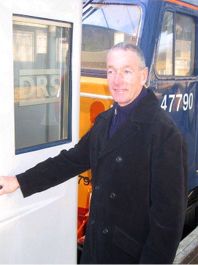 The day started at London Kings Cross station where I boarded the special train with a party of friends. The train is of old coaching stock of 'Pullman' style with comfortable seating and tables that are set with white table cloths, flowers, lamp and ready for a full English breakfast to be served during the long journey North to Skipton. The train can only run as far as Skipton, which is 8 miles South of Grassington, as the track on the final leg is now disused and partly taken up. Coaches are arranged for the transfer to Grassington itself.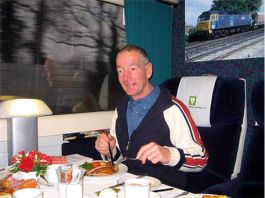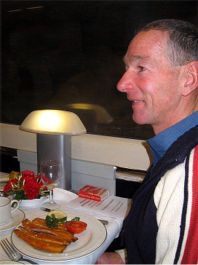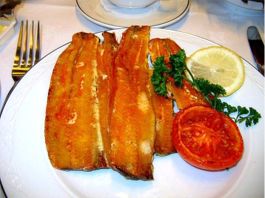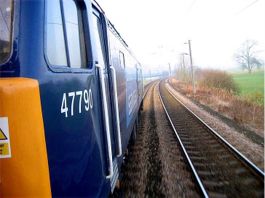 With a long day ahead, the train departed Kings cross at 7.30 AM. It is not long before the waiting staff are serving breakfast which includes cereals, full English cooked breakfast or kippers, toast, croissant and preserves and lashings of tea and coffee. What better way to enjoy such a wholesome breakfast than to be sat is a snug warm train watching the countryside whiz by. On this day, which was cold and frosty, the white of the frost and pockets of mist and freezing fog helped with the atmosphere of Christmas. The journey to Skipton takes approximately 4½ hours and is an interesting one taking you from the built up city of London, out through the flat to rolling country side and on through the Yorkshire Dales.
At Skipton, there were six coaches waiting to ferry the train passengers to Grassington. The journey on the coach took us through some stunning scenery in the Dales, with the craggy hills segmented into fields by dry stone walls - a feature in this part of the country.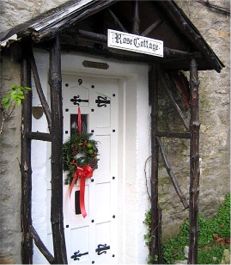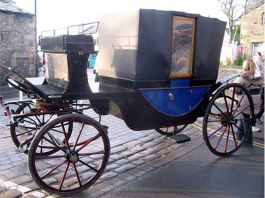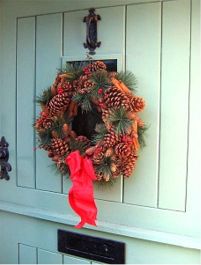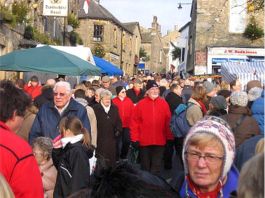 The coaches dropped us off on the outskirts of the village of Grassington, a very pretty village of small houses built of local stone, many dating from c1750's when the area became a flourishing lead mining community. These small houses were built to house the mine workers who had come from as far as Wales and Cornwall for work. The village is centred around a cobbled square where there is a museum of local history. It is one of the most popular of the North Yorkshire Dales villages for tourists and so has a wealth of tea shops - which was gratifying to me. There are also a number of interesting little shops which sell all sorts of tourist type things.
Grassington, being small, does have the appearance of a village but in fact it is a town. In 1282, it was granted a charter whereby it could hold a fair and market. These were held in the village all the way up to the 1860's, but now only a Farmer's market is held one day a month throughout the year and this, the Christmas Dickensian fair.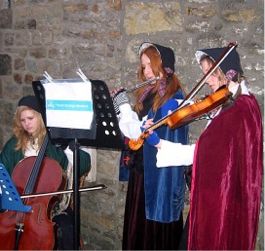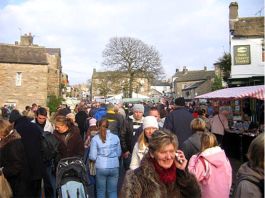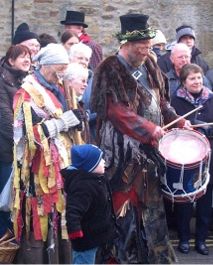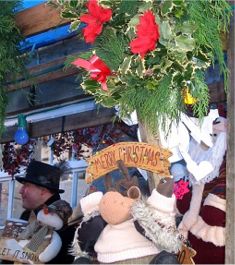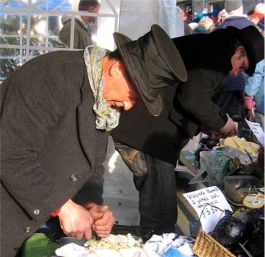 The fair now attracts a high number of people, so the narrow streets of the village, which have many stalls set out can become rather crowed at times. To add that Dickensian atmosphere to the fair, there are characters from Dickens novels portrayed by costumed street actors from the local thespian group. These actors perform all sorts of street theatre around the fair all through the day.
As with all Christmas fairs, there are many stalls selling all variety of Christmas gifts from hand made wicker baskets, dolls, decorations to festive food and of course mulled wine. Being a very cold and frosty day a warm cup of spicy mulled wine was a welcome sight.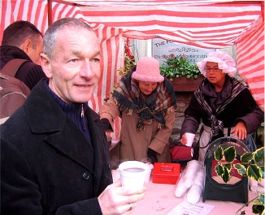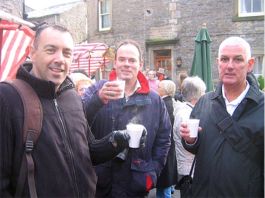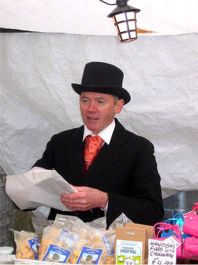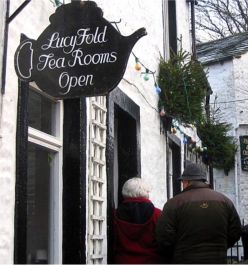 Although there are a number of teashops in the village, with the crowds of people at the fair, needless to say there were queues to get into them. The one that I liked the look of and chose to try was 'Lucy Fold's tearoom in Garrs Lane. After a 20 minute wait in the cold, my friends and I were seated in the warm and snug tearoom and waited on by a very pleasant waitress with a wonderful sense of humour. The menu was nicely portrayed with a Dickensian theme, using some of the famous characters from Dickens novels, like Mr Scrooge the old skin flint. I had already spied some delicious looking cakes on display as I made my way to the table, so I knew I was to be spoilt for choice. In the end, I decided upon a good pot of strong Yorkshire tea with a wholemeal scone and jam followed by a slice of rich dark fruit cake topped with local Wensleydale cheese - very much a northern tradition to serve cheese and fruit cake together! Both the homemade scone and fruit cake were delicious so I can certainly recommend this teashop for the quality of their home-made cakes as well as their friendly service.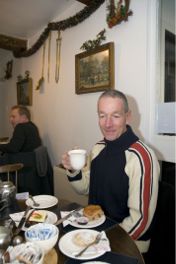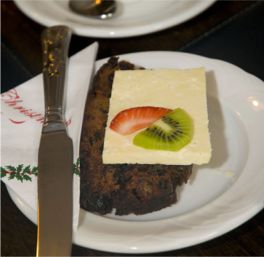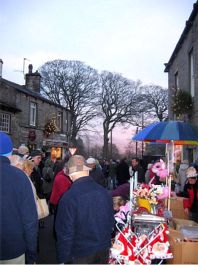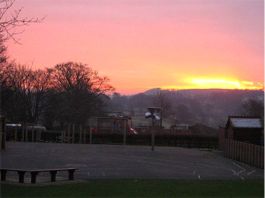 Suitably refreshed and with the time creeping on, the day light was dwindling as the sun got low in the sky, shrouded by light grey winter clouds. It was feeling much colder and the fair was starting to look atmospheric, with the Christmas trees lights sparkling, the roast chestnut braziers glowing and smoking away. Morris dancers were dancing in the street, waving their hankies and their leg bells jangling like sleigh bells.
Having spent a very pleasant afternoon at the fair, it was soon time to rejoin the coach to take us back to the train at Skipton. By now, the train had been prepared to serve us a full Christmas Dinner on the return journey to London. So, the tables had been reset with starched and folded white napkins, silver cutlery, wine glasses and Christmas crackers.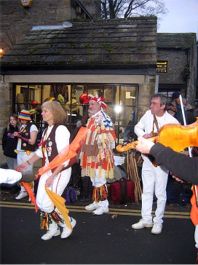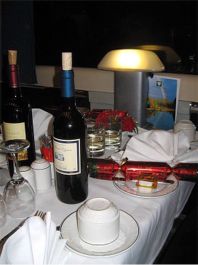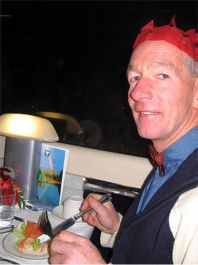 The journey was soon underway with pre-dinner cocktail, followed by the food. There are a few choices of food, but of course there are the traditional soup, roast turkey with all the trimmings, Christmas pudding with brandy sauce, cheese and biscuits, mince pies with coffee and chocolate truffles. Needless to say, after a day of eating such fare by the time the day is over and we are back in London's King's Cross we are all feeling very replete and somewhat tired having had a wonderful 'Christmas' day.

Grassington 'Dickensian' fair North Yorkshire (first three Saturdays of December) Hertfordshire rail Tours (Merrymaker excursions) Tel: +44 01332 374517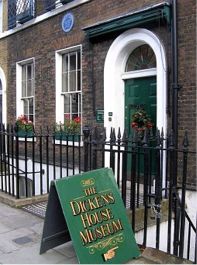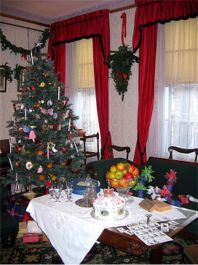 Having enjoyed the Grassington 'Dickensian' fair, the next day I went along to see the Dickens House museum, Doughty Street, London. Here is the London house in which the famous author Charles Dickens lived and wrote some of his novels. It is a fascinating museum to Charles Dickens and especially at Christmas when the house is decorated to portray a very Victorian Christmas, so synonymous with Dickens.
In the cosy family drawing room on the first floor of the house, there are many traditional Victorian decorations including the Christmas tree, decorated as per the writings of Charles Dickens describing a Christmas tree. The decorations include rather unusual things such as miniature china plates in blue and white, silver sugar nips, tiny dolls and baskets of sweets. Hand-made Christmas crackers are to be seen on the Victorian settee in front of which a sofa table with a twelfth night cake is displayed. It is easy to imagine Charles Dickens, his wife and children all making merry over the Christmas period. Now with the television, fast food and instant shop bought decorations, is this the spirit of Christmas that we are so sadly missing?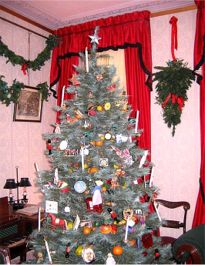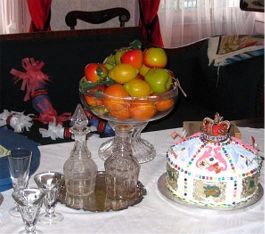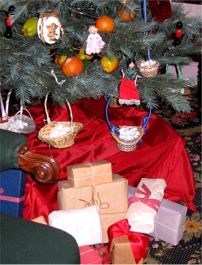 Dickens House Museum Doughtey Street, London www.dickensmuseum.com


Merry Christmas Tea Clipper Readers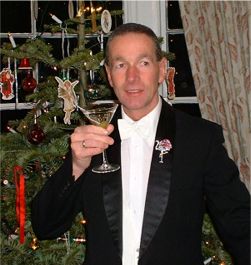 From Adrian
---
To review past newsletters, just follow this link: Past newsletters.
To subscribe to this free newsletter - Click here
---
All information contained within any article on this website was considered to be accurate (as far as can be ascertained) at the time of writing. TeaAntiques.com Limited makes no warranty and accepts no liability regarding the accuracy of the content.
Copyright © 2000 - 2021 All rights reserved
TeaAntiques.com Limited. Company Incorporated in England No.: 5086843