Tea Clipper

from TeaAntiques.com

Edition

Ninety Eight
Featured Antique - Worcester 'Sparrow beak' jug, 'bandstand' pattern, disguised numeral mark, c1780
A most beautiful First Period Worcester 'Sparrow Beak' jug, decorated with the pattern known as the 'Bandstand' pattern which refers to the bandstand style of building in the blue and white oriental scene. This charming jug dates from c1780 and has a disguised numeral mark on the base.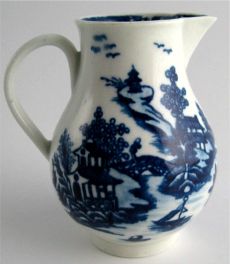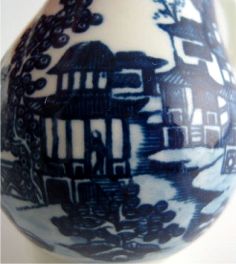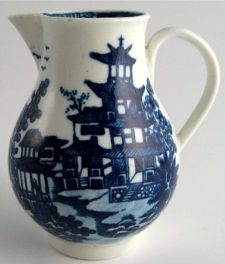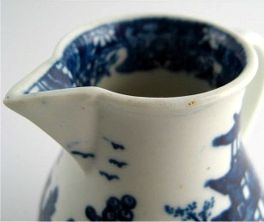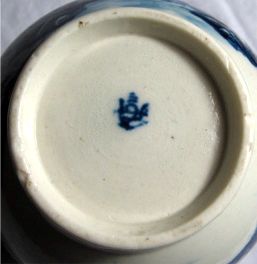 The blue and white printed scene also includes temples, buildings, trees, Islands and birds. There is a small pointed pouring lip to the jug, this known as a 'Sparrow beak', likening it to the beak of the Sparrow bird.
On the inner rim of the jug and Sparrow beak is an oriental border pattern in blue and white. There is an open loop handle with the 'tram line' or moulded line running down its back.
This is a very fine early Worcester jug for any collector of Worcester or Early English porcelain.
More details of this item and other tea related antiques can be found by visiting my web site at www.TeaAntiques.com.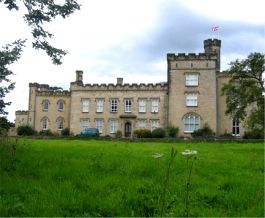 Last summer, I discovered a Castle in Kent, to which I had never had the pleasure of visiting before. Sadly, this Castle does not have the popularity with the public and tourists that its nearby neighbour Hever Castle enjoys. For me, although the Castle is not a lived-in home or a home that inside still appears a home, it does have a tranquillity and charm about it. Chiddingstone Castle is run by a charitable trust.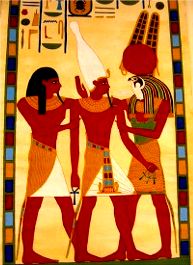 The last owner of the Castle was Denys Bower, who rescued what was then a rather dilapidated Castle in 1955. He was an avid collector and so had found himself not just a home, but a home for his varied collections. Amongst his fascinating collections are many Japanese items of lacquer, armour and swords. Then in total contrast, a collection of ancient Egyptian artefacts, Jacobean manuscripts and Buddhist artefacts. He had a very keen eye for the items to collect and did so before they were really recognised as treasures.
After the death of Denys Bower in 1977, he kindly left his collection to the Nation. However, he did not have the funds to leave in order to support them. Thus they are now cared for by the Charitable Trust, who in my opinion, deserve to have some support and need to have as many visitors as possible. Their endeavour is to comply with his wishes to have them displayed for the Nation in this country house setting, an admirable undertaking.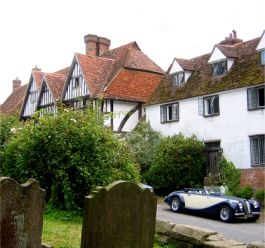 Chiddingstone Castle is set in the beautiful rolling Weald of Kent. The village in which it is situated is now in the hands of the National Trust and is a perfect old English village, with its church and variety of buildings, including half timbered houses in white with blackened beam structures. From the village there is a footpath that allows free access to the Castle grounds and tearoom. It is only the Castle itself that has an admission charge. Alternatively, you can drive into the grounds and Castle car park.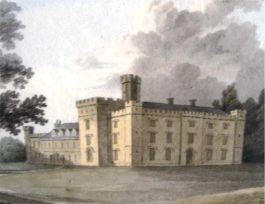 The Castle has in its history undergone many alterations. The Castle view that we see from our approach to the car park is of a crenulated Castle in the Victorian Gothik style - this having been carried out in the early nineteenth century. It has developed over time from a Tudor residence and Carolean mansion to what we see today, which is a bit of a mixture.
The mellow yellow stone walls of the Castle, its variety towers and turrets is a pleasing profile. The Castle appears to be set on level ground and surrounded by a low wall which I assume in its heyday would have formed the boundary of a formal lawn and bedded parterre. Today, it looks rather austere, devoid of any floral planting.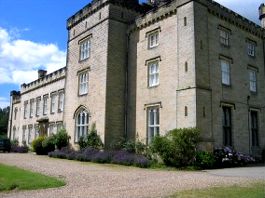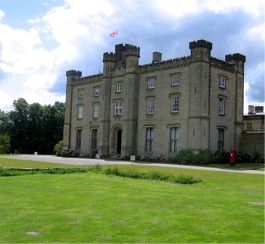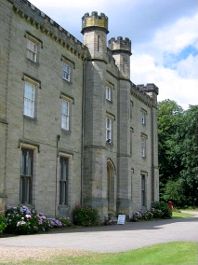 Entering the Castle (for which there is no guide book available), there is to the right of the Entrance Hall one of the Castle's principle rooms now devoted to the Japanese lacquer and armour collection. The collection is well displayed in glass cabinets and the exhibits are labelled for information. There are some beautiful items of Lacquer, including boxes, cabinets and even a miniature tea set and tray!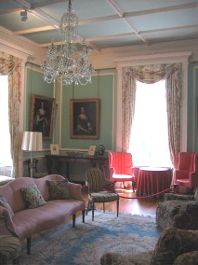 On the other side of the Entrance Hall is the Drawing Room. This is the only room in the Castle that still resembles a lived-in room. Indeed, it is a delightful room with twin aspect that allows light to pour into the room. The walls are decorated in a light 'duck egg' blue, which again makes the room feel very light. In the centre of the room hangs a sparkling English glass chandelier that catches and plays with the light beautifully. There is a blue floral rug in the room set against the fireplace around which are set some comfortable armchairs, Georgian settee and some elegant French style open arm chairs. The carved white chimney piece has within it a Georgian polished steel grate. The walls are hung with portraits, many from the eighteenth century.
The room is set with a tea theme. There is a very handsome silver tea urn sat upon an urn stand, this urn dating from c1780 and has lion mask handle mounts with drop loop handles. On a small table set by one of the armchairs is a china teaset sat upon a linen covered tea tray. It is easy to imagine a cosy afternoon tea sat by the blazing fire on a winter's afternoon.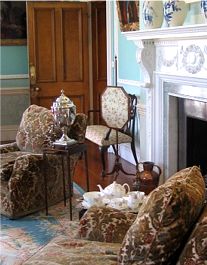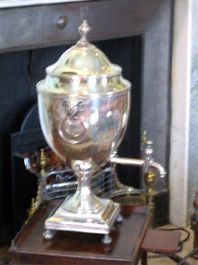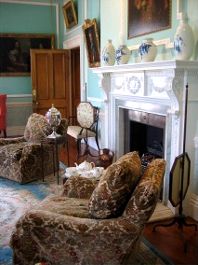 Moving out of the Drawing Room, leads into a rather regency style room that has a grey and white marble fireplace and a gothik style arched window to one side. The walls are hung with a typical Regency striped paper in two tone green. A circular gilded convex mirror surmounted by a carved eagle, so synonymous with the Regency period, hangs above the fireplace. This room is used as a display area for more of Denys collection.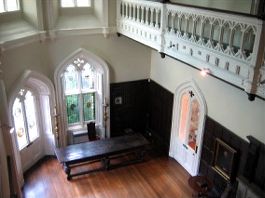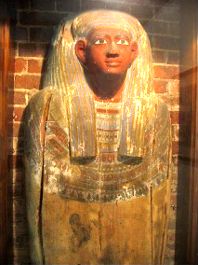 Beyond this room is the Inner Hall and Stairs. At the top of the stairs is a narrow landing, at the end of which is the top half of an ancient Egyptian sarcophagus. It is beautifully painted to show the occupant of the tomb from which it has been removed. There is nothing else open to see on this second floor of the Castle, so making my way back downstairs I next found myself in a room devoted to Denys collection of ancient Egyptian artefacts. Here there are cabinets with some very interesting items from funerary artefacts that were supposed have accompanied the dead into the 'afterlife', Stele from tombs, sections of tomb wall carvings and some beautiful carved statues of Egyptian gods. Denys had collected these items following the discovery of Tutankhamen's tomb in the Valley of the Kings by Lord Carnarvon and Howard Carter in 1922, after which the craze for anything Egyptian began once again.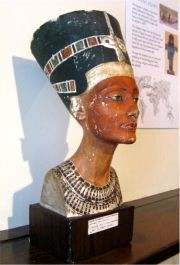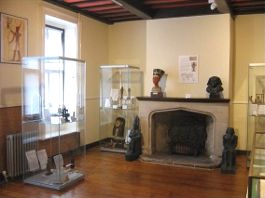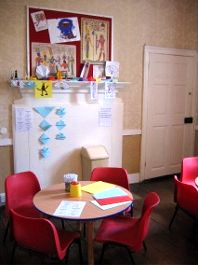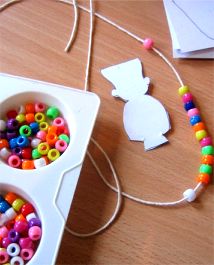 There are several of the Castle's smaller rooms set aside for Children's activity rooms. This is a brilliant idea getting young children interested in history. There were various 'hands on' activities, which change with time. For the time of my visit there was a chance for children to make some Egyptian jewellery and amulet's using string and coloured beads and in another room, to make peg dolls, these made using old style clothes pegs and date from a time when the children of poor families would entertain themselves by making these dolls to play with. The dolls could be made into all sorts of characters with the help of pipe-cleaners for arms, paper faces and wool for hair etc. Some children had obviously been enjoying themselves and made a kitchen maid as well as some Egyptian pharaohs./p>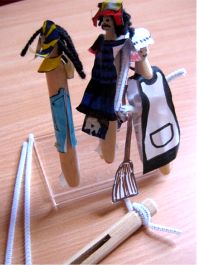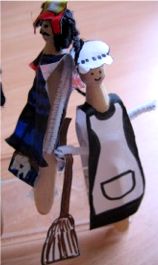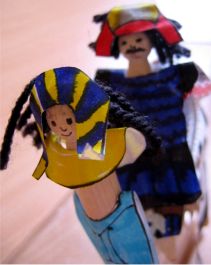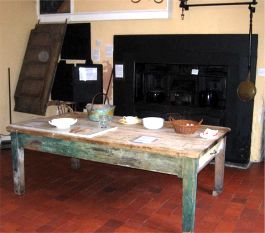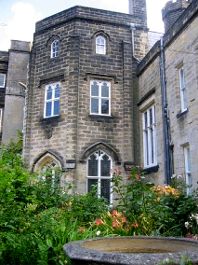 At the back of the castle is a small stone courtyard, now with a variety of pots and flowers to brighten it up. To one end of the courtyard is the Old Kitchen. This is still set out as an early Victorian kitchen with a huge table in the centre in front of the cast iron black cooking range. On a hob of the range is a copper kettle, which when the range was used would have kept a hot kettle of water going all the time for use in the kitchen. On a window ledge stands a copper tea urn, this used for tea on outdoor functions and gatherings. For this tea would be put into a tied muslin bag to prevent the tea blocking the spout and the urn then filled with boiling water.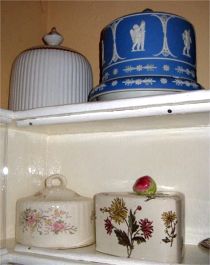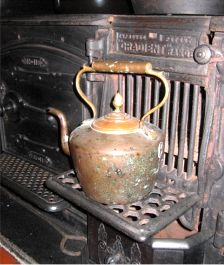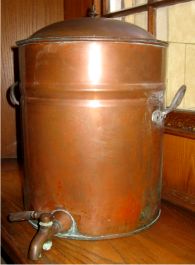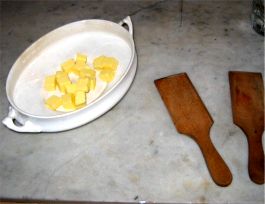 Around the kitchen are some old kitchen utensils and gadgets as well as some Victorian cheese domes and wedges. Again, children are encouraged to learn and on the table a chance for them to 'pat butter' using a pair of butter pats. I was impressed by the attention to children's learning in the Castle. As well as the activities within the Castle there are further earning activities for children in the Castle ground. Available are activity packs that contain crayons, magnifying glass, magnetic board and string. Also, a 'Nature Trail Bingo' is offered for sale that takes children round the trail with objects to be spotted and recorded and a prize is offered to children who complete it.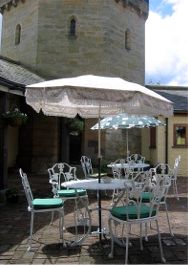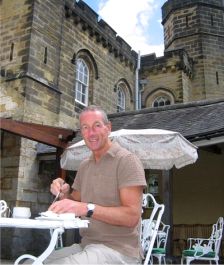 Before taking a wander round the Castle grounds, I paused for tea in an open courtyard filled with decorative white metal tables and chairs with pretty little parasols to shade you from the sun. There is also some indoor seating should the weather be inclement. With the Castle being so quiet, I was not expecting to have much of a choice for tea, but that is not the case. There was a choice of cakes, savouries as well as a cream tea with two scones, cream and jam - all very reasonably priced. I plumped for the cream tea and for just £3; I was presented with two fresh home made scones, a pot of jam and a pot of cream as well as tea with a jug of hot water for topping up the teapot. Service was friendly and efficient. The scones were rather unusual in that they had been baked in a tin for small 'fairy cakes' and the texture was a little more cake than scone like, but none the less very pleasant.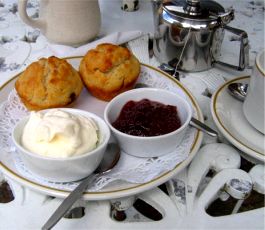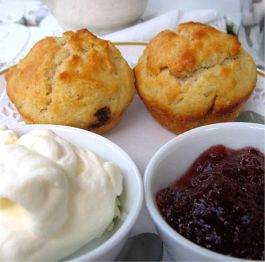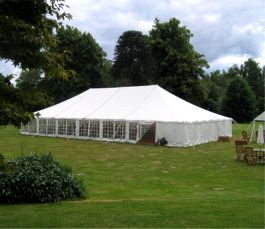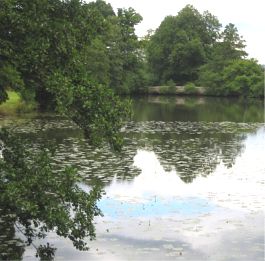 Finally I took a little stroll round the gardens, which are also used for functions such as weddings, as obviously from the large marquee on the lawn from what I believe was a wedding the previous day and what a perfect and peaceful setting the castle makes for such an occasion.
The grounds are sadly in need of some restoration. There is an old Orangery and a large lily filled lake that would have once had a grotto and possibly a cascade. None the less, the grounds are a very nice place round which to wander and gain views of the Castle.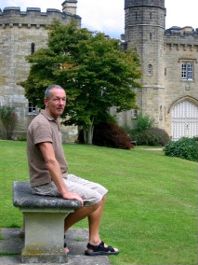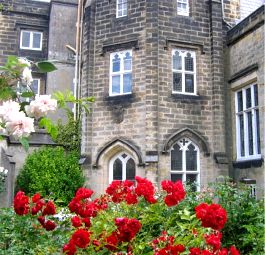 If you find yourself in this area of Kent this coming summer, it maybe worth a visit to Chiddingstone Castle. They also encourage visitors to bring a picnic, which they allow you to enjoy anywhere within the grounds - there are picnic tables available close to the car park with views to the Castle.
Chiddingstone Castle
Chiddingstone
Edenbridge
Kent
TN8 7AD
Tel: +44 (0)1892 870347
www.chiddingstonecastle.org.uk
---
To review past newsletters, just follow this link: Past newsletters.
To subscribe to this free newsletter - Click here
---
All information contained within any article on this website was considered to be accurate (as far as can be ascertained) at the time of writing. TeaAntiques.com Limited makes no warranty and accepts no liability regarding the accuracy of the content.
Copyright © 2000 - 2021 All rights reserved
TeaAntiques.com Limited. Company Incorporated in England No.: 5086843