Tea Clipper

from TeaAntiques.com

Edition

One Hundred and Two
Featured Antique - Pair of Derby hand painted Pink 'Rose and Chantilly Flower' heart shaped dessert dishes, Red Crown & Crossed Baton Mark, c1810-1825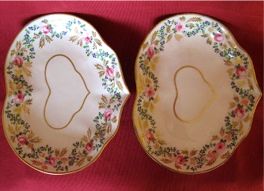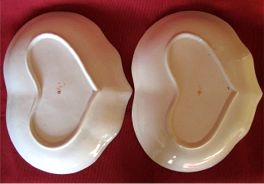 A stunning and very decorative pair of Derby dessert dishes, exquisitely decorated with fine and colourful pink roses and Chantilly flowers with gilt foliage. These magnificent dishes were made at the Derby factory c1800-25.
These 'kidney' or 'Heart' shaped dessert dishes are exquisitely decorated with beautiful pink roses in full flower evenly spaced around the bowl of the dish. The delicate use of various shades of pink give these roses a very soft and full appearance. Each rose has a few green rose leaves around it, there is then a fantastic set of gilded leaf sprays emanating from either side of the rose head.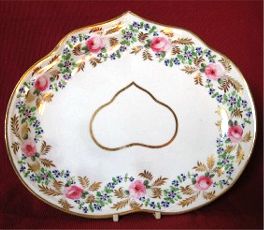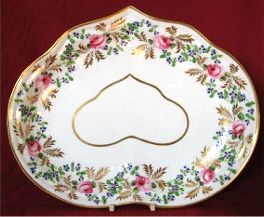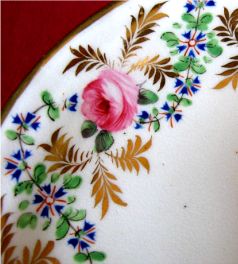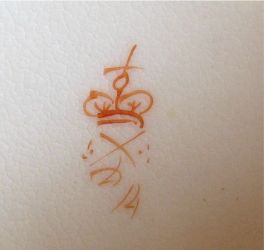 Linking the rose heads is a garland of blue and red Chantilly flowers with green foliage, with their star like qualities. This charming garland of Chantilly flowers weaves its way round the bowl of the dish between the roses creating a most elegant and charming floral decoration.
The dishes have a 'heart' shaped raised foot rim in the middle of which is the Derby 'Red crown, baton and dots' mark, this mark was used at the factory between c1800-25. There are also the decorator's tally marks in the form of numerals.
These are very fine examples of quality Derby porcelain that would grace any fine dining or tea table.
More details of this item and other tea related antiques can be found by visiting my web site at www.TeaAntiques.com.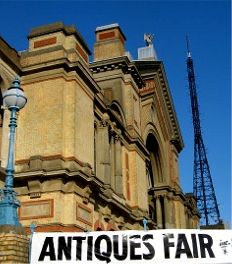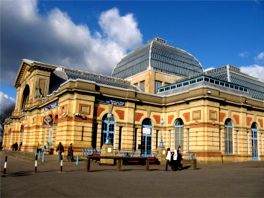 One of London's most popular antique and collectors fair at Alexandra Palace has returned after a break of about a year. There has been an antique fair at this beautiful location for many years, but the run of fairs ended through 2008. I am happy to report that the fair has been re-instated, by 'Nelson Fairs', only now it is no longer monthly, but quarterly. I paid a visit to the fair in February 2009 to see how things were with the fair. It was much the same fair as it had been, with a wide variety of small stalls selling an amazing array of items, from eighteenth century porcelain, to collectable such as biscuit tins!

It is a good hunting ground for any sort of antique, as you never know what you may discover for sale there. The fairs get very busy and for the best chance of finding a real gem, you have to be there early. Trade dealers can get into the fair at a higher entrance fee of £10 at 8am, or as a member of the general public, the doors open at 10am for a much cheaper £5 entrance fee.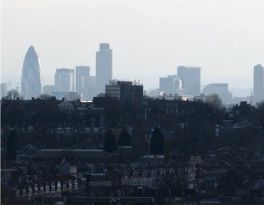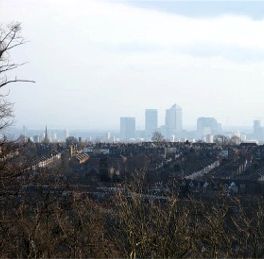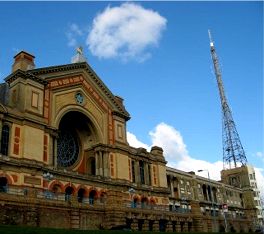 The location of Alexandra Palace in North London is set perched upon a hill, which affords fine views on a clear day over the city of London, where the tall blocks of the city's buildings loom on the horizon. It was first opened and known as 'The Peoples' Palace' in 1873. However, only sixteen days after it had opened to the public, it was destroyed by fire! A second Palace was built on the site within 2 years of the first being destroyed and provided the Victorians a place in which to take recreation and an enjoyable environment. The Palace covers an area of some 7 acres. The eastern end of the building was leased to the BBC from 1935 and it was from here that the first public television broadcast was made in 1936. The BBC remained at Alexandra Palace, mainly for news broadcasts, until 1956. A second fire destroyed much of the Palace again in 1981 and has been rebuilt and opened once more in 1988. Today, leisure facilities here include an Ice Rink, bars, halls as well as a large surrounding park and conservation area with deer and a boating lake.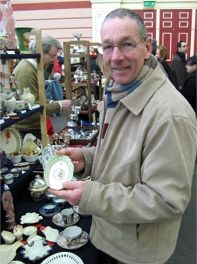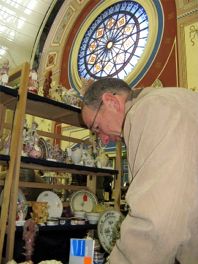 Although in the antique fair there was not a large amount of Eighteenth century porcelain, there were a few stalls that did have some items of early Worcester, Caughley, New Hall, etc. I also saw some silver and glass items form this period. For those who may venture to the fair, as a word of warning, do be careful on what you buy. Give pieces a thorough inspection for signs of any damage and restoration. Also, make sure that the pieces that you look at are genuine and not maybe later copies or fakes.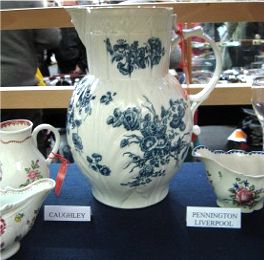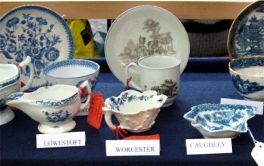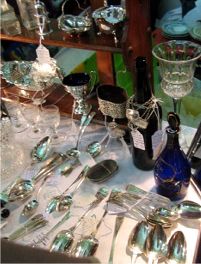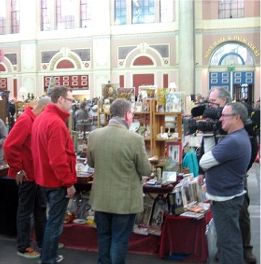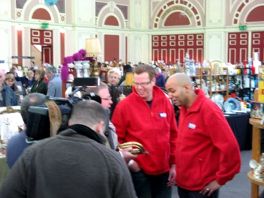 The day that I was at the fair, I saw the filming of an episode of BBC television's 'Bargain Hunt', in which two teams are given an amount of money to hunt out some bargains, which they later sell at auction in the hope of making the most profit. One team was led by TV presenter David Barbey, the other by Philip Searl. So, if you are at a fair such as this, who knows, you may appear in the background of a TV show too.
There is some catering at the fair, where you can buy some food and drinks, but the tea is sadly served in cardboard cups. So do not think that it maybe a good place for afternoon tea! However, after several hours of hunting out the antiques you want, it is a much needed rest to sit down with a cup of tea - however it is served!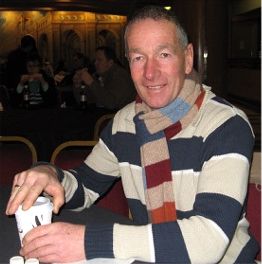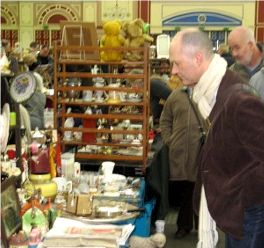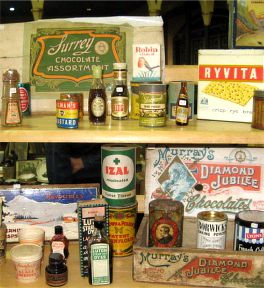 I also saw that there were copies of the free antique collectors magazine 'Antiquexplorer' being offered in the foyer. There were copies of the December edition 2008, in which was a feature about 'Tea Antiques' as an investment, written by Margaret Powling, with the pictures provided by me.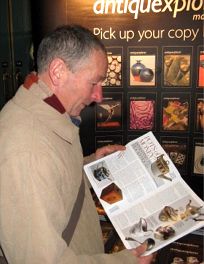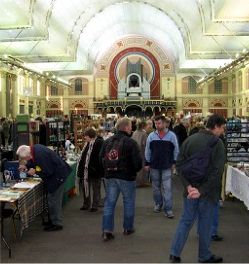 I hope that you get the chance to do a bit of bargain hunting yourself at the fair one day. If you do - happy hunting.
Alexandra palace
Alexandra Palace Way
Wood green
London
N22 7AY
Nelson Fairs: www.nelsonfairs.co.uk
---
To review past newsletters, just follow this link: Past newsletters.
To subscribe to this free newsletter - Click here
---
All information contained within any article on this website was considered to be accurate (as far as can be ascertained) at the time of writing. TeaAntiques.com Limited makes no warranty and accepts no liability regarding the accuracy of the content.
Copyright © 2000 - 2021 All rights reserved
TeaAntiques.com Limited. Company Incorporated in England No.: 5086843