Tea Clipper

from TeaAntiques.com

Edition

One Hundred and Six
Featured Antique - Edwardian Globular Sterling Silver Spirit Kettle on Stand, George I Style, by Alexander Smith, London, 1905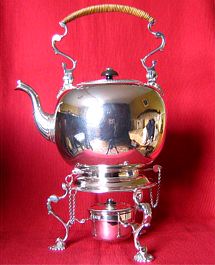 A very desirable and high quality silver 'globular' shaped tea kettle in the style of a George I tea kettle, c1740, this particular tea kettle dating from 1905, is of a good large size and is of heavy gauge silver and beautifully made.
The tea kettle has a globular shaped body that is of very thick gauge silver. It is possible to see the marks inside where it has been beaten into shape by the very skilful silversmith. The rim of the tea kettle is beautifully embellished with a gadrooned border into which the circular lid fits.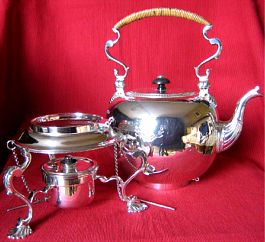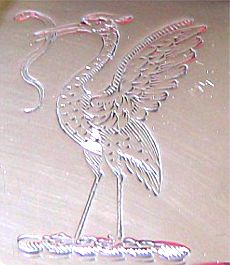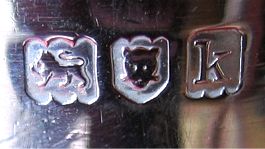 More details of other tea related antiques can be found by visiting my web site at www.TeaAntiques.com.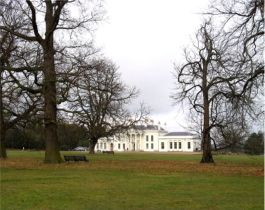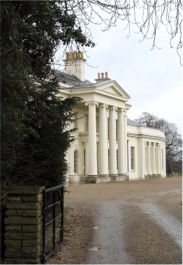 It is praise indeed to the local authority of Chelmsford Borough Council, for their rescue of Hylands House from the ravages of years of neglect, vandalism and near demolition! Just over 20 years ago, the house was in a dreadful state and considered a drain on public money. Looking at the house and grounds today, it is very hard to imagine just how it must have looked then. What we see today as we approach the house up the drive is a magnificent classical mansion house. Hylands house is Grade II* listed, which indicates just what an important house it is to be kept for its architectural merit.

The story of the house begins in the 1720s when a well respected local Lawyer, Sir John Comyns, had Hylands house built by local tradesmen. It was then a simple, but elegant Queen Anne-style three storey red brick house with a central pedimented portion flanked with brick pilasters. The house was set within its own pleasure gardens and a walled kitchen garden. By the 1770s the gardens were laid out in the then fashionable formal style and the estate stretched to 100 acres of parkland and 300 acres of farmland.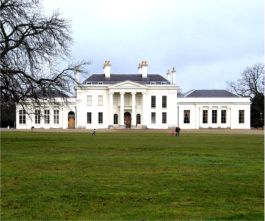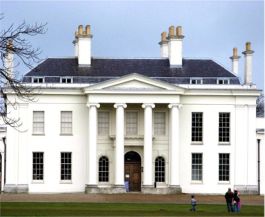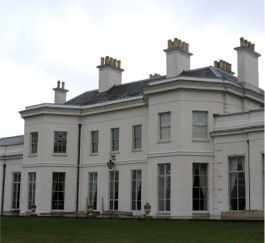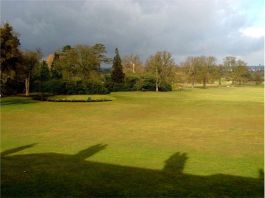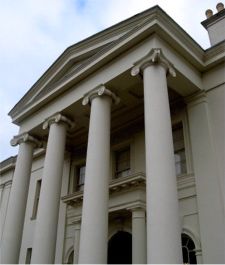 The house remained in the Comyns's hands until the sale of the property by auction in 1795. It was bought in 1797 by Cornelius Hendrickson Kortright for the sum of £14,500. Cornelius had acquired his fortunes through the sugar and slave trade in the West Indies. To befit his wealthy status, he had the house and grounds remodelled to reflect the then fashionable neo-classical and romantic era. To carry out this task he engaged the most fashionable landscape gardener of the period, Humphry Repton. Not only did Repton remodel the house, but also redesigned the gardens.
Repton would spend a great deal of time walking the estate and doing sketches of existing views, with overlaid flaps showing his recommended changes. These were collated into a leather bound red book for the owner of the house. In his lifetime, Repton produced more than 200 of these such books of design schemes for clients.
Cornelius purchased a further 150 acres of land for the estate and undertook Repton's plans for the estate. Repton added a wing to either side of the house, added a fine central portico with giant Ionic pillars, creating beautiful white stucco neo-classical villa. This is just as we see it today and was considered then to be the height of Georgian elegance. Other changes that Repton made were to the approach roads to the house, a new site for the Kitchen Garden, Ice House, Serpentine Lake and Pleasure Garden. His new scheme saw the planting a of vast number of trees and changes to the landscape.
In 1814, the estate was once again sold, this time to a Dutch merchant banker, Pierre Labouchère for £40,000. He had the red brick stable block added as well as a charming flint cottage in the grounds with a thatched roof, which is now roofed. He also completed the changes to the house that Repton had recommended.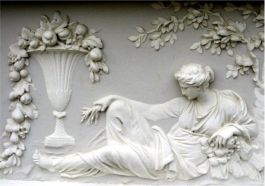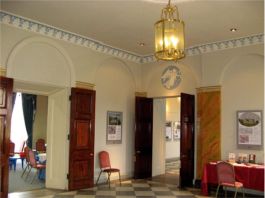 Pierre and his eldest son Henry collected neo-classical sculptures. They commissioned two pairs of plaster roundels, depicting Day and Night, and the original marble sculpture of Venus with an apple for their Entrance Hall. The frieze now at the foot of the stairs was also commissioned, but possibly for somewhere else in the house. It depicts 'Alexander the Great's triumphant entry into Babylon'.
The house went through several more sales and families, until it was finally sold to Chelmsford Borough Council in 1966, who opened the estate to the public. In 1972, a new proposal to have the house demolished was outvoted by 15 to 9. In 1975, a further new proposal for the house to be demolished was rejected and it was then upgraded to II* listing in order to protect it.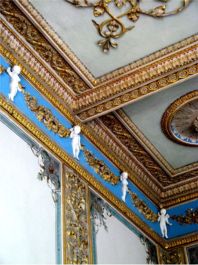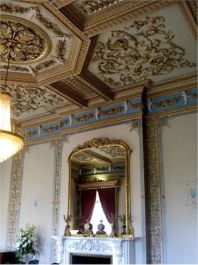 Many of the grand rooms inside Hylands house have been painstakingly restored to their former glory. One of the most lavish of these rooms is the Drawing Room within the East Wing. Based on a pallet of blue and pink, it boasts one of the most ornate coffered ceilings in the house, its ornate mouldings richly gilded. The frieze in blue has an unusual moulding design of swags of flowers held up by cherubs. The fireplace of white marble is the original to this room, as is the gilt over mantel mirror. On the mantel is a nineteenth century gilt French clock by S. Marti.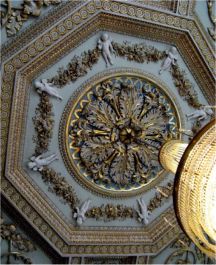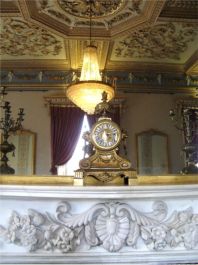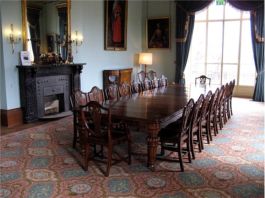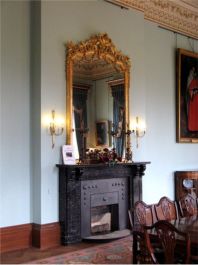 The Dining Room is rather more restrained in its decoration. The walls decorated in a pale blue with blue swagged curtains hanging below partially gilded wooden pelmet boxes. A large mahogany dining table stands in this room surrounded by Hepplewhite style shield-back chairs.
There is another dining room, The Georgian Small Dining Room, an elegant room that takes in one of the two bay window at the rear of the house. Simple decoration, white Adam fireplace with gilded over mirror add to the elegance of the room. The original Adam fireplace was stolen, but from a photograph of it, it has been faithfully recreated. The entrance to this room is flanked by two Ionic Pillars.
Another of the grander rooms is the Banqueting Room. This is as it was rebuilt by John Attwood who owned the house between 1839-54. Interestingly, the window frames in this room are made of iron; manufactured at Attwood's former iron works in Birmingham. The decoration is ornate and a little on the heavy side, looking more Victorian than Georgian. The style of decoration is neo-Baroque.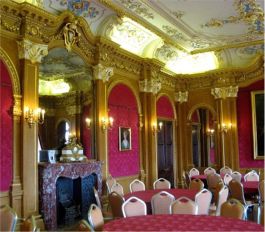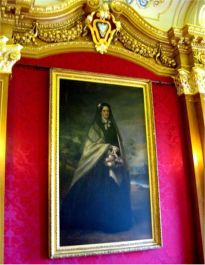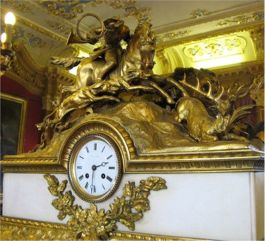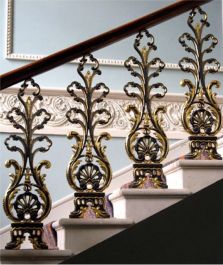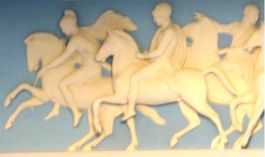 The grand Staircase was installed by John Attwood as part of his re-modelling after 1839. The iron balusters were painted black with gilded highlights.
On the second floor are rooms dedicated to the work of Humphry Repton; Social History Room looking at items of the period, Georgian wine glasses, porcelain, wedding dresses, etc.
In the basement of the house there is the old wine cellars to be viewed.
The Council now use the house for many functions, including educational, weddings and Civil Ceremonies etc.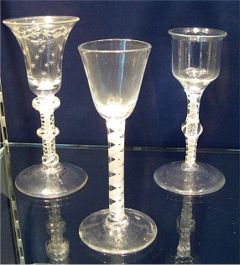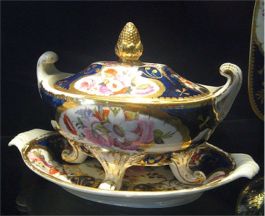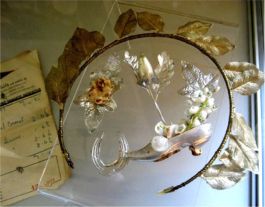 In the grounds, much work has been undertaken to clear over-grown areas to reinstate the look of the Humphry Repton landscape. The Serpentine Lake has been drained, re-lined and filled once more. A walk round the pleasure gardens is a very pleasant way to finish a visit to Hylands House. On the weekend that I visited, there was a little local farmers' market set up in the Stable Courtyard area selling local produce.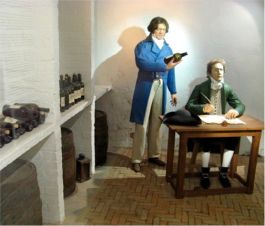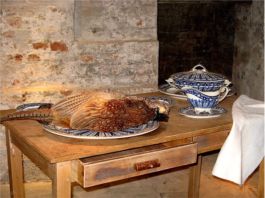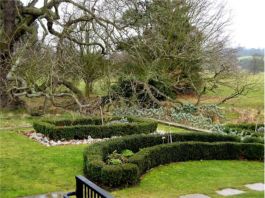 Hylands House Hylands Park London Road Chelmsford CM2 8WQ www.chelmsford.gov.uk/hylands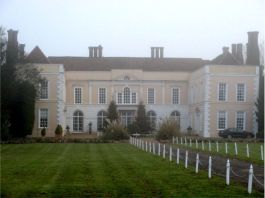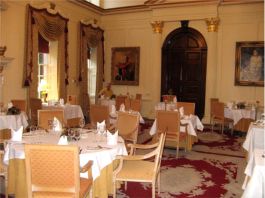 Hintlesham Hall is a rather beautiful country house hotel, set in parklands with a golf course. It is the perfect place in which to spend a weekend, or maybe just to visit for one of their fine dinners or afternoon teas. I was fortunate enough to be invited as a guest of friends Nigel and Tanya who were staying there for a weekend. Having driven up from Portsmouth, what a delight it was to be greeted by Tanya and enjoy one of Hintlesham Hall's afternoon teas. Tea can be taken within one of the main guest rooms, all decorated and furnished in the style of a traditional English Country House. What better way is there to relax and chat with friends whilst enjoying a full afternoon tea at leisure.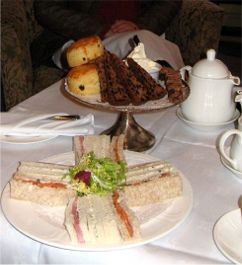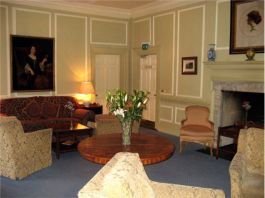 Afternoon tea here comprises, as you might expect, lots of sandwiches of different varieties, scones, jam and cream together with a selection of cakes, from rich fruit cake to sticky chocolate Brownies. It was a most enjoyable experience. However, my only criticism is that the scones were not served with traditional clotted cream, but Chantilly cream, which is much lighter and also sweeter. To my mind, scones should be served with a quality clotted cream which will be the perfect foil to the sweet jam, not a flavoured whipped cream of any description. Afternoon tea does not require such 'dressing up', just the best quality ingredients.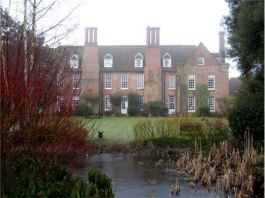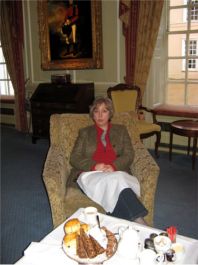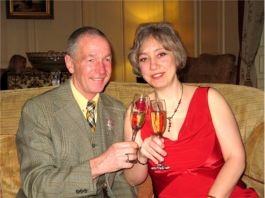 Apart from my one minor criticism, Hintlesham Hall is a place recommended for a visit. Situated 4 miles West of Ipswich, Suffolk, it is a good base from which to explore the many pretty 16th century wool merchant villages of Suffolk.

Hintlesham Hall Ipswich Suffolk IP8 3NS Tel: +44(0) 1473 652334
---
To review past newsletters, just follow this link: Past newsletters.
To subscribe to this free newsletter - Click here
---
All information contained within any article on this website was considered to be accurate (as far as can be ascertained) at the time of writing. TeaAntiques.com Limited makes no warranty and accepts no liability regarding the accuracy of the content.
Copyright © 2000 - 2021 All rights reserved
TeaAntiques.com Limited. Company Incorporated in England No.: 5086843