Tea Clipper

from TeaAntiques.com

Edition

One Hundred and Ten
Featured Antique - Two Caughley 'Fan-Shaped' Sections Of A Blue & White 'Full Nanking' Printed Supper Set, Blue 'Sx' mark on both & Rare Impressed 'Salopian' mark on one, c1780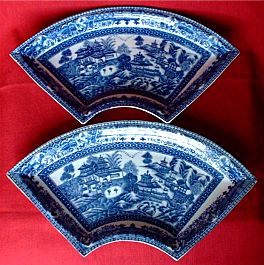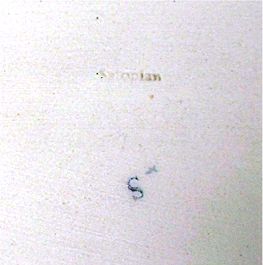 Two rare 'fan shaped' large sections of a Caughley supper set, c1780. These beautiful supper set sections are both exquisitely printed in blue and white with the full Nanking pattern, each is clearly marked in blue on the reverse side with the Caughley Salopian mark of 'Sx'. In addition one of these section dishes also has the rare impressed mark 'Salopian'.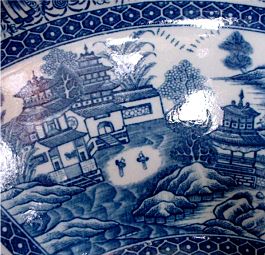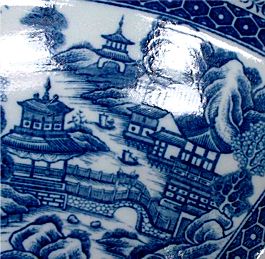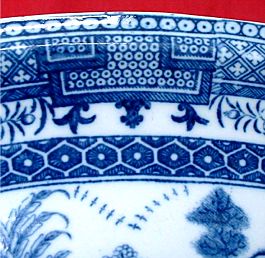 The quality of the deep blue and white printed decoration is extremely good and clear. Originally, there would have been four of these fan shaped section which would have surrounded a circular dish in the centre and would have been used to serve supper in a Georgian household.
More details of this item and other tea related antiques can be found by visiting my website at www.TeaAntiques.com.
Take a UK Railtours Christmas special to St Nicholas Fayre in York, England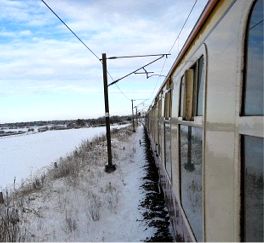 As the festive season gets underway, a wonderful day trip that I can recommend is to do a special rail excursion, in this case a trip to St Nicholas Christmas Fayre in York, Northern England. There are several rail companies that do special Christmas rail journey's in full old fashioned 'Pullman style'. The journey that I embarked upon was run by UK Railtours and took place last year. Many of these trips start from one of the main London stations, this one however started from Guildford in Surrey from where it made it's way towards York travelling via Dorking, Deepdean and Clapham Junction, all points at which you could board the train.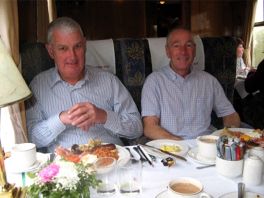 The train left Guilford at 7am on a cold and frosty morning. Once comfortably seated in the elegant carriage and the train underway it is not long before the waiting staff were round with teas and coffees. The carriages are old rail stock that have been lovingly restored to their former glory. My carriage had plush and comfortable seats with 'Royal Scott' antimacassars, arm rests, white linen covered table on which were fresh flowers, brass lamp and set for a formal breakfast. The interior walls of the carriage were veneered with English Sycamore.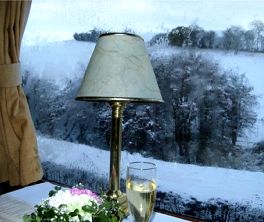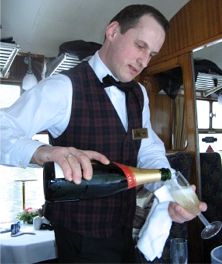 After the teas and coffees, breakfast was served by silver service waiting staff. The breakfast comprised the usual fresh fruit juice, cereals or porridge, full cooked English breakfast or kippers followed by lashings of toast and marmalade. By the time I was tucking into this welcome feast the train had left London and was heading north towards York. On this particular journey, as we travelled further North, there was snow falling and soon the countryside had a covering of crisp white snow. Luckily the train was very warm and snug inside.
Between breakfast and arriving at York at 1pm, there was time to enjoy sipping a bottle of Champagne with friends - after all it is a Christmas celebration trip!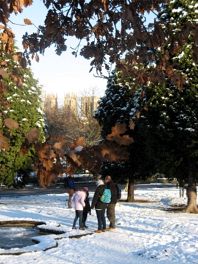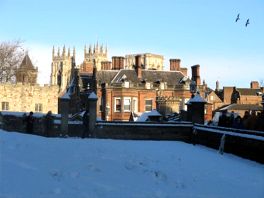 We were greeted in York by a few inches of snow covering the ground and it continued to snow for most of the day. This made for a really festive feel to the day. Making my way gingerly into the city centre on what were very icy pavements, I was treated to my first view of the beautiful York Minster which still dominates the city skyline. This huge Minster measures 524 feet long by 249 feet wide across its transepts. It contains over 100 stained glass windows spanning an 800 year history.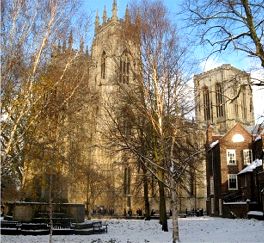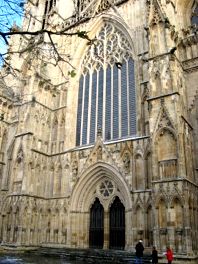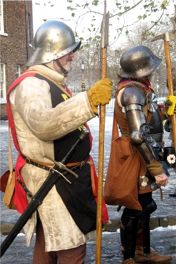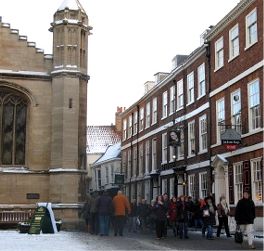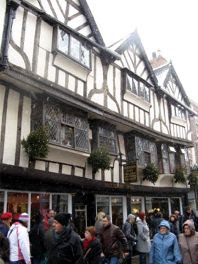 From the Minster there are narrow streets, elegantly lined with a mixture of buildings, from handsome red brick Georgian facades with formal sash windows and carved door cases, to jetted earlier timber famed buildings. York's history goes back much further though. It evolved from Eboracum, a Roman city and military settlement at the end of the 1st century AD. The weaving streets today are a bustle with Christmas shoppers out to enjoy St Nicholas Fayre, a mixture of street stalls selling all kinds of goods, from crafts, food, mulled wines, chocolates, novelties and gifts. On such a cold day it was a welcome sight to see the hot steaming punch and cider being sold. Many of the stall holder, had got into the Christmas spirit by dressing up in Victorian style dress.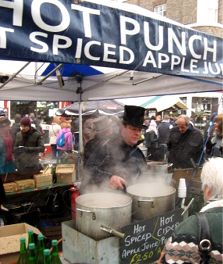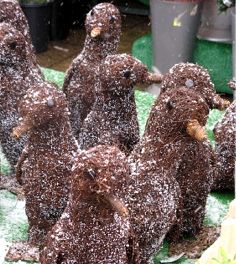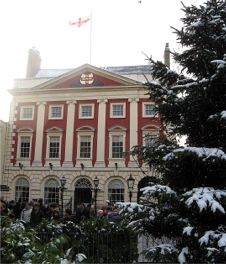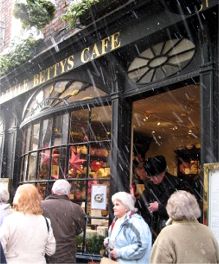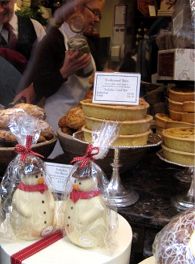 One of the famous shops in York is, of course, 'Betty's' tearoom, a real must for all who visit York and enjoy a very fine afternoon tea with excellent Betty's homemade cakes and pastries. Needless to say that there is nearly always a queue to get in! Today was no exception, indeed with the crowds coming to York for the fayre, the queue when I was ready for afternoon tea was horrendous!; it continued outside Betty's and along the outside of the building. Sadly, as I was on a tight time schedule with the return train journey time fixed, I could not afford the time to queue. However, all was not lost as there is now a 'Little Betty's' just a short walk away which is not a tearoom, but an outlet for selling their delicious cakes, etc. Therefore, before leaving York I made sure that I bought some 'York fat rascals' a delightful fruited cake topped with cherries. A slight twist on the 'York fat rascals' were 'festive fat rascals' these having the addition of spices and topped with flaked almonds.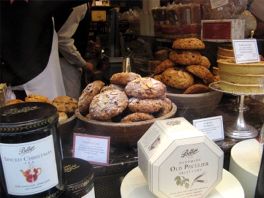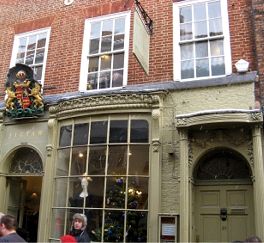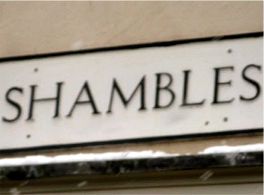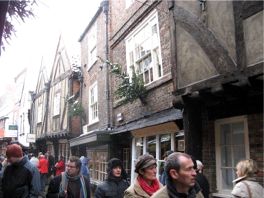 As I could not get into Betty's tearoom, I found another good tearoom in 'The shambles', York's famous narrow streets area with small and interesting shops. The teashop I went into was the Earl Grey Tearoom. From their choice of cakes I plumped for a large homemade raspberry and coconut tart. It was very tasty, but let down rather by serving it with 'squirty' type of cream rather than a good thick real cream or even clotted cream, which in my opinion would have made it so much better.
By the time I had finished afternoon tea and emerged back into the streets and market it was getting slightly dark so the Christmas lights and decorations were adding to the festive atmosphere.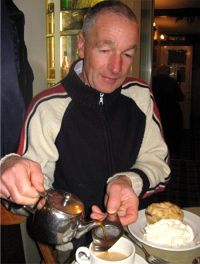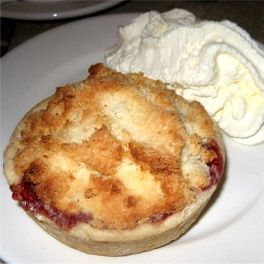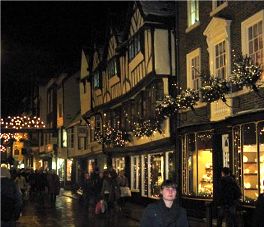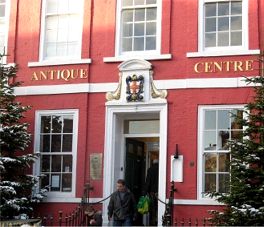 There are a few antique markets in York, so be sure to visit them, who knows what you might find?
For me the 'must do' in York was Fairfax House. This amazing Georgian town house has been described as one of the finest Georgian town houses in the country. Today, it is a museum and contains beautiful period rooms filled with the most exquisite Eighteenth century English furniture and antiques from the Noel Terry collection. The exterior of the house is five bays wide with three principal floors. It has a pleasing appearance enhanced by the stone dressings on the corners, windows, string courses and triangular pediment. The white of the stone is set off beautifully against the red brickwork.
Inside the house, the formal rooms are all furnished to the period with some stunning pieces of furniture, including items by Thomas Chippendale. For Christmas, the rooms are even more spectacular having been decorated for a Georgian Christmas. The first room, a parlour, had a table set for breakfast. A large savoury raised pie took centre stage on a circular table. There was a great deal of blue and white oriental porcelain, including plates, cups and saucers and a teapot laid out upon the table. One thing I found rather strange was that there were Georgian twisted stemmed wine glasses, c1760, stood on each plate place setting with a boiled egg in it - as if to use them in place of egg cups? Still, it made for a lovely room setting.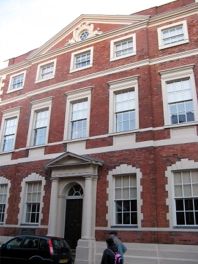 The Hall was decorated with lots of formally placed green foliage made into garlands which were enhanced with berries and bows. On the far side of the Hall, the Dining Room was magnificent in its table layout. The white table cloth covered a long 'D' ended dining table. The table had a massive table centre piece which had a mirrored base, silver metal frame and was set with classical buildings, and statues; originally these would have been of white icing paste. There were implied formal parterre gardens in coloured icing paste. There was a great deal of silverware and Georgian glasses to be seen. The table was set for dessert so there were jelly glasses filled with jewelled jellies, sweetmeat glasses filled with all kinds of sweet treats. At the end of the room a sideboard stood loaded with other items of silver, including salvers and large sauce boats.
The grand staircase takes the visitor to the first floor, here there are two bedrooms, each with four poster beds. Then there is a small sitting room or parlour where the family might spend much of their private time together. Beyond this is the large and formal Drawing Room. This charming room has a beautiful plaster moulded ceiling and walls that are covered in a rich red flock. The mahogany furniture includes Chippendale chairs and tables. In the middle of the room the table is set for a formal tea, which would have been given by the hostess of the house. The Mahogany tea table was set out with a Chinese porcelain teaset, very fashionable at this period. Next to the tea table, an urn stand on which stood a very handsome silver tea urn. What a perfect room setting for the lover of tea taking in the Eighteenth century.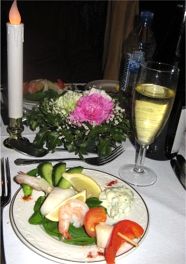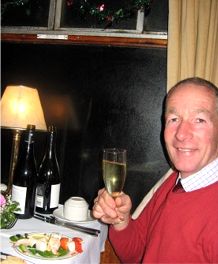 Having had a splendid, if somewhat cold and snow-filled, day in York, the pleasure was not yet complete. During the nearly 6 hour journey back to Guildford there was a five course silver service dinner to enjoy as the train hurtled homeward. There were a few meal choices. for mine, I had a Black Pearl Scallop and King Prawn kebab on a bed of baby leaf spinach with Dill and Garlic Mayonnaise; Roast Beef with Yorkshire pudding roast potatoes and vegetables; Toffee Apple Bread and Butter Pudding; Selection of Cheeses, Coffee and mints.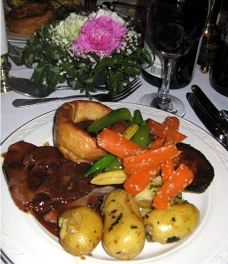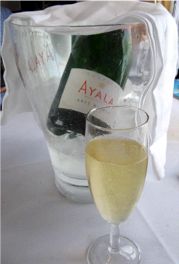 It is a long day, but one packed with things to see and do. It certainly gets you into the festive spirit in style.

UK Railtours PO Box 350 Welwyn AL6 0WG www.ukrailtours.com www.creativeraildining.co.uk
---
To review past newsletters, just follow this link: Past newsletters.
To subscribe to this free newsletter - Click here
---
All information contained within any article on this website was considered to be accurate (as far as can be ascertained) at the time of writing. TeaAntiques.com Limited makes no warranty and accepts no liability regarding the accuracy of the content.
Copyright © 2000 - 2023 All rights reserved
TeaAntiques.com Limited. Company Incorporated in England No.: 5086843