Tea Clipper

from TeaAntiques.com

Edition

One Hundred and Thirteen
Antique Focus - Caughley fluted form Teapot, printed with blue and white 'Pagoda' pattern, un-gilded, Salopian 'S' mark, c1785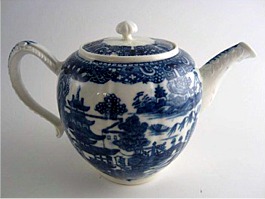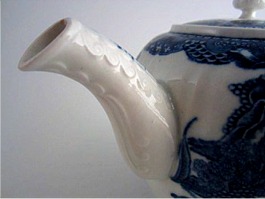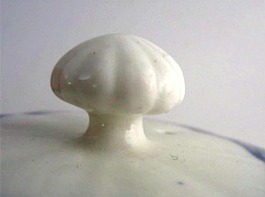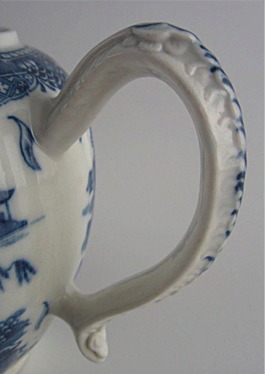 A very pretty teapot, printed with a delightful blue oriental scene of a pagoda in a charming landscape with houses, trees, boat and a bridge with two figures crossing it. This beautiful teapot, unlike most Caughley wares, remains in an un-gilded form which makes it more unusual.
More details of this item and other tea related antiques can be found by visiting my web site at www.TeaAntiques.com.
Worcester Factories Exotic Birds, Fruit and Flower Decoration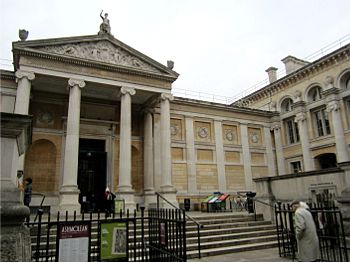 Oxford's famous Ashmolean museum has undergone a major facelift into a modern museum, but still with its roots and its past not forgotten. Today, this wonderful museum boasts contemporary displays and modern technology. These pictures give you a flavour of the magnificent modern interior. In the first one, I am walking between galleries in what looks like a glass tube in the air!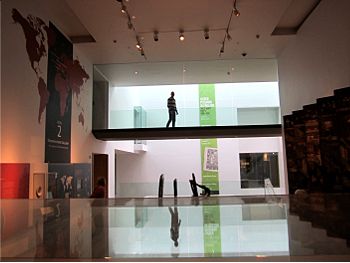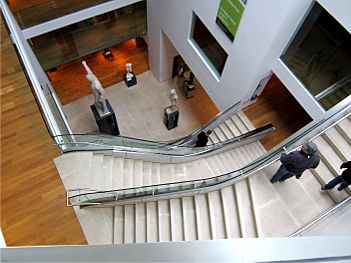 In the porcelain galleries there is a fabulous collection of Worcester porcelain, charting its history and development of styles in accordance with popular taste.
With its roots dating back to 1751, Worcester is one of the most enduring porcelain manufacturers with production spanning 260 years. It is a factory that has become synonymous with a consistently high standard of ware and decoration. In this article, I am looking at, what is for me, the most exciting production of elaborately decorated pieces between c1765 and c1785. In this period, Worcester was producing porcelain wares with rich blue grounds, beautiful hand painted exotic birds and flowers. These were expensive to produce and aimed at the top end of the market. Such intricately decorated items required several decorating firings at different temperatures.
The first decorative firing was the underglaze cobalt blue. The detailed paintings of birds, fruit and flowers were painted on glaze in coloured enamels by hand and fired before the final decoration of the applied gilding, which would require a further firing at a lower temperature. The gold, which was mixed with honey to make it flow, when fired would fuse to the body whilst driving out the honey medium. After this final firing, the gilt decoration was 'burnished' with agate or a fine silver sand to bring out the brightness to make it shine.
There are some fine examples of such exquisitely decorated Worcester pieces in the Ashmolean Museum in Oxford, from which I have made the following selection for your interest. (The numbers refer to the museum catalogue.)
Tea jar and cover, 1775-80. Ovoid wet blue ground, nicely gilded oval reverses painted with exotic birds. Note that the colourful and beautifully executed birds together with the rich and very fine gilding. The domed cover is surrounded by a moulded and colourfully painted flower finial.

Worcester teapot and lid, 1765-70. Inverted pear shape with moulded spout, pierced scroll handle, blue scale ground with exotic birds and insects. Unusually, there is no applied gilding. Mark: fretted square mark.

937. Teapot stand, 1780-85. Hexagonal with royal blue border, three bouquets, one with gilt and red bow, another with arrow, monogrammed ADS in the centre. Mark: crescent.

966 Coffee cup and saucer, 1780-85. Gilded blue border, coloured enamelled landscape within a turquoise and husk and gilt circle, surrounded by beautifully painted bunches of fruit with birds in between. Mark: crescent on both.

926. Spoon tray, about 1765. Hexagonal fluted irregular apple green border defined by finely applied gilding, spotted fruit and insect decoration.

882. Spoon tray, around 1770. Sky blue border with gilt scallops and pendants, sky blue serrated oval enclosures, central floral spray.

878. Caudle cup, having two handles, and saucer, irregular sky blue border, with black diaper, C-scroll gilding, bouquets of flowers on either side and the same decoration applied to the saucer.

732. Coffee cup, 1770-2. Decorated with three exotic birds in the Giles* workshop.

967. Cake dish, 1780-85. Rich cobalt blue border with applied gilding, stunning central landscape with figure, within turquoise husk and gilt border, surrounded by groups of fruit and insects - such items shows all the decorating skills of the factory. Mark: crescent.

731. Plate 1770-2. Decorated in the same style as cup 967 above. The exotic bird is painted in pink and blue hues perched within branches with clouds of green foliage. Such birds are sometimes referred to as 'fancy' or 'fanciful' birds. From the Giles* workshop.
*I will cover the specific work of James Giles, the famous decorator, in the next Tea Clipper.
This is but a very small selection of the delightful Worcester wares to be enjoyed within the gallery. There are many well laid-out display cabinets with well documented descriptions of each displayed item. For any lover of Worcester or early English porcelain, this museum and gallery can provide a most enjoyable day's visit.
I look forward to reviewing and sharing some more of treasures from the Ashmolean Museum in my next Tea Clipper newsletter.
Museum website: www.ashmolean.org
On the top floor of the museum is a modern and stylish restaurant affording views out over the dreaming spires and towers of renowned Oxford colleges. Here they do an afternoon tea with all the trimmings.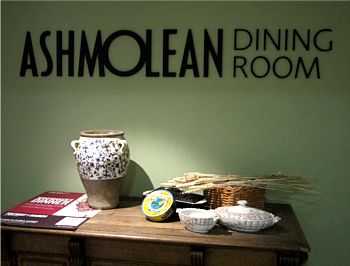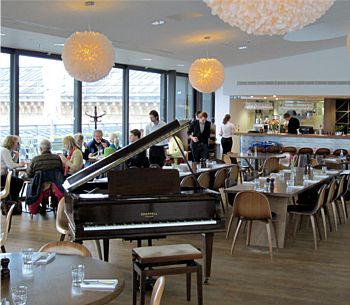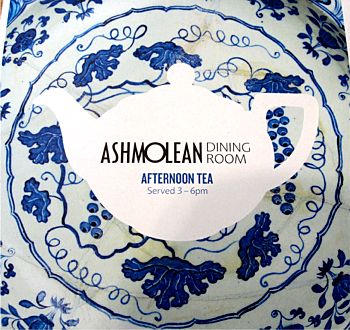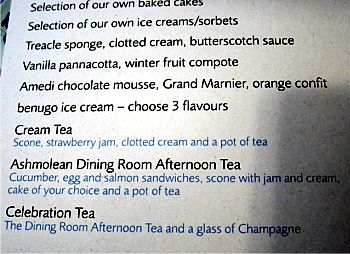 If you require a less formal tea or refreshment, there is also a self-service cafė in the lower ground floor.
---
To review past newsletters, just follow this link: Past newsletters.
To subscribe to this free newsletter - Click here
---
All information contained within any article on this website was considered to be accurate (as far as can be ascertained) at the time of writing. TeaAntiques.com Limited makes no warranty and accepts no liability regarding the accuracy of the content.
Copyright © 2000 - 2021 All rights reserved
TeaAntiques.com Limited. Company Incorporated in England No.: 5086843