Tea Clipper

from TeaAntiques.com

Edition

One Hundred and Fifteen
Featured Antique - Bristol, rare Cup and Saucer, Formal Foliate Swag Decoration, Bristol 'Xl' mark, c1775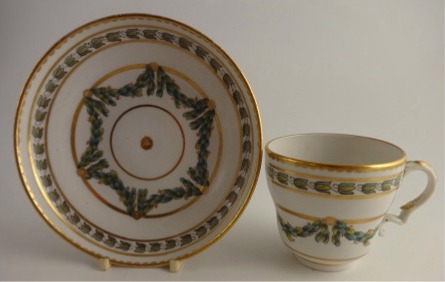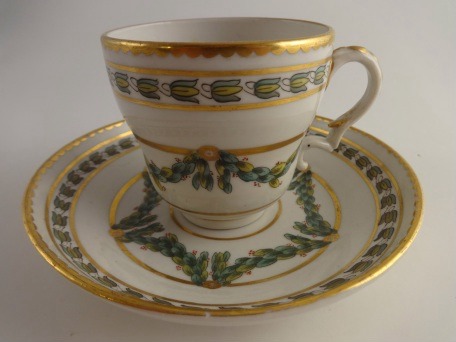 A most elegant and quite rare hard paste porcelain cup and saucer from the Bristol factory, c1775. This striking cup and saucer is decorated much in the continental style with formalised foliate swags and rich honey coloured gilding . This pattern is illustrated in 'British Porcelain' by Geoffrey A. Godden, published by Barrie & Jenkins, Plate72.
More details of this item and other tea related antiques can be found by visiting my web site at www.TeaAntiques.com.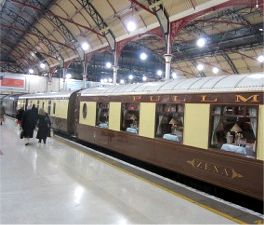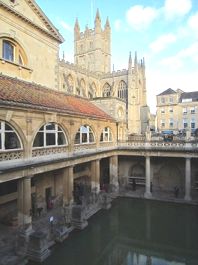 As Christmas grows ever closer, there are many attraction now available to enhance that spirit of Christmas; be it a Christmas fair, market, dinner, concert or museum attractions. For me, the way to start off the Christmas spirit was a luxury day excursion aboard the fabulously elegant VSOE (Venice Simplon Orient-Express), not alas to Venice, but a day trip on the British Pullman which would normally take passengers from London to the South Coast to travel by ferry to France to board the VSOE to Venice (I was lucky enough to sit in the Overseas version of the VSOE in 2003 - see my Tea Clipper recording the event!)

The British Pullman actually runs excursions around the country most of the year. My trip with friends today was to the elegant Georgian city of Bath for their Christmas market. To make it slightly more festive on my journey up to London to join the Pullman, there was a flurry of snow, which in places had given the ground a light white dusting. This did not last and the day turned out to be a mainly sunny day!

Today's British Pullman excursion was from London Victoria station. I arrived just before the beautiful train pulled into the station. By now all the passengers were eagerly awaiting to step aboard this 'palace on rails'. The Pullman train is made up of between 8 and 11 unique passenger carriages, each carriage seating between 20-26 passengers. They are elegantly decorated on the outside with the Pullman livery of brown, cream and gold. Each carriage has its own name, history and personality, the names adorn the side of the carriage and when the train is at a station, the names are displayed on metal flags by the doors at each end to help passenger find their carriage.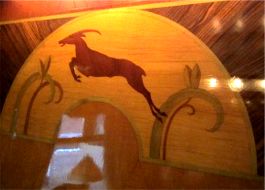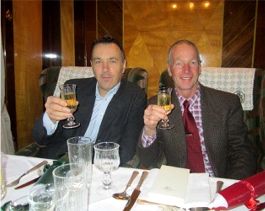 For my journey, I had been allocated to have a table with my friends in 'Vera', a 1932 carriage initially built as a first class kitchen car for the Southern Belle service. In 1940, The 'Brighton Belle' (which is what the Southern Belle became known as), was bombed during the blitz whilst in Victoria station. 'Vera' was caught with a direct hit and its roof so badly damaged that a major refurbishment had to take place after the war. In 1947, she rejoined the Brighton Belle service and was always paired with 'Audrey', another first class kitchen car. When the Brighton Belle was withdrawn from service, 'Vera' was purchased by Mrs Deborah Turner to be used as her garden house in her Suffolk home! In 1985, 'Vera' was bought by VSOE and fully restored at its repair workshop. Today it gleams inside with its wood marquetry panels, some of which depict a stylised gazelle leaping between two palm trees.
The table booked for myself and friends was within a compartment with a table and four plumptious, upholstered chairs, the chairs free to move, unlike modern day trains where they are fixed to the floor!
The table was beautifully laid up with a crisp white table cloth and napkins, silver cutlery, flowers and an Art Deco style lamp. Once on board, it was within minutes that we were all seated comfortably, the train pulled out of Victoria and a welcome 'Signature Bellini' - a sparkling peach champagne cocktail, was in our hands. A most enjoyable activity as the train slipped out of London.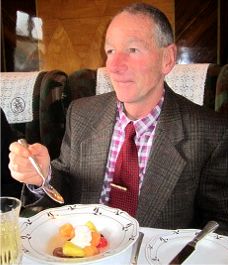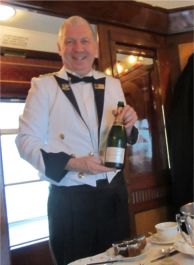 It was not long after the cocktail that brunch was served. Firstly came a fresh fruit cocktail with yoghurt, followed by scrambled eggs, topped with Scottish smoked salmon and caviar served on a warm crumpet. This was a delicious way to start the day and having soon finished this, a morning bakery basket appeared with toasts and pastries along with tea or coffee. As this was a special Christmas trip for us, we also had a bottle of Champagne to help digest the breakfast, followed by a second bottle to help wash down it all down! (well, that was the excuse - but hey it's Christmas!)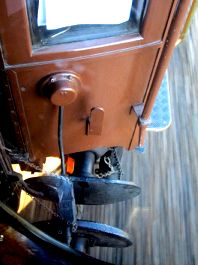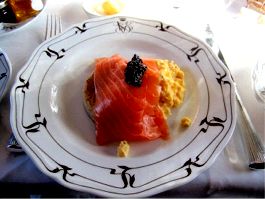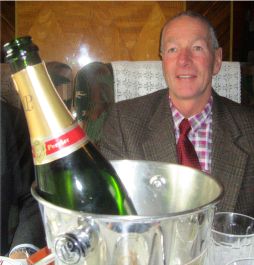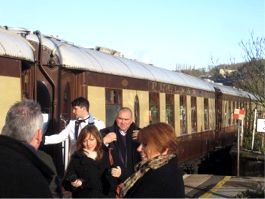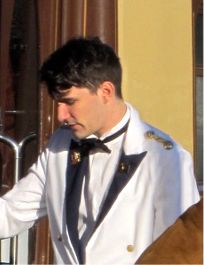 The train wended its way to Bath via a circuituitous indirect route passing through places such as Winchester, Southampton and Salisbury. The rolling countryside was pleasing to the eye whist enjoying the luxury of the train. By 1pm, the train curved into the elegant city of Bath, affording some stunning views of the Georgian city built of beautiful honey coloured Bath stone until it eventually pulled into Bath Spa station.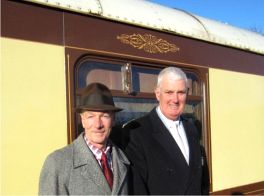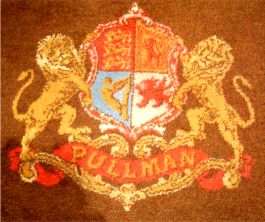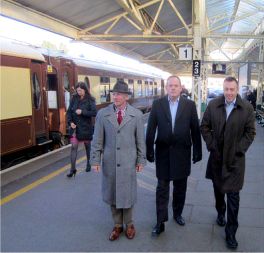 All passengers soon alighted the train to begin a few hours exploration of Bath, its special 'Christmas market' and if you wished too, a tour of the famous Roman Baths which was included in the cost of the train ticket. My party made straight to the Christmas market for a bit of retail therapy. It was not long before I had found a few novelty Christmas gifts for friends, had a steaming glass of mulled wine and soaked up the Christmas atmosphere of the market. Time passed rather too quickly and it was not long before we had to make our way to the Roman Baths for our tour at 2.30pm.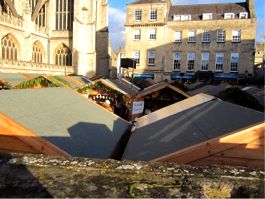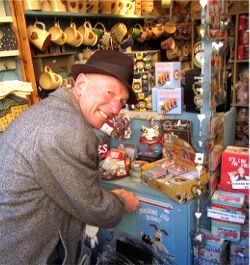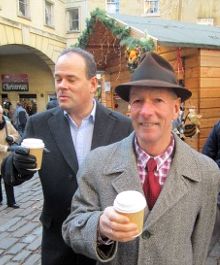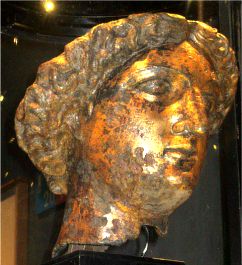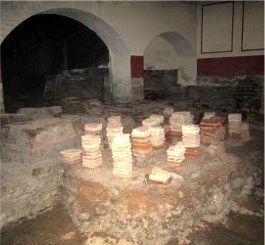 Bath's Roman Baths are quite remarkable to see, not only from the remains of the roman buildings, their layout, construction, ornamentation, and artefacts; but to witness the steaming hot springs gushing forth hot sulphurous waters, said to have medicinal benefits, in which the Romans bathed and threw in good luck tokens.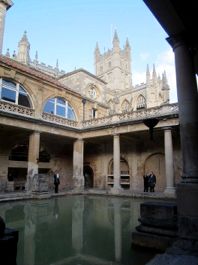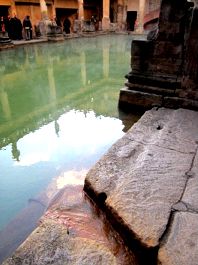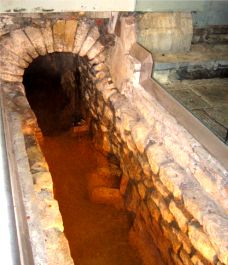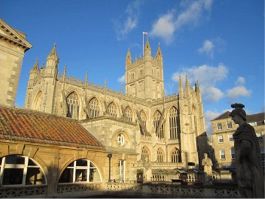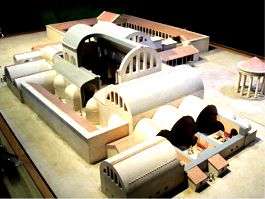 After a fascinating glimpse into the Roman past of the city of Bath, there was just time to have a quick afternoon tea before it was time to head back to the station to board the Pullman train back to London Victoria. Due to time constraints, it was not possible to enjoy afternoon tea in my favourite place -the splendid setting of the Georgian Pump-Rooms. Instead we went to the 'Sally Lunn' a small and usually busy tearoom where they serve the unique 'Sally Lunn', a yeasted bun, the recipe of which was found hidden in a tiny secret cupboard within the building. The recipe remains a secret and is served only at this tearoom. The bun itself is rather bland in flavour, but is served in such a variety of forms, that it becomes a really delicious and unusual tea-time treat. I decided to have my Sally Lunn toasted and topped with melted cheese. Another in my party opted for a sweet version of the bun, it topped with Lemon Curd and clotted cream.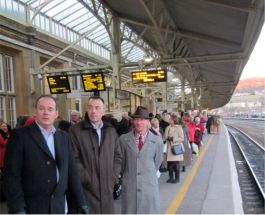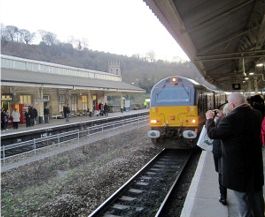 With only minutes to spare we boarded the British Pullman for our dining journey back to London. By this time, the table had been cleaned and beautifully re-set for an elegant Christmas dinner with Christmas crackers, boxed truffle chocolates and gleaming glasses.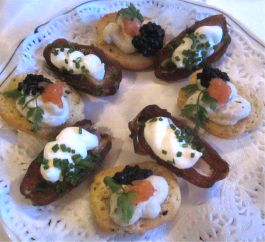 A 'welcome back on board' glass of Champagne was served with pretty little canapés as the train drew out of Bath. Shortly after this, it was time to begin the fine dinner. First course was a tasty caramelised pumpkin soup with parmesan and parsley crème fraîche. This followed by a main course of Guinea Fowl breast wrapped in Prosciutto and stuffed with chestnuts with all the trimmings. A British Isles cheese selection was next to arrive with a selection of breads and biscuits and home-made chutney. Then an orange and chocolate roulade with Christmas panna cotta and a chocolate and caramel sauce was presented to us. Finally the meal was rounded off with coffee and chocolates.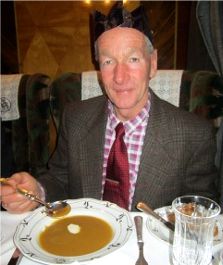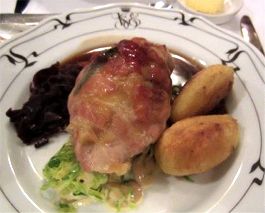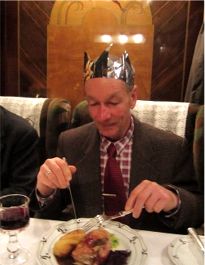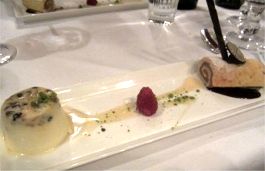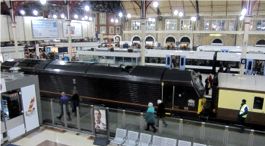 Feeling quite spoilt and rather weary, the train returned to Victoria station, where it was time to say good-bye to the beautiful train and its smartly attired liveried staff; who had been very friendly and attentive throughout was a very special Christmas day trip.
VSOE
www.orient-express.com
---
To review past newsletters, just follow this link: Past newsletters.
To subscribe to this free newsletter - Click here
---
All information contained within any article on this website was considered to be accurate (as far as can be ascertained) at the time of writing. TeaAntiques.com Limited makes no warranty and accepts no liability regarding the accuracy of the content.
Copyright © 2000 - 2021 All rights reserved
TeaAntiques.com Limited. Company Incorporated in England No.: 5086843