Tea Clipper

from TeaAntiques.com

Edition

Sixteen
Featured Antique - Elegance and Charm from Worcester c1770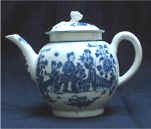 Produced at the Worcester factory, c1770, this most elegant, beautiful and rare teapot has a delightful underglaze blue "three ladies" pattern. The teapot has a globular body with a charming rose finial to the lid. A stunning teapot from the early years of the Worcester factory, mid-eighteenth century, c1770 - rare and stunning.
More details of this item and other tea related antiques can be found by visiting my web site at www.TeaAntiques.com.
Bath - Victoria Art Gallery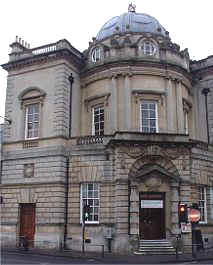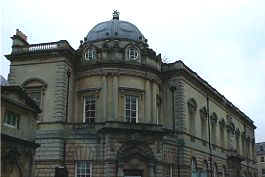 In January, I was fortunate (on my birthday) to visit my favourite city, the splendid city of Bath. During the day I visited the Victoria Art Gallery where I was absolutely delighted to discover an exhibition relating to tea drinking in the eighteenth century – and another bonus, an extensive collection of eighteenth century wine glasses.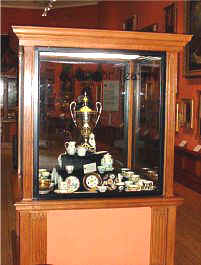 On view is a wonderful set of displays relating to tea drinking in England and China; set in the upstairs art gallery in four square glass cabinets entitled "Time for Tea". Each cabinet focuses on a particular area of tea drinking with regard to porcelain and silver from the eighteenth century. It also reviews items relating to the drinking of coffee and chocolate.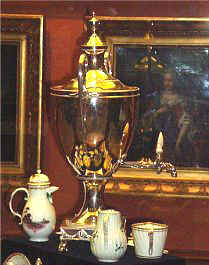 One cabinet contains a stunning silver tea urn, which would hold the water for making tea, this fine example was made by William Townsend of Bath, c1779.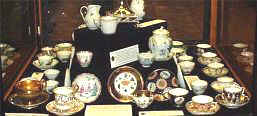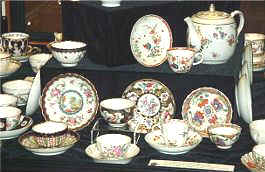 Also displayed are many and varied examples of eighteenth century porcelain tea bowls and saucers from Worcester and Derby factories.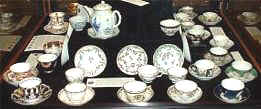 There are also examples from the Bristol factory, which was the first factory in Britain to discover how to make porcelain of the same quality as the Chinese hard paste porcelain. The company started in Plymouth in 1768 and specialised in the manufacture of very fine tea services for the rich society. Some of the Bristol tea bowls and saucers have some very pretty and delicate floral patterns with extremely fine gilding. A few examples also have delicate moulded handles to the cups.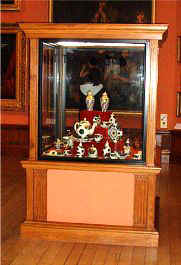 A second cabinet displays a large part of a beautiful Worcester tea service decorated with a pattern known as the "fan".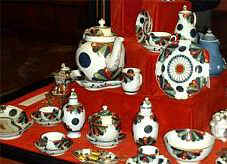 The fan shapes being fashioned in underglaze cobalt blue with overglaze red and green enamel with gilt embellishments – a very striking design. Included in this set are the standard size teapots but also a few very large teapots and stands. These large teapots were known as punch kettles, used for the pouring of punch drinks as well as tea. This service was made at its Worcester factory between 1760 and 1770 and comprised 43 items. A pair of covered tea vases

are on display in the cabinet, with the underglaze blue and overglaze pink and orange pattern. These are Worcester, c1770, and of Queen Charlotte pattern.
There is a delightful Worcester covered round sugar box and cover displayed with flower finial, much in the same style as one featured as Featured Antique in December's Tea Clipper newsletter.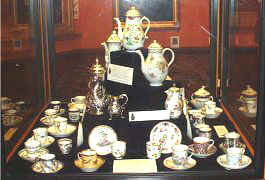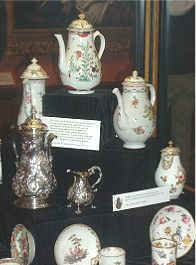 The third cabinet relates to items associates with the taking of Coffee and Chocolate. A profusion of chocolate and coffee cans are displayed with exquisite and again varied decorations. Here it explains how the porcelain manufacturer followed the shapes and designs of coffee pots in silver. A fine George III baluster coffee pot with rococo embossing, London 1757, is set against similar shaped pots in porcelain from Worcester. There is a covered chocolate cup from the Worcester "fan" decorated service – the cover having a flower finial.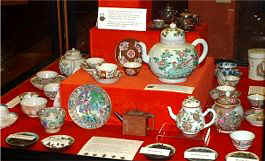 Finally, the fourth cabinet is devoted to China and the origins of tea drinking, not only for pleasure but for health. Chinese porcelain teapots, tea bowls and saucers are displayed together with small bowls containing actual tea varieties, such as Formosa Oolong, Genmaicha tea, Gunpowder and Sencha tea. Some of the small Chinese teapot bodies have applied moulded flowers and foliage painted in beautifully coloured enamels.
This is certainly a very pleasing, well displayed and informative exhibition and one I would strongly recommend for the lover of tea equipage and eighteenth century porcelain.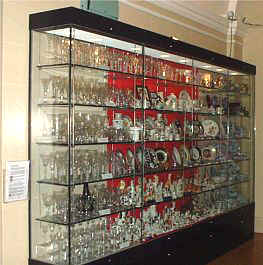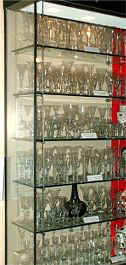 The museum is currently also displaying the most fantastic collection of 18th century drinking glasses, rather cramped in display cabinets but stunning to behold, with an amazing variety of styles from heavy baluster stems, drawn trumpet shaped, air and opaque twisted stems, faceted stems, bowls with engraved decoration and enamel painted bowls by the famous "Beilby".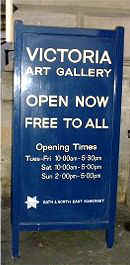 Museum Details:
Victoria Art Gallery
next to Pulteney Bridge
Bath
England
01225-477233
victoria_enquiries@bathnes.gov.uk
Tea and Wine unite! c1820-30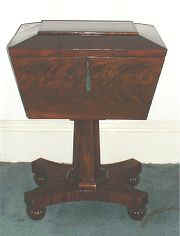 During my travel to Bath, I purchased a most interesting item of Georgian domestic furniture. At first sight, this beautiful mahogany sarcophagus shaped box on a central pedestal stand with shaped quadrafoil base, appeared to be a cellaret or wine cooler, c1820-30. As a wine cooler, one would expect the inside to be lead-lined, designed to hold ice in which wine bottles would be stored to keep them cool in a dining room during dinners. As a cellaret, it would be divided inside to hold 6-8 bottles of red wine stored in the dining room to bring the wine to room temperature for consumption during dinner. The other possibility was that it was a Tea Poy and would open to reveal tea fittings including maybe two or four fitted tea canisters, tea mixing bowl, sugar box, etc.
I was rather surprised and delighted when I opened the box to discover that it had its original tin fittings, which related to both wine and tea – this was, in fact, a combined Tea Poy and Wine Cooler!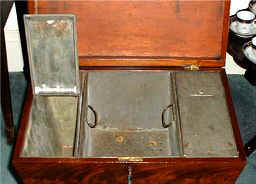 There are two rectangular lidded tea boxes for containing green and black tea positioned either side of a central wine cooling section. The bottom of the wine cooling section having drain holes and a removable sliding drip tray.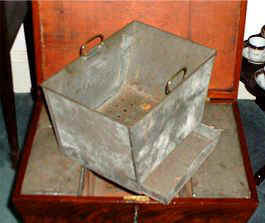 In this wine cooling section, ice would be placed to keep wines or glasses cold during a dinner. As the ice melted, the water would drip through and collect in the tray below. This was indeed a most unusual piece of George IV furniture uniting my interest in tea and wine drinking antiques – one that I could not resist buying and sharing with you.
The reason that I was in Bath and came across the delight of the Tea exhibition in the Victoria Art Gallery mentioned above was that I was visiting my favourite city in England on the occasion of my birthday.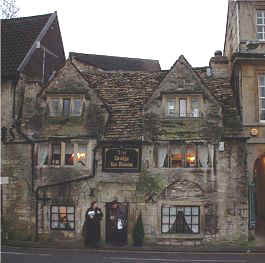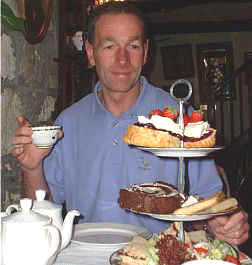 The other delight of the day was to visit the Bridge Tea Rooms in Bradford on Avon, in my opinion, one of the best tea rooms in the South of England. It has to be my favourite place and I reviewed it in the November 2000 Tea Clipper newsletter, but I feel that it certainly is worth a revisit (in fact, I went there twice over the course of the weekend!).
A very special treat was to be able to enjoy tea from an eighteenth century Worcester shanked tea bowl and saucer with blue and gilt decoration that was a beautiful birthday present. I partook of the full afternoon tea as my birthday treat – it was superb and very filling; in fact I had to take the cake home for later consumption! The tea room staff are always willing to offer boxes to customers in which to take home any food they cannot manage to consume – what considerate service!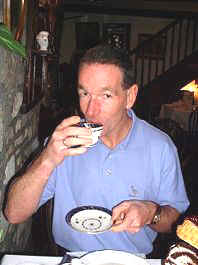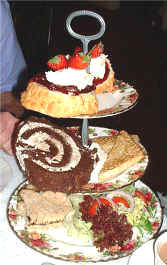 Details:
The Bridge Tea Rooms, c1675
24a Bridge Street
Bradford-on-Avon
Wiltshire
England
BA15 1BY
01225-865537
General location map
Bradford street map
Maps courtesy of www.streetmap.co.uk.
---
To review past newsletters, just follow this link: Past newsletters.
To subscribe to this free newsletter - Click here
---
All information contained within any article on this website was considered to be accurate (as far as can be ascertained) at the time of writing. TeaAntiques.com Limited makes no warranty and accepts no liability regarding the accuracy of the content.
Copyright © 2000 - 2023 All rights reserved
TeaAntiques.com Limited. Company Incorporated in England No.: 5086843