Tea Clipper

from TeaAntiques.com

Edition

One Hundred and Fourteen
Feature Antique - Caughley 'Barrel' Shaped Moulded Tea Canister (Lacking its Lid), Decorated with Blue & White 'Temple' Pattern, c1785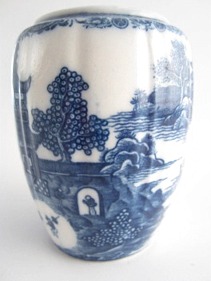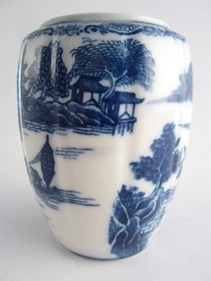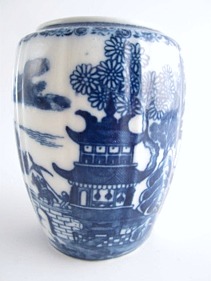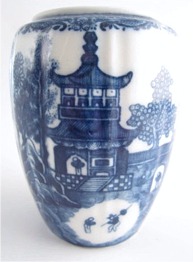 A rare and very attractive Caughley tea canister beautifully decorated with a large blue and white print of the oriental 'Temple' pattern, c1785. It is unfortunately missing its cover, but the tea canister itself is superb.
This very elegant tea canister is of a 'barrel' shape with vertical moulded lines and of excellent proportions. It is made of soft-paste porcelain and is typical of the shape popular at the end of the eighteenth century. This delightful tea canister has been charmingly decorated and is beautifully marked with the Caughley underglaze 'S' mark dating it to c1785.
The decoration is underglaze blue with an extremely clear print of the 'Temple' pattern. The pattern is of an oriental scene, with a temple and a person crossing a stone bridge on horseback shaded by a man with a parasol. Other characters are to be seen within this pleasant scene, including a man in a sailing boat.
More details of this item and other tea related antiques can be found by visiting my web site at www.TeaAntiques.com.
James Giles Decorated Worcester Porcelain
Continuing my visit to the Ashmolean Museum in Oxford that I started in the previous Tea Clipper, this time I concentrate on the celebrated James Giles.
Not all Worcester porcelain was decorated at the Worcester factory. Indeed, some of the most collectible items of Worcester ware were decorated by James Giles at his London decorating studio. He bought quantities of Worcester porcelain 'in the white' (porcelain that is glazed but otherwise undecorated). An advertisement in the 'Public Advertiser' dated 28th January 1768 read 'J. Giles, china and enamel painter, Proprietor of the Worcester Porcelain Warehouse, up one pair of stairs in Cockspur Street.' It goes on to mention that a large stock of white goods available for enamelling, and that he could supply china painted 'to any patterns his patrons might chuse'
A number of artists were employed at the Giles factory and the engagement of painters from the Chelsea factory in 1768 brought the great London experts in the painting of European styles to the Worcester factory. A factory that had previously specialised in Oriental-style decoration.
I have selected a cross-section of work from the James Giles studio for your enjoyment.
Firstly, a charming Coffee cup, 1770-2. Decorated with three exotic birds in the Giles workshop and a Plate 1770-72. Decorated with flowers and an exotic bird also decorated in the Giles workshop.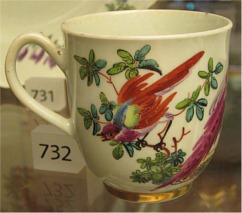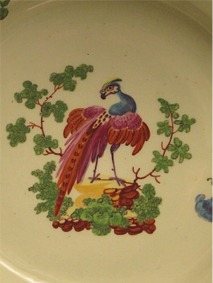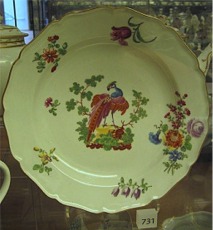 The Tea cup and saucer, date to about about 1770. Blue scale ground, exquisite gilding, reserves with exotic birds and insects. A version of Lady Wortley Montague's pattern, decorated by Giles. Mark: fretted square on saucer and crescent on cup. The plate is of the same set and demonstrated the quality of James Giles workmanship.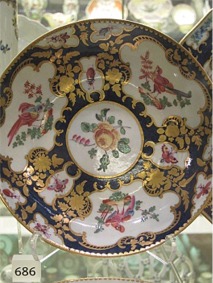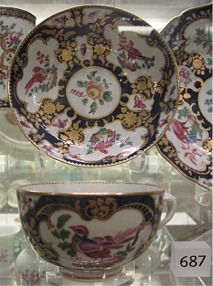 As well as creating fictional exotic fancy birds, Giles was also adept at painting birds in a naturalistic form as shown on this Plate, about 1770. The plate has a fluted border with pendant formal leaf sprays, naturalistic bird on branch in centre, decorated by Giles.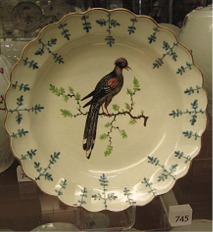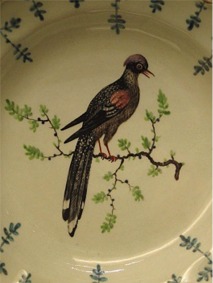 As well as painting birds and flowers, the Giles workshop also produced items decorated with realistic fruits and vegetables, much in the style of the Meissen factory. This Tea cup and saucer, dating from 1768-70 has an irregular pink scale border around painted fruit, vegetables and flowers, decorated by Giles. Note how realistic the pea pod and rose hips appear. Mark: crossed swords (similar to the mark used by Meissen) with a 9 and a dot.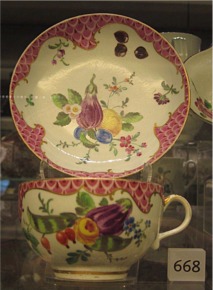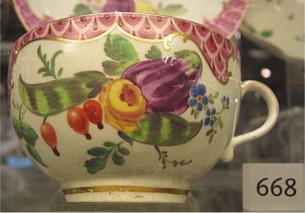 Below left is a Sugar bowl and cover with a moulded flower finial. The fruit and flower decoration is by the Giles workshop. Here can be seen cut fruit being used, a cut pear on the cover of the sugar bowl. Mark: crossed swords and 9 in Overglaze blue. Below right is a Spoon tray mixing fruit and birds for decoration, about 1770. Hexagonally oblong, with a light claret ground. Rich gilding, reserve decorated with bird on fruit spray. By Giles.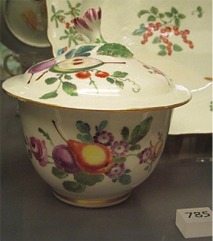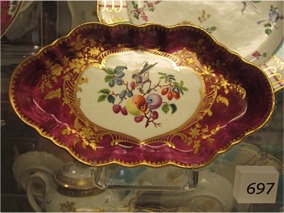 People were also a feature of some of Giles work, as seen below on a Worcester cup and Chinese saucer, 1765-70. Teniers-style seated figures in landscape, it is not certain, but is possibly painted in the Giles workshop.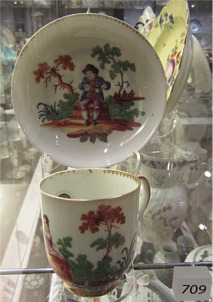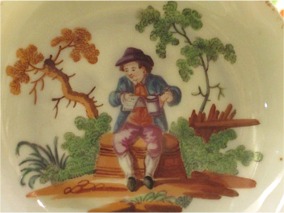 A really beautiful Tea jar without cover is shown below having a blue scale ground, honey rich gilding, one reserve painted with a seated girl blowing bubbles, others with fruit and flowers. This belonged to the Grubb family, a descendant of James Giles. Mark: fretted square. About 1770.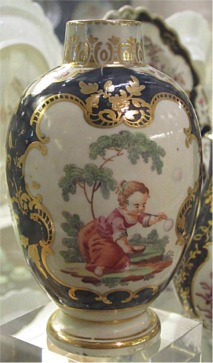 Not all the work from James Giles workshop was in full coloured enamel painting. Below is a teapot and lid, about 1770. Widely ribbed barrel shape, decorated with sky blue floral bouquets and sprays by Giles. This more restrained decoration produces a very elegant and light looking decoration.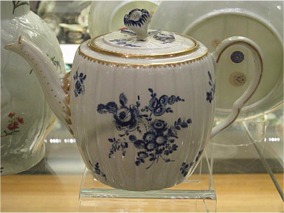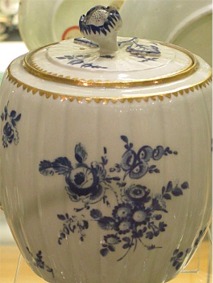 Finally, an even more simplistic form of decoration was to use gilt decoration alone. This delightful teapot and lid has stunning gilt decoration. On one side of the teapot is the monogram WJF within a rococo cartouche, supported by cherubs. On the reverse side of this teapot are exotic birds. This teapot was decorated by Giles, 1770-72.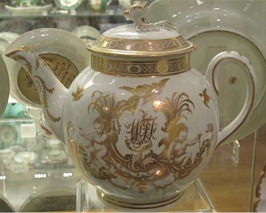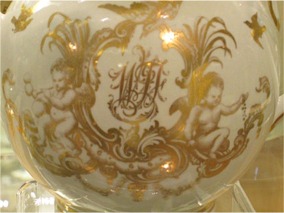 I hope that this selection of James Giles decorated pieces has given you an insight into his outstanding work , with its various styles and designs. This is but a sample of the wonderful pieces on display at the Ashmolean Museum in Oxford. If you have not been fortunate to visit it, then I hope that this gives you the desire to do so, as I am sure you will enjoy the visit to wonder at the treasures within.
Museum website: www.ashmolean.org
There are a lot more details about the Museum, including their impressive tea room, in the previous Tea Clipper.
---
To review past newsletters, just follow this link: Past newsletters.
To subscribe to this free newsletter - Click here
---
All information contained within any article on this website was considered to be accurate (as far as can be ascertained) at the time of writing. TeaAntiques.com Limited makes no warranty and accepts no liability regarding the accuracy of the content.
Copyright © 2000 - 2021 All rights reserved
TeaAntiques.com Limited. Company Incorporated in England No.: 5086843